Affect Employee Performance Positively the Personalized Way
Looking to personalize employee training with eLearning, here's a blog with seven approaches to personalized learning for improving employee performance.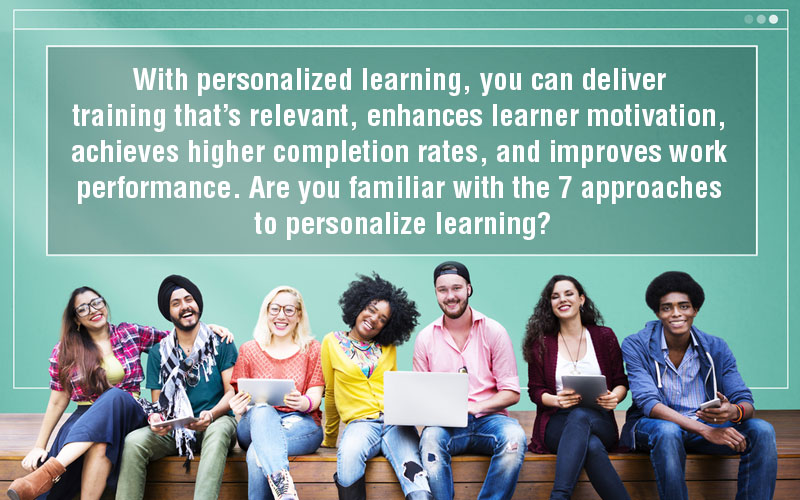 The goal of any training is to improve employee performance. We all know that. But do you know how to use personalized learning to improve employee performance? And can eLearning help here?
In this blog, I'll discuss the various ways you can use eLearning to facilitate personalized learning in corporate training to positively impact employee performance. But before going into it, let me offer you a brief insight on what personalized learning is.
Seven Approaches to Personalized Learning
Through eLearning, you can offer:
Performance-based learning objectives
Multiple learning formats
Free navigation
Experiential learning
Self-directed learning
Personalized feedback

Mobile learning
The What and Why of Personalized Learning
Personalized learning is an approach that enables a tailored learning experience based on learner preferences and interests, that benefits your organization as well as your learners. With personalized learning, learners get:
Learning that is relevant
Enhanced learner motivation
Higher completion rates
Improved work performance
So, how do we personalize learning using online learning?
7 Approaches to Personalized Learning
Performance-based learning objectives (LOs) help personalize learning and increase motivation by informing the learner what exactly he/she will be able to do after the learning. They offer a clear picture of what the learner will gain from the course, so when they see the objectives aligned with their own performance goals, it makes it easier for them to connect with the course.
A one-size-fits-all approach does not work well with corporate training. You need to use multiple formats to accommodate different learner preferences. Some employees like to learn by seeing, some by listening, some by practicing, and some by reading. When learners get to choose how they learn, it leads to better learning retention.
Your job then is to facilitate personalized learning by providing learning that is designed and presented in different ways. To do this, we can provide a wide range of microlearning assets such as videos, games, quizzes, infographics, and more.
Adult learners need to be self-directed, so they should be allowed to decide what they learn and not just how they learn. Restricted navigation can be a problem because it prevents them from going forward and skipping what they already know. This is why you need to offer free navigation.
Providing an intuitive interface and allowing learners to access the topics in the order they like is an excellent way to begin. This immediately turns their learning from passive to active, which is a perfect way to improve employee performance.
You can also use branching scenarios to personalize learning with different learning paths. Branching scenarios provide experiential learning through activities that are drawn from the learner's experiences and interests. Their progress through the course depends on the option the learner chooses when offered different choices. With rapid eLearning tools such as Articulate Storyline and Lectora, creating branching scenarios has become faster and easier.
Like branching scenarios, simulations, and gamification are other instructional design strategies that help facilitate personalized learning. Simulations and gamification involve your corporate learners in the learning process while providing them real-life experiences. You can extend experiential learning through these strategies to provide relevant learning. The high level of interactivity and engagement they provide are a splendid way to impact work performance positively.
Self-directed learning can also be provided in based on learners' experience and job roles. What you need here is data based on learners' previous performances and experiences – that will give you a clear idea of where they need to improve, allowing you to provide them the level of learning they need; because training cannot be the same for employees with different levels of experience even if the subject is the same. You can use your LMS to provide different learning paths to different employees, personalizing them for each.
You can also offer personalized feedback with performance-based assessments. This approach helps learners identify their learning gaps effectively and work on them. Along with constructive feedback, the learner may be provided links to the relevant learning point if they answer incorrectly.
You can also guide them towards continuous learning (microlearning) with personalized recommendations based on their answers. Performance-based assessments focus on meaningful tasks and affect job performance positively, making learning experiences more inclusive, and performances better.
Pairing personalized learning with mobile learning is a good strategy to deliver targeted training and to entice your millennial workforce. Offering them learning on mobile phones draws them toward learning instead of pushing them toward it. This also allows them to learn at their own pace because they are in control of their learning, with the freedom to choose when they want to learn. Mobile learning resources could include job-aids and performance support to improve job performance.
Additional Tips to Facilitate Personalized Learning in eLearning
Ask for the learner's name in the welcome slide and address them in the subsequent slides
Allow them to:

Choose the font, the colour, and the theme of the course
Pick their avatar and fill in their personal information
Change the voice for audio to match their gender
Endnote
This learner-centric approach bridges the gap between learning requirements and training effectively. Empower your employees to take responsibility for their learning and create their own learning paths that work best for them. Showing you care about their individual learning needs by offering them the freedom to choose how, what, and when they want to learn will ensure effective training that enhances their performance.
Learning analytics plays a huge role here in gaining learner data that provides insights into learner preferences. Using this data helps you provide relevant, personalized learning to your corporate learners, improving performance and taking your organization to greater heights. To access a free eBook on the role of learning analytics in eLearning and how to implement it, click the link below.