How Corporate Training Facilitates Business Goal Achievement?
Achieving business goals is not easy, but necessary! To do so, various techniques are implemented. Corporate training is one of them. Read on to learn how corporate training facilitates business goal achievement.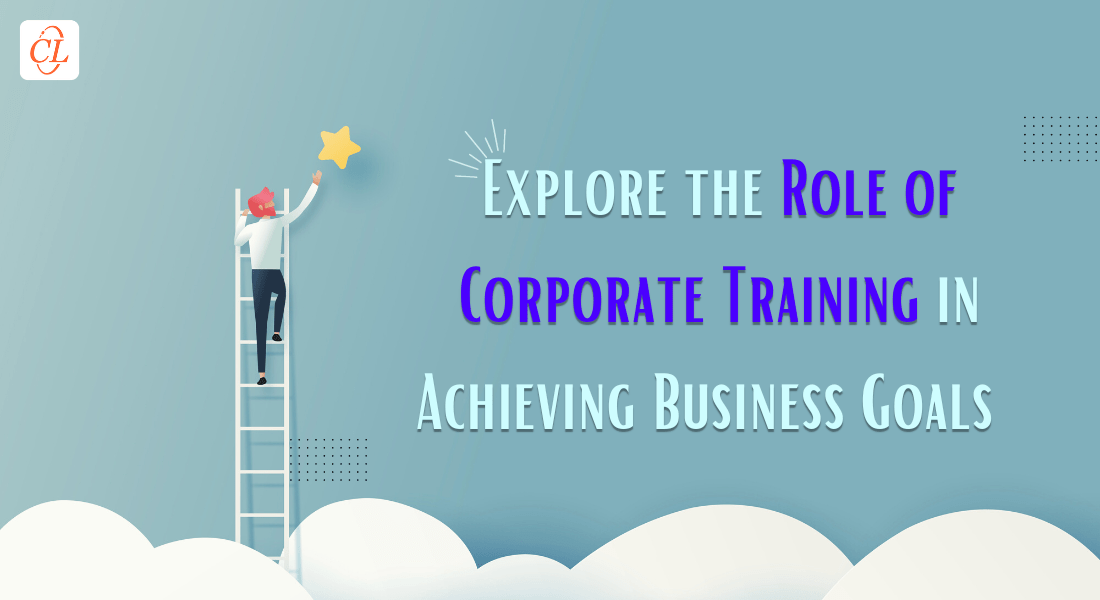 The best businesses are those that understand the value of training, which is why it is an important part of their overall business strategy. According to a research report, 2022 Workplace Learning & Development Trends, from the Society for Human Resource Management (SHRM), 76% of employees are more likely to be a part of a company that provides continuous training. And from the organizational perspective, 8 in 10 HR managers held training to be an important component in attracting 83% of the new talent and retaining 86% of their employees. Corporate training, indeed, can be transformative for an organization's ability to achieve its goals and objectives. But how? Let's try to answer the question in this blog.
Achieving Business Goals is Just a Corporate Training Away!
Here's how corporate training contributes to achieving business goals
It facilitates workforce efficiency
It improves sales
It promotes compliance
Every business strives to achieve certain goals that add value in terms of both profit and brand identity. These goals are a result of various macro and micro-level drivers. Macro-level components include — organizational innovativeness, right positioning and pricing of products and services, visionary leadership, etc. On the other hand, micro-level attributes that influence business goals entail streamlined workflow, employees with the desired skillset, infrastructure, tools and technology, etc. However, accomplishing these goals without adequate corporate training is next to impossible, thereby emphasizing its essence and importance.
The Essence of Corporate Training
Imagine being asked to jump into a pool without being given any information about the pool. Let alone the idea of being trained to swim. Well, you won't be at your best. You're most likely to drown. Similarly, your employees taking up a role without completely understanding the essence of their position is just like shooting arrows in the dark. Therefore, corporate training is considered an indispensable instrument for promoting business activities, human resource development, and improvement of employee productivity. It promotes employee development skills, thus making them proactive at work. Corporate training also helps to eliminate the opportunity cost attached to non-utilized skills of employees, which could otherwise lead to increased profits in the organization. So let's tap into the big question of how corporate training facilitates business goal achievement.
How Corporate Training Contributes to Business Goal Achievement?
Corporate training plays an integral role at both individual and organizational levels. Considering the employee side first, providing relevant corporate training can be beneficial for them both personally and professionally. Learning new skills boosts their confidence and ability to comprehend things in a better way. For businesses, training contributes to goal achievement by improving workforce efficiency, increasing sales, and facilitating compliance which further paves the way for enhanced productivity, aligned workflow processes, higher work-output quality, and a better retention rate. Let's explore these factors in detail.
It Facilitates Workforce Efficiency
Corporate training helps increase workforce efficiency by providing employees with the skills they need to succeed in their jobs. It bridges the gap between current and required skills which leads to an improved quality of work. By being able to understand things quickly and holistically, employees can contribute to ideas and innovation, which can be a win-win for both the employee and the employer. Adding new skills increases an employee's chance to progress in their career. This can be done via internal training sessions or external classes that are taught by SMEs (Subject Matter Experts) in the field of business management or related fields. The benefit of this approach is that it can be tailored to the needs of individual employees. A company can also offer incentives for employees who complete eLearning courses or attend certain online seminars—such as coupons, gift hampers, or other perks—as an added bonus to the opportunities.
It Improves Sales
Corporate training also helps improve sales by making people feel more confident about the products they are selling and the services they offer. This confidence will translate into better customer satisfaction, thereby improving the customer retention rate. For example, if you want your employees to sell more, it's important that they have a good understanding of the product or services and the process. Corporate training can also help them understand the structure of their industry and its customers' needs. This knowledge will help them pitch products or services in an effective manner, which will result in better sales and revenue generation.
It Promotes Compliance
Finally, providing compliance-based training to your employees sets the tone for your organizational culture. With the help of proper corporate training, you can ensure a superior workplace environment where all employees understand the clear difference between right and wrong and put in their best efforts to act accordingly. This helps your employees to stay compliant with organizational and process regulations because it enables them to understand what is expected of them under different circumstances. And in case of any misbehavior, they are well-versed with the consequences too. Such onboarding training generally includes POSH, data privacy, information security, a code of conduct, and more.
To Sum It Up
Evidently, training is critical for any business that hopes to achieve its goals. It enables employees to gain insight into the organizational structure and their job roles. Further, it provides them with skills and competencies that help them align their efforts toward attaining the business goals and be more effective in undertaking their roles and responsibilities, both immediately and over time. When employees are well-trained, they are more proficient and productive, thereby contributing to business goal achievement.
Corporate training programs enhance the processes, procedures, and systems that support your business goals. Therefore, it is a must! With different approaches available for the same, you can pick the one that caters to your training requirements in the best way possible. Our suggestion? Rapid eLearning is gaining popularity for its efficient outcomes. It helps increase the productivity of the workforce, improve sales and revenues, promote compliant behavior, improve information retention rate, and achieve other business goals.
Boost your training ROIs by learning more about rapid eLearning and the 4Rs for effective corporate training. Check out this webinar recording now!