5 Characteristics of an LMS that can Make or Break Online Learning
The best LMS for corporate training will help achieve your business results. So, what features should you look for in an LMS? Mobile accessibility, gamified dashboards, learning analytics, or more? Take a look at 5 must-have LMS features.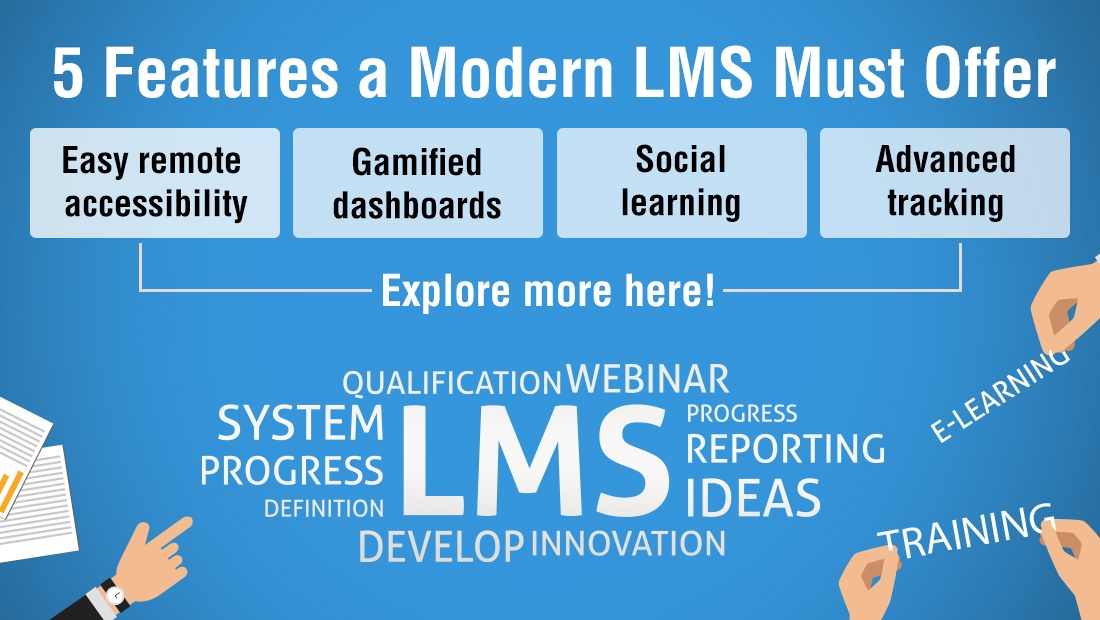 It is a truth universally acknowledged that any organization in search of online training solutions must be in need of a Learning Management Systems (LMS). Setting my Austen-ian humor aside, it is a fact that adopting eLearning as a corporate training strategy is unthinkable without an LMS. While it is true that you can host online training courses within your organization's intranet, it is highly impractical. It is hard to keep track of all those training courses and provide learners access to them at the time of need.
5 Characteristics of LMSs that can Gear-up eLearning
An intuitive & learner-friendly interface
Easy remote accessibility
Gamified dashboards and support for social learning
Advanced tracking ability
Scope for customized learning analytics
Also, what good is an eLearning training program if learners can't access it outside the office? What good is it if you can't track what your learners are doing with those courses?
That is why LMSs are so integral to corporate training. They provide a centralized platform for hosting, delivering, tracking, analyzing, and reporting of eLearning courses. For learners, an LMS gives easy access to eLearning courses. And for training managers and administrators, it enables effective evaluation of online training impact. Sounds like a win-win solution, right?
LMSs have been in the market for two decades now. And during this time, they have evolved a great deal – partly due to advances in learning technology and partly due to changing learner expectations from training. So, what kind of LMS should you look for to manage your organization's online training programs?
Here are a few characteristics you need to look for in an LMS for today's corporate learners.
5 Must-Have Characteristics to Look for in a Modern LMS
1. An Intuitive & Learner-Friendly Interface
LMSs are primarily used by learners, trainers and managers. While it is the job description of an LMS administrator to be well-versed in handling the LMS, the same is not true for learners and trainers. You can't expect all your employees to be tech-savvy and use the LMS like a pro! Also, learners who are not very comfortable with technology often resist the idea of online training. So, what can you do?
An intuitive and user-friendly interface will definitely help! A learner-centric, easy-to-navigate interface should be at the top of your wishlist for choosing the right LMS.
Modern LMSs also come with Chat-bots where learners can simply type in their question and a computer-generated answer will pop-up to solve it. These are especially helpful with FAQs on common issues learners might have while working on the LMS.
A user-friendly dashboard that is accessible no matter which LMS page learners are in wouldn't go amiss either. Learners can navigate between courses and be able to go back to the home page with minimal clicks.
Additional features such as Text to Speech and other accessibility standards can help learners with disabilities use LMS with ease.
2. Easy Remote Accessibility
To repeat my previous question, what good is an eLearning training program if learners can't access it outside the office? Nowadays, almost every work function can be done on a mobile device; so why not training? Mobile friendliness is an important feature to look for in an LMS. It will save you the hassle of pulling your deskless and remote workforce from their jobs every time they need to be trained.
With a mobile-friendly LMS, learners can easily access eLearning courses and other training resources through their mobile devices anytime, anywhere they need.
Many LMSs such as Adobe Captivate Prime, iSpring Learn, and CourseMill come as mobile apps that allow offline access to training. Learners can download eLearning courses when they have Internet access and take them even in the offline mode.
3. Gamified Dashboards and Support for Social Learning
New-age learning practices like gamification and collaborative learning are proving to add a lot of learner engagement and motivation. Can you imagine how awesome it would be if these elements are implemented in an LMS?
Social learning elements like discussion boards and messenger tools are must-have features in an LMS. Many platforms also allow learners to post user-generated content in the form of videos, audio recordings, and blog posts directly on the discussion boards. Some LMSs are also enabling learners to post content from social media platforms.
Gamification is an effective way of challenging and motivating learners. It also makes learning fun. Gamified LMS dashboards have leaderboards and progress bars that reflect learners' course completion rates and achievements in the form of points and badges.
4. Advanced Tracking Ability
An LMS is more than just a library for eLearning courses. It allows you to track learners' activities at any given point in the eLearning course because of eLearning technical standards like SCORM, xAPI & cmi5. Knowing what standards an LMS supports will not only help you determine if it will be compatible with your eLearning courses but also decide which learning activities to track.
SCORM is the most widely used standard today. It has two active versions – SCORM 1.2 and SCORM 2004. While SCORM 1.2 became more popular than AICC immediately after its launch, it has its own issues. An LMS compatible with SCORM 1.2 doesn't allow course sequencing and offline tracking. The first problem was solved with SCORM 2004 which allowed LMSs to sequence eLearning courses, but despite several updates it was not able to solve the offline tracking issues.
Offline tracking became finally possible with xAPI or Tin Can API and cmi5. These standards require a Learning Record Store (LRS) to track offline learning. The LRS can work independently or along with an LMS. It will continue to record learners' activities when they access training in the offline mode. When the device goes online, the LRS feeds the data into the LMS where it is saved.

5. Scope for Customized Learning Analytics
In recent years, learning analytics has become a hot topic of discussion in corporate L&D. But what exactly is meant by learning analytics? And how relevant is it to our discussion on the 'must-have' features of an LMS?
Well, according to Society for Learning Analytics Research (SOLAR),
Learning Analytics is the measurement, collection, analysis, and reporting of data about learners and their contexts, for purposes of understanding and optimizing learning and the environments in which it occurs.
It offers actionable insights by evaluating the effectiveness of training programs.
And who (or what) do you think does all the measuring, evaluating, analyzing, and reporting of learning data?
Yes! It's the LMS. Learning management systems are the most important and irreplaceable tools for implementing learning analytics. Even without an analytics engine, most LMSs generate reports based on completion rates, average and individual completion time, average and individual scores, and more. But if your LMS can be integrated with an analytics plug-in or engine, it can generate highly insightful and customizable reports that can help in the evaluation of your training efforts.
Good learning analytics is the key to a successful training ROI. Don't you think the LMS of your choice should be able to support it?
Summing it Up!
The LMS has become an indispensable part of any online training initiative. I hope this list of must-have characteristics will help you choose the right LMS for your organization – one that caters to the diverse needs of learners, administrators, and content builders simultaneously.
Effectus LMS is a good example of a user-friendly platform. It is an open-sourced, 'plug and play' LMS that can help you jump start your online training program. Also, we will be launching our new eBook on 'Choosing the Right LMS' very soon. Hence, stay tuned with this space.
Meanwhile, here's a free eBook on how to build an impressive business case for eLearning. It offers all that you need to get your stakeholders' buy-in for online training.