4 Microlearning Benefits Corporate Trainers Can't Ignore
Corporate training helps organizations achieve their business goals by improving employee performance. Microlearning is becoming increasingly popular as it is a flexible learning approach that can be used in a variety of ways to enhance individual and organizational performance.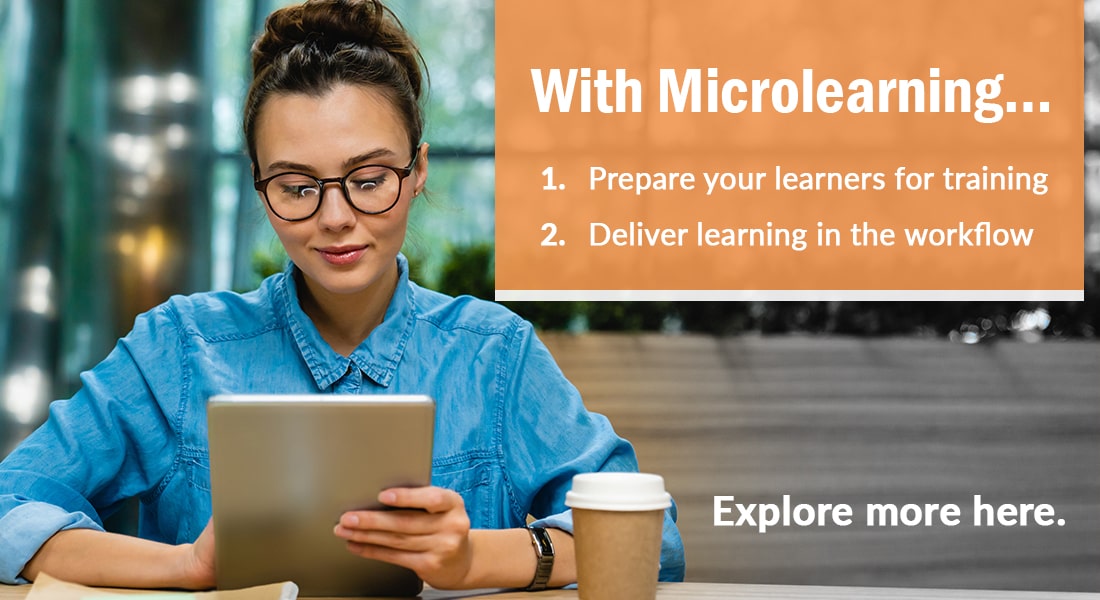 Microlearning is a versatile and effective form of online training that can be used to improve individual and organizational performance in a variety of ways. It provides learning in bite-sized chunks, each of which addresses a single learning objective.
Microlearning can be used alone or as part of blended learning and is an excellent way to deliver learning when and where it is most needed for the corporate workforce. It is becoming increasingly popular in organizations, particularly among millennials and Gen Z employees who have short attention spans, are very tech-savvy, and are accustomed to instant access to information.
Microlearning facilitates information assimilation and retention. Modules are much easier to develop, update, and deliver, and completion rates are higher. Because of its small size, it compliments other learning techniques like peer learning, spaced repetition, and just-in-time training.
How Microlearning Benefits Learners
1. Promotes and Prepares Learners for Online Training
Quizzes, flashcards, and infographics can all be used to promote and prepare learners for online training, and help learners recollect what they already know. Mini-quizzes or assessments can be used to check learners' existing knowledge before classroom ILT (Instructor-led Training) or online training. This also sets the context for the upcoming training so that they can connect to the new information.
Microlearning in the form of video teasers, GIFs, interactive infographics, or podcasts is a good way to introduce learners to a new training topic and pique their interest, helping to motivate them to take the training.
Microlearning for Corporate Learners
4 Benefits
Promotes and prepares learners for online training
Delivers concise and specific knowledge in the workflow
Sustains and enhances employee performance by making training easy
Offers performance support training
2. Delivers Concise & Specific Knowledge (On Time) in the Workflow
The goal of corporate training is to improve employee performance, not to cause work disruptions. But traditional methods of employee training need employees to take time away from their jobs to attend training. One of the main advantages of microlearning is that it allows for non-disruptive learning within employees' regular work schedules.
Microlearning provides targeted and concise learning by addressing a single learning objective per module, resulting in learning that is brief and very much to-the-point. The short learning modules, each lasting about 10 minutes, do not require employees to rearrange their schedules or relook at priorities. This allows them to continue working on their assigned tasks, while also applying what they've learned into their work.
3. Sustains and Enhances Employee Performance by Making Training Easy
Microlearning modules can be assigned to learners after the primary training in the classroom (either face to face or VILT) or eLearning. It not only improves proficiency but is also more engaging due to the variety of formats available. Microlearning reinforces learning and improves performance with just-in-time support, which helps learners hone their skills.
Microlearning solutions can be used to address a wide range of learning needs across the learning journey, from raising awareness about upcoming training to providing practice opportunities and refresher bytes with just-in-time remote learning as it improves work performance.
It is critical to select the format based on the training requirement, learner profile, and learning environment. Form should always follow (come after) function, and not the other way around.
4. Offers Performance Support Training
Microlearning modules are ideal for performance support due to their short duration, easy accessibility, and availability in a variety of formats such as:
Digital flashcards
Infographics for 'Dos and Don'ts'
Videos to help in troubleshooting
Animations and GIFs
Now that we've looked at the benefits of microlearning, let's look at a few examples of where it can be used.
A Few Applications of Microlearning
Microlearning can be leveraged for distinct types of training to enhance employee performance. Here are a few design models with suitable examples that can be used for various training types.
1. Microlearning for Sales Training
Microlearning is your best bet when it comes to training your sales personnel. As sales representatives are constantly traveling, microlearning is ideal for them, being brief, focused on a single learning objective, compatible with mobile devices, and offering a virtual hands-on experience.
It can be delivered in the form of:
Sales scenarios
Product comparison charts
'How-to' videos
2. Microlearning for Onboarding Training
Handing your new hires voluminous handbooks or manuals in a classroom or making them sit through lengthy eLearning courses would not be a great way to welcome them into the organization, would it? Engaging your adult learners with your onboarding program is the real challenge.
However, you can make the best impression on your new hires by leveraging microlearning, with:
Welcome videos from influential speakers (e.g., C.E.O)
Virtual tours of the facility
Testimonials of current employees
Game-based assessments
Finally, dynamic market changes necessitate frequent updates to training content and the rapid implementation of training programs. So, if you need to update existing courses or bring learners up to speed on the most recent events and trends, microlearning is the way to go. These modules are simple to create, update, and maintain, making training easier.
To Wrap Up
Many organizations are recognizing the benefits of microlearning and are eager to put it to use to improve employee performance. It has proven to be an effective and useful tool that can be customized to meet the needs of employees while also providing significant benefits to businesses. To understand where microlearning fits in your learning strategy, download this eBook!