Everything You Want to Know About the "Classroom to VILT Conversion" Webinar
It's time to say goodbye to all your doubts about classroom to VILT conversion! Here's an exclusive webinar on classroom to VILT conversion that offers practical insights straight from the horse's mouth! It's too good to be missed!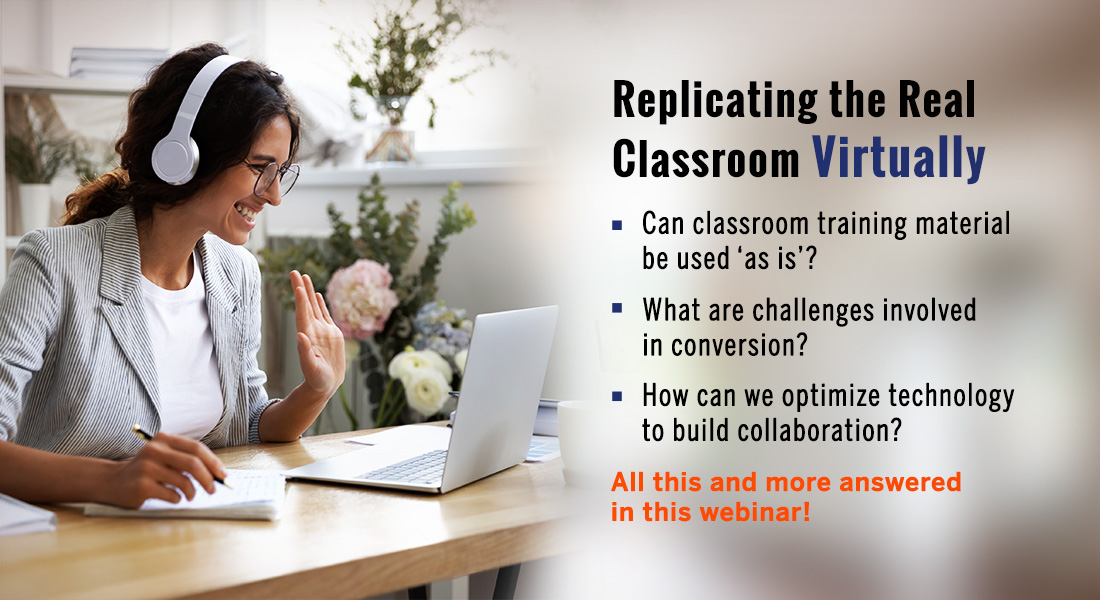 Are you having concerns about converting your classroom training to virtual Instructor-led training (or VILT as it is popularly known)?
Classroom to VILT Conversion
What Does the Webinar Cover?
The difference between webinars and VILT
Challenges involved in the transition
Crucial decisions to be taken
Materials required for VILT
Popular virtual classroom platforms
Ways to maximize engagement
Well, if this is your first time, it's natural to have doubts. And there must be a lot of questions swarming through your head right now.
Can I use classroom training materials for VILT?
Will it be VILT if I use classroom PPTs on a virtual platform?
What are the possible challenges my organization should be prepared for?
How do I make sure my learners don't doze off in the middle of the session?
Is switching to VILT really as cost-effective as they say?
Is VILT even worth it?
And……………………..?
Hold on!
It's time for you to sit back and relax because we hear you! Here's an exclusive webinar "Classroom to VILT Conversion" – September 29, 2020, 11 AM EDT – that's designed to offer practical guidelines on tailoring VILT sessions to replicate the real classroom – a change your learners won't mind at all!
Our In-house L&D expert, Shalini Merugu will be your VILT guru – taking you through all the crucial factors (from ideation to implementation) of classroom to VILT conversion.
Shalini Merugu

Senior Manager – Learning Design

Shalini is a versatile Learning Design professional with 15+ years of experience in Instructional Design (ILT, VILT, and eLearning), Customer Training, Technical Documentation, User Assistance Solutions, Academic Teaching, and Content Writing.

Her experience in designing eLearning solutions along with the design and delivery of instructor-led training (both virtual and in a physical classroom) helps her leverage the strengths of each medium to consistently create the best possible training solution, ensuring that nothing is lost while converting from one format to another.
Let's look at what we've got in store for you!
Webinar Roster
The Difference between Webinars and VILT
If you thought the terms 'webinar' and 'VILT' can be used interchangeably, think again! A well-structured VILT (meant for corporate training) should never be anything like a webinar. In fact, VILT also does not mean taking a classroom PPT and use it on a video conferencing platform.
So, how is VILT different from webinars and video conferencing?
That's exactly what you'll explore in the webinar!
Challenges Involved in the Transition
With any new training approach come unforeseen challenges, which if not dealt with proactively, can end in failure. So what should you be prepared for while converting from classroom to VILT?
To give you a sneak peek, here are a few challenges Shalini will talk about in the webinar:
Unfamiliar technology and formats
Managing activities and facilitating
Adding engagements
Developing content
Crucial Decisions to be Taken
We know how important right decisions are to accomplish anything. And decisions related to classroom to VILT migration are no exception. But how do you make the right decisions when you don't know what you need to decide in classroom to VILT conversion? So, here goes.
What should be the format? (A blended curriculum or a pure ILT to VILT?)
What about the content? (Will existing content work or does it need rework or updates?)
Which engagement activities should be included (Polls? Chats? Breakout rooms? Annotations?)
Shalini – who has been working on ILT to VILT conversion projects for our global customers – will help you figure out what's best for your organization.
Materials for VILT
While it's important to focus on designing the actual VILT session, it is equally important to prepare support materials that will ensure a smooth learning experience.
For example, an introductory 'How to get started' tutorial with hands on practice will help both the instructor and learners make the best of the virtual platform's features.
There are more materials you would need to get ready, but we are saving them for the webinar. Do sign up to find them all!
Popular Virtual Classroom Platforms
Are you thinking of Zoom? Well, Zoom is definitely a very popular virtual classroom platform but there are many more options! You can also use video conferencing tools such as Microsoft Teams, GoToMeeting, and WebEx for VILT sessions!
However, each platform comes with a different set of features that need to be carefully leveraged for the virtual session. Don't worry if you can't totally get what I'm saying. Shalini will introduce you to these tools, including poll tools that'll take your VILT sessions from good to amazing!
Ways to Maximize Engagement
Here comes the most awaited section of the webinar (my personal favorite!). Learner engagement can be (and has been) a real struggle for L&D leaders at some point or the other. I'm sure you have a lot of doubts on whether VILT can engage learners enough to keep them from flipping their smartphones during an ongoing session.
We've compiled a list of engagement strategies that are not only engaging, but also ensure effective learning and retention. And you'll get a bonus – Shalini will share insider tips on how to use them best!
(I really don't need to tell you what to do to find out how to maximize engagement in the VILT session, do I?)
The Migration Process and Secret Tips
Last but not least, you'll discover a fool-proof plan for successful classroom to VILT conversion that includes all three stages – planning, design, and development of the virtual instructor-led training.
That's not all! Shalini will share practical tips before concluding the webinar to help you get started like a pro!
Concluding Remarks!
You also get an open house to get your questions answered by the expert! And best of all, the webinar is absolutely free! Sign up to explore all this and more in this webinar to help you design and deliver effective VILT sessions.
P.S. Register even if you're not sure of attending the session, we'll send you a recording!
See you there!