Why Blend Synchronous VILT with Asynchronous Online Training?
Online training has become the new norm with classroom training out of the picture. This blog talks about converting classroom material into a blend of synchronous (VILT) and asynchronous (eLearning and its affiliates) online training.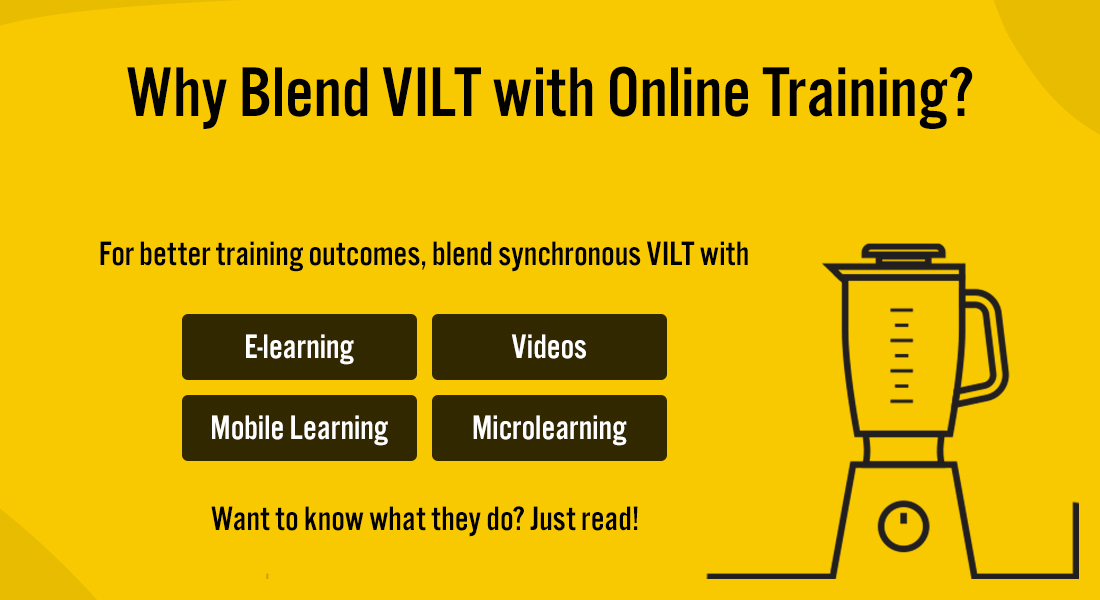 I know that as training managers, you are constantly on the lookout to improve your online training outcomes, now more than ever with your learners sitting at home, thanks to COVID-19. Not only has this put all forms of classroom training on hold, it has made Virtual Instructor-Led Training (VILT) the front runner for employee training.
The New Blend: Synchronous and Asynchronous Online Training
Blend synchronous VILT with an asynchronous online training format for maximum benefit
VILT + E-learning – for improved learner engagement
VILT + Videos – for compliance training
VILT + Mobile Learning – for social learning
VILT + Microlearning – for performance support
But did you know that blending VILT with different asynchronous online training formats can give excellent training outcomes? It is true, asynchronous online formats like eLearning, when combined with VILT, can prove more effective than traditional classroom teaching.
Traditionally, blended learning was considered a mix of in-person classroom training and online learning. But with face to face classroom training not possible at present, blended learning can be a scientific blend of synchronous VILT (real-time with instructor presence) and asynchronous (self-paced without instructor presence) training modalities.
HOWEVER!
Synchronous VILT sessions are critical in training, given that no form of virtual or digital training can replace the actual presence of a trainer. This blog will talk about VILT as the steady synchronous half of the blended learning and balance the benefits of merging it with different asynchronous online training strategies.
Online Training – Where does VILT Fit in?
Online training is an umbrella covering all training provided virtually through online methods. As such, online training consists of both synchronous and asynchronous training modalities, some of which include:
Synchronous Online Training:
Asynchronous Online Training:
E-learning
Video-based learning
Mobile learning
Microlearning
You can click here to know more about the different forms of online training.
VILT is nothing but a virtual version of regular instructor-led classroom training. As the use of video conferencing tools grew over the course of COVID-19, so did the popularity of VILT.
Here's why VILT is invaluable in remote training:
VILT is very useful to explain complex concepts.
VILT allows instructor(s) and learners to attend the session from different locations.
Interactive group-based or one-on-one sessions are possible with VILT.
Let's Get Blending!
However, as we well know by now, remote training has some very obvious shortcomings. Using only VILT for training might end up boring the learners. Blending synchronous VILT with different asynchronous online training methods will prevent that and also give better outcomes. Here are four ways VILT can be blended with online training.
1. VILT + E-learning for Increased Learner Engagement
Custom eLearning courses are specifically built considering the learner's needs. They are based on strong instructional design principles and eLearning standards, and are created with the help of authoring tools. They are hosted on dedicated Learning Management Systems (LMS), providing access to all learners without the limitations of space and time.
Here's how blending VILT with eLearning can help you.
Different formats: Self-paced eLearning can be offered in various formats – videos, simulations, mini games, etc. – based on training needs. This keeps the learner from getting bored and also provides flexibility to choose how he wants to learn.
Interactive learning: Interactivities in eLearning increase learner engagement and also help in retention of information.
Tracking and reporting: E-learning courses being hosted on LMS, allow tracking and reporting on learner progress – how much learners are engaging with the course, their points of difficulty, number of attempts at assessments, and a lot more.
2. Video-based Learning for Efficient Compliance Training
Blending VILT with video-based learning is an excellent way to amp-up the compliance training game. Compliance and ethics training is mandatory in all organizations, but given the dry nature of the content, most learners are disinclined towards it. Plus, millennial learners find it more acceptable to have a touch of technology in their learning.
There are several benefits of using videos in online training, alongside VILT. A small virtual conference session explaining the basics of compliance and ethics can be followed up with a series of videos to engage, reinforce, and add to the learning.
A blend of synchronous VILT and asynchronous video-based learning:
Facilitates scenario-based learning: The dos and don'ts of compliance and ethics can be provided through scenarios and narratives. Chopping a web of different branching scenarios into small videos with one or two narratives can explain the concept better.
Enhances learner engagement: VILT sessions by themselves can be boring. Adding videos decreases the cognitive load, increases employee engagement, and enhances learning.
Provides reinforcement: No training is complete without reinforcement and support. Videos act as excellent supporting resources because they can be made short, easy to watch and understand, and shared with a large global workforce.
3. Mobile Learning for Social Learning at One's Own Pace
If you ask me, I would say that the best blending strategy is to blend VILT with mobile learning. Mobile learning enables learners to learn at their own pace and exactly when they need it.
Synchronous VILT blended with asynchronous mobile learning:
Enables self-paced learning: Most learners have a mobile device of their own, thanks to which self-paced learning is a reality. Learners can access training on their mobile devices whenever and in whatever format they want to, after the VILT session.
Supports different learning strategies: Mobile learning can also support a wide range of learning strategies including social and collaborative learning through social media applications. You can also add interactivities and mini games as part of interactive learning experience.
Facilitates just-in-time training: Just-in-time training, or training when needed can be easily achieved through mobile learning. Sudden and urgent updates to product information or product service information can be shared with learners easily via the LMS.
4. Microlearning for Better Training Support
Microlearning refers to training in small nuggets. It can be delivered in a variety of formats which include videos, infographics, quizzes, and podcasts. Blending microlearning with VILT sessions, therefore means that learners are free to engage with a range of different formats of resources for training, before, during, and after the VILT session.
Here's how blending microlearning with VILT can help your training:
Pre-training: Small microlearning videos can be used to introduce a topic. Micro-quizzes can be used as icebreakers and micro-assessments to test existing knowledge.
During training: Videos and simulations can be used for product demonstrations; infographics and interactive PDFs as ready resources.
Post-training: Mini games and quizzes can be used to reinforce learning, and infographics, flashcards, concept maps, audio narrations and podcasts, can all be used for performance support.
Summing Up!
Okay, so the bottom-line: Blending synchronous VILT with asynchronous online training strategies is an excellent idea. Not only is it based on the widely popular principles of blended learning, it adds variety to training sessions. Who would say no to that?
If you are still not convinced about blended learning, here's an eBook on how blending can improve employee performance. Click below.