4 Ways Online Learning Solves the Limitations of Classroom Training
Online learning has redefined corporate training. In this blog, we will discuss four different ways online learning has taken over classroom training.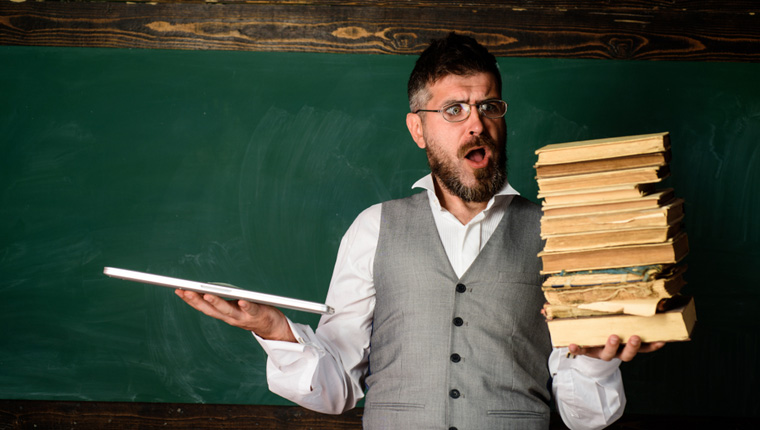 We are all learning in new ways today. Most of us consume news digitally – we get a burst of news via the Facebook feed, various e-mail newsletters we sign up for, surfing the Internet briefly daily during our commute, and getting information on our favorite mobile devices at the click of a button. This is the new form of learning – online learning, and the learning of the future. The corporate learning scenario is no different; in this day and age when learning is available on the fingertips, do you reckon classroom training is still enough to satisfy the learning needs of today's learners? Is the brick-and-mortar training method the right fit for the millennial workforce?
4 Reasons Online Learning is Better Than Classroom Training
Classroom training is no longer the default delivery system
E-learning is not a one-size-fits-all solution
Learning now takes place beyond the classroom—on the job
E-learning courses can be developed at a breakneck speed
In many ways, online learning has surpassed classroom training in solving these shortcomings of instructor-led training. In this blog, we will see why online learning, and not classroom training, is the ideal solution for solving twenty-first century's training challenges.
Why is Online Learning Better Than Classroom Training?
1. Classroom training is no longer the default delivery system
In many instances in the past, if an organization wished to implement training, the development of classroom training material was automatic. Today, learners have different learning needs compared to the past. They:
Want learning on the go, and be able to choose training times that fit their schedule
Have lower attention spans and are more attuned to bite-sized learning
Believe frequent training is more important than formal workplace training
Add to this, the added pressure of balancing work and training has also increased the demand for flexible learning options.
For organizations, developing classroom training is an expensive affair as it accrues significant logistical overheads such as course development, instructor time, instructor salaries, preparation time, classroom/conference room costs, travel expenses, material costs, and learners' time.
Over the years, eLearning has become the default training delivery system for organizations who want a quick way to deploy training at lower costs, at the same time offering their learners a meaningful learning experience. What do I mean by this? One of the reasons organizations find eLearning particularly effective is that because everything happens online – learners can revisit courses as much as they want at any time for refresher purposes. Plus, they can choose to learn at their preferred time according to their timeline and commitments.
2. Online learning is not a one-size-fits-all solution
Classroom training usually follows a strict schedule and all learners are expected to stick to it and finish the training along with their peers. This 'one-size-fits-all' solution is built around the assumption that all learners learn at the same pace and time. However, this couldn't be more removed from reality. Every learner has their own learning style and prefers if the training allows them to make their own learning preferences. (This choice to be self-directing is also one of the adult learning principles that is characteristic of good training programs.)
Besides, given the increasing differences in the backgrounds, knowledge levels, motivation, and availability of learners, it is increasingly difficult to expect learners to be ready at the same time for the same classroom course.
E-learning in this regard is far more accommodative. Instructional designers create eLearning courses keeping in mind the different learning styles of the target audience. A balance of audio, video, and kinesthetics is observed in all online learning courses. Apart from this, creative instructional strategies are employed as per the nature of the content to ensure maximum learner engagement.
Tuning the instruction to fit the style of individuals has a meaningful effect among learners, a mark that ILT misses. For example, mobile learning for on-the-go, mobile learners; microlearning modules for short and bite-sized learning; scenario-based learning for learners who learn better when confronted with realistic scenarios; simulation-based learning for those who prefer learning-by-doing.
Companies that have successfully implemented eLearning host courses on an LMS (short for learning management system), which acts as a repository for all training material. The LMS is not just a repository, though; an LMS is also a reporting tool. An LMS is capable of tracking and recording all learner activities—individual and/or group. These learning analytics can be highly useful in getting insights regarding not only the performance of learner(s) but also about the performance of the training on the whole.
3. Learning takes place beyond the classroom—on the job
Often times, a learner attends the training in order to learn a skill or procedure. However, the learner is not required to take this new information and put it to use for at least a few months. This lack of opportunity to immediately build on and use the skills they learned means they forget what has to be done when the time finally comes to use it. The classroom strategy may provide a wealth of information, but if that information isn't retained, it's of very little use to the learners or the business.
Without repetition and reinforcement, learners are bound to misremember or forget what they learned in the training sessions. This couldn't be stressed more for the modern learner who, thanks to tight work environments, is documented to have lower attention spans and as a result cannot process and remember much information. To make matters worse, no performance support is extended to boost learner performance in times of crises at work.
If this same course was available online, the learner would take the course at the time it is needed. There would be no time lost or retraining required. Online learning also has some nifty strategies up its sleeve to solve this problem. For instance, companies can take advantage of the ubiquitous usage of mobile devices among learners to their advantage and tailor training solutions accordingly. One such example is the microlearning strategy.
Microlearning is a bite-sized learning strategy that parses information in short modules of 5-8 minutes' duration. This not only helps learners in retaining knowledge over longer periods of time but is also accessible on mobile devices, which is a huge plus for performance support.
Microlearning assets in online learning include videos, infographics, PDFs, FAQs, and whiteboard animations which can be accessed on mobile devices whenever the learner needs help with finishing a task, making it one of the impactful strategies for on-the-job support.
4. Online learning courses can be developed quickly
In most organizations, classroom training is held in a brick-and-mortar building, and the trainers and learners are all required to gather at this location to undergo hour-long training sessions. Instructor-led training, as you can see, requires more time to implement because training must occur at a specific location. This requires travel time. Additionally, updating material in an instructor-led class can be cost- and time-consuming because the material must be adjusted and reprinted. Besides, it is impossible to bring all the employees together and train them at the same time.
Any new information or courses can now be disseminated instantly thanks to the breakneck speed at which eLearning courses can be created. If companies' partner with an eLearning vendor, they can rest assured the turnaround time for their courses will be higher than any other training strategy. This is made possible by instructional and courseware designers at the vendor's end who use a combination of robust rapid authoring tools and instructional design principles to create good online learning courses.
The quick turnaround time means that course updates can be made easily. Old material can be deleted, new material can be added, and any mistakes can be easily corrected and completed. As a result, learners do not have to wait for weeks/months for the next training to access new information.
Concluding Remarks
Classroom training has been effective for many years; but it's time organizations realize ILT's shortcomings when it comes to fulfilling today's training needs and acknowledge the true benefits of online learning. One of the objectives of training is to enable employee performance which in turn boosts business results. The varied benefits of eLearning — such as accessing learning content on the go to complete job tasks and being able to create courses at a rapid pace — make it the ideal solution to enhance learner performance at work.
Are you planning to convert ILT training material and move to eLearning? Hold on! Did you know that the classroom material can be a good framework for your eLearning courses? That's right. Learn more about how to get started with eLearning in your organization in this eBook.