5 Tips to Engage and Motivate Learners in Virtual Classrooms
Motivating learners in virtual classroom training is tough but it's not an impossible task either. Get learners engaged in VILT with 5 practical tips – such as using polls and breakout rooms – that can be put to good use in your virtual classroom.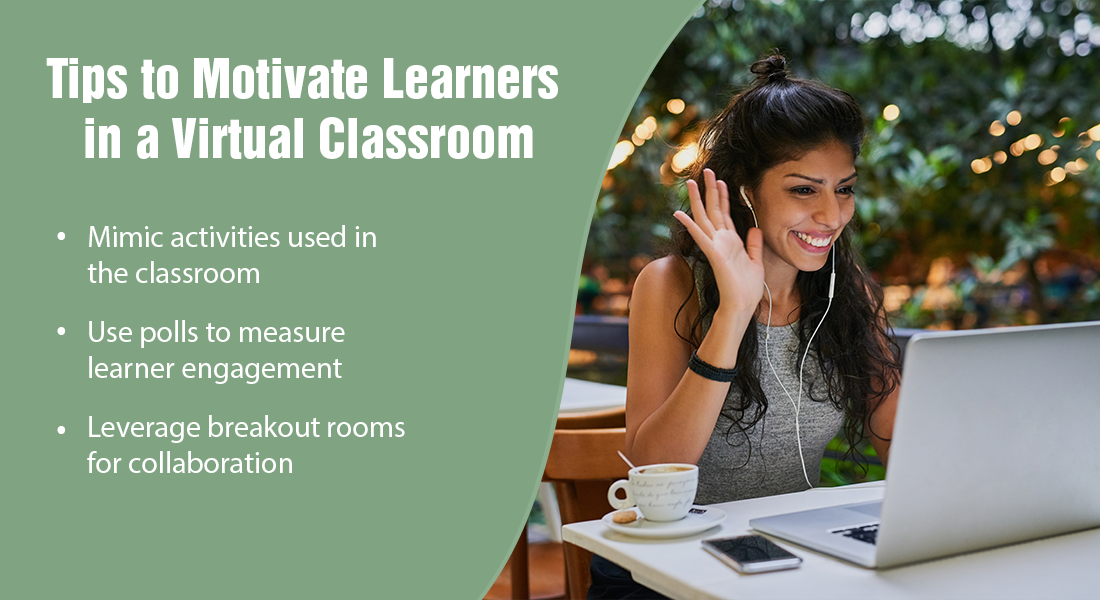 Is your virtual classroom training focused on the learner? Is it learner-friendly? Does your virtual instructor-led training (VILT) offer enough motivation to learners to maximize learning and knowledge retention?
Maximize Learner Engagement in Virtual Classrooms
5 Tips
Mimic activities used in classroom training
Use polls to measure learner engagement
Leverage breakout rooms for collaborative activities
Recognize and reward learners' progress

Make notes of topics for future reference
How do you help virtual learners connect to the subject matter at hand?
The COVID situation has compelled many organizations to shift their training online, thereby making learning from home possible. Agreed that virtual or online learning offers a lot of benefits but motivating adult learners in a virtual environment can be quite challenging—especially when you consider the modern learner's tendency to be easily distracted and lose concentration. And because there is no face-to-face interaction, how can the instructor ensure learners stay motivated?
Motivating and Engaging Learners in Virtual Classrooms
Although tackling this problem of learner motivation may seem impossible, there are simple yet smart strategies an instructor can employ. In this blog, we will look at 5 such tips that will help keep your virtual training participants engaged and motivated.
1. Use Learning Activities and Media that Mimic Classroom (ILT) Activities
Just because you are moving training to a virtual environment does not mean you stop using activities that you used in the classroom. Classroom-based activities allow most learners to interact with the trainer and other learners on a personal level, offering a learning experience in which all participants (and their learning needs) are taken care of equally.
But how do we do that in a virtual training session?
First, don't let the media and online tools used in VILT overwhelm you; try to use as many ILT-based activities in your training as possible wherever necessary.
Brainstorming sessions organized by the instructor in the classroom can be done in virtual classrooms too – with the virtual whiteboarding feature (that most platforms have) to explain the content, and participants using the annotation tools or quick polling.
Just like you would in the classroom, you can have participants summarize what has been covered in 10-15 words through the chat functionality.
Your virtual learners can also ask questions by using chat rooms (private or public). They can also give feedback on the training, adding emoticons (😊, ☹, etc.).
Divide learners into groups for activities or discussions, much like you would in the classroom. Learners can communicate with group members via private chat or third-party instant messenger (more on collaborative learning later in the blog). You can also include role-playing activities for hands-on practice on complex topics.
2. Use Polls to Measure Learner Understanding and Engagement
The trick to effective virtual training sessions is to intersperse the session with breaks – have short virtual lessons punctuated with polls and informal discussions. This approach is much like the microlearning strategy (that offers bite-sized learning nuggets) that is so successful in keeping learners engaged and motivated throughout the online training.
Use the platform's in-built polling features to:
Ask questions between topics to measure learners' understanding
Assess learners' interest and engagement in the session
The VILT platform's polling feature:
Allows you to create single or multiple-choice questions for your VILT sessions. Instructors can launch the poll and gather participants' responses during the session.
Allows the instructor to download a report of the poll after the session to gain deeper insights into the overall experience of the learners.
Makes it possible to conduct polls anonymously, affording 'shy' learners the opportunity to express themselves with comfort.
3. Use Breakout Rooms for Learners to Work in Groups to Solve Problems
Peer learning is one of the most underappreciated aspects of workplace learning. Accounting for almost 10% of the total learning that takes place, peer learning helps:
Reduce anxiety and stress in learners
Boost intrinsic motivation to learn and achieve goals
Improve high-level reasoning and critical thinking skills
Use breakout rooms (sub-rooms within the training session) to facilitate collaborative learning in your VILT sessions, where learners are divided into different groups of 3 or 4 for discussions or to work through a complex problem.
Some benefits of using breakout rooms for collaborative learning include:
| | |
| --- | --- |
| Interaction | Learners learn to encourage each other and give feedback to their peers/colleagues |
| Accountability | Learners learn to accept their role and involvement within the group they are part of |
| Interdependence | Learners learn to depend on one another, working collaboratively to achieve common goals |
Here are some best practices of using breakout rooms:
Provide rules of engagement before the breakout activities even begin. Use chat, selective
e-mails, and different shared folders to provide rules or instruction to different groups.
Divide learners into mentor-mentee pairs (i.e., grouping a top performer with a couple of struggling ones), or use the jigsaw model of mixing learners across skill types.
Assign a facilitator from each group in the breakout rooms.
Indicate the expected duration of activities.
Provide a way for the groups to contact the instructor when needed.
4. Recognize Learner Progress and Accomplishments with Rewards and Prizes
It feels great to get a question right, but what's even better is when your efforts are recognized by instructors, peers, and colleagues.
In a virtual environment too, it is important that facilitators recognize learner's progress and accomplishments to boost their motivation. There are several ways to recognize and reward learner progress in VILT:
Use gamification principles in your VILT sessions.
Turn learning activities into learning games. You can even use PowerPoint to create a Jeopardy-like game.
Set learning objectives and link them to a point/scoring system, i.e., award points and badges for every task accomplished.
Publish each learner's accomplishments on a public leaderboard so that everyone in the organization can see the results, motivating fellow learners to do better.
Provide completion certificates to learners who have finished all modules of the VILT program. Allow them to showcase these certificates on the learner dashboard on the LMS.
Post a report with the names of participants who have successfully completed virtual training courses on internal social media channels.
Let learners choose their own rewards: Amazon gift cards? Coupons for the corporate cafeteria? Play/movie tickets?
5. Make Notes/Summaries of the Topic/s for Future Reference
There are times when learners need access to a specific piece of information from the training to tackle a problem at work. However, most training programs do not offer post-training support of this kind and the learner's overall productivity takes a beating.
Supporting and motivating your learners mustn't end with the VILT sessions as performance support to learners will help them do their jobs better.
This performance support can even take the form of summaries of the topics hosted on the LMS/portal. You can go beyond the traditional text-based formats and turn the summaries into:
Interactive PDFs/eBooks
Infographics
Frequently Asked Questions (FAQs)
Visual checklists
Short how-to videos
Whiteboard animations
Flowcharts
Process maps
Bonus Tips to Help Your Learners Have an Engaging VILT Experience
Reach out to learners before the VILT sessions even begin and get them acquainted with the platform/s and the rules to abide by. You can email a short 'Getting Started with VILT' document to all participants before the session to help them navigate through the virtual learning experience.
Involve your IT team and have them take care of technical issues learners might face. Use the feedback/comments you receive from the polls to dynamically improve the format or content. Also, analyze the polls to identify learners having trouble with the content and offer additional, 'personalized' guidance via private chat or emails.
Parting Thoughts
A VILT program that is learner-friendly and learner-centric takes into consideration the many inhibitions and challenges learners face during the training. Use the different features of your VILT platforms (virtual whiteboards, chats, polling functionality, etc.) to offer a learning experience that is motivating and engaging.
For a power-packed experience on designing and delivering virtual classroom training, enroll in our course on 'Maximizing Impact in the Virtual Classroom'.