4 Ways to Motivate Learners in a Virtual Classroom [SlideShare]
Wondering how to motivate learners during virtual classroom sessions? Here are 4 simple and effective ways that can help you motivate learners in VILT!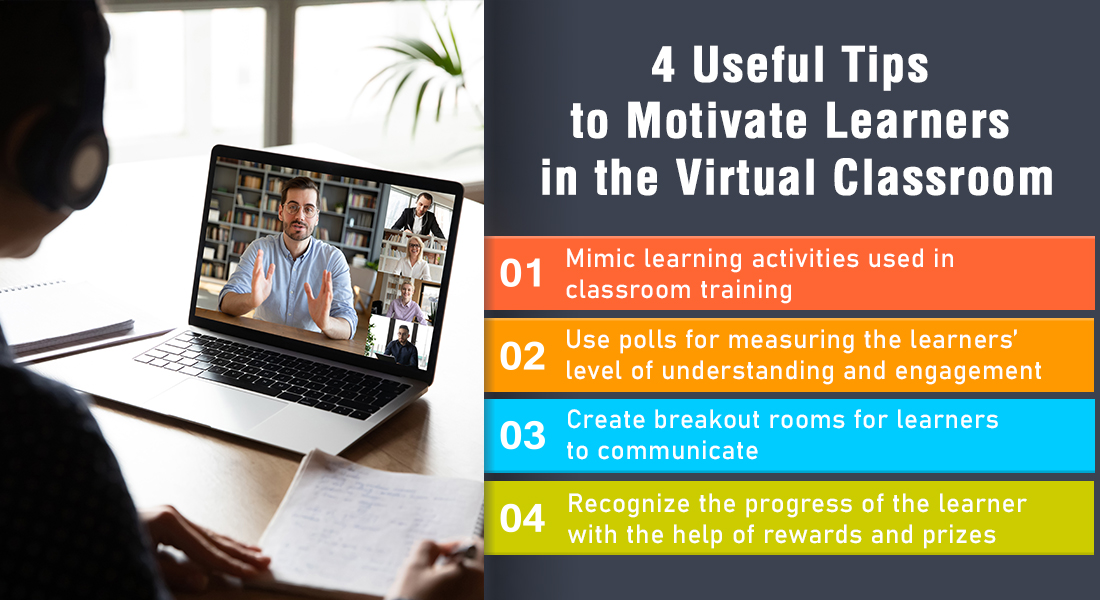 Virtual training is the need of the hour due to the COVID-19 pandemic. Organizations all over the world are now opting for the virtual classroom, also known as Virtual Instructor-led Training (VILT), as a mode of training their remote workforce. Now that COVID-19 has abruptly put an end to traditional classroom learning, the next best alternative is the virtual classroom. VILT is a synchronous form of learning with real-time interaction between learners and the instructor through a virtual platform (such as Zoom or Google Classroom).
4 Simple Tips to Motivate Learners in a Virtual Classroom
Mimic learning activities used in classroom training
Use Polls to assess understanding and engagement
Create breakout rooms for learners to communicate
Recognize progress with the help of rewards and prizes
The virtual classroom has a number of benefits. It saves cost and time, supports remote learning, and encourages interactivities that enable the learner to get the real classroom experience. However, keeping learners motivated during a virtual classroom session is a massive challenge, especially with the new-generation workforce. They tend to get easily distracted and have very low attention spans. They are also multi-taskers and quick learners; so, if you can find a way to keep them engaged and motivated, they can become an asset to the organization. Let's take a look at some simple and effective ways to motivate learners in a virtual classroom!
This is just a sneak peek into the benefits of virtual classrooms and how they can be used to motivate learners. Want to learn more about virtual classrooms? Take a look at our ILT to VILT Conversion Webinar!