What are Authoring Tools and How to Choose 'The One' for Your Organization?
What are authoring tools? How do I choose the right one and develop engaging eLearning courses for my learners? Wish there was a step-by-step guide to help me choose the right rapid authoring tool. If these thoughts cross your mind often, then read on.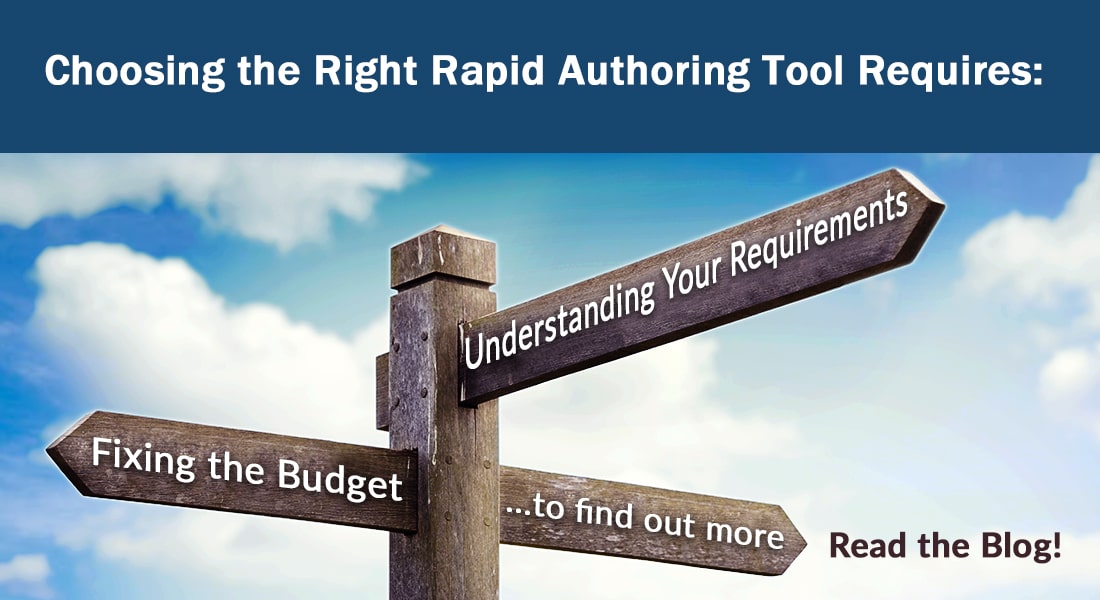 Are you finding it difficult to engage your learners in online training sessions? If yes, one reason could be that your training content lacks elements that grab learners' attention – quizzes, scenarios, simulations, games – and keep them engaged. So how do you transform these sessions and get your learners interested? Try the new-age rapid eLearning authoring tools.
What are Authoring Tools?
These tools are available as pre-programmed software with various course enhancing components that add life to your eLearning courses and turn them into immersive and interactive sessions.
Packed with numerous assets such as images, videos, simulations, characters, and quizzes, these tools are every instructional designer's dream come true. While these assets do help enhance eLearning courses, these new-age rapid authoring tools also come packed with some unique features that enable you to record screens, publish courses to HTML5 and MP4 videos.
A Mini Guide to Rapid Authoring Tools
Types of Authoring Tools
Desktop-based
Cloud-based
Tips to Pick the Right Authoring Tool
Fix a budget
Know your requirements
Assess training and support
And if you are wondering about the 'what' and 'how' of these authoring tools, simply go through the next part of the blog and have all your questions answered.
Types of Rapid Authoring Tools
Not all authoring tools are created equal. While each of them comes with different features, they can be chiefly divided into two groups based on how they are hosted.
Desktop authoring tools
Cloud-based authoring tools
Desktop Authoring Tools
Desktop-based rapid authoring tools are installed on the computer system, making it possible to develop complex eLearning courses. Initially available as discs, today the software can be directly downloaded from the vendor's website and installed on the desktop. And since it is locally installed on the computer with all features available offline, an active Internet connection is not required to develop courses.
However, every time an update is released, you need to connect to the servers to download the same. From fonts, images, and videos to themes, simulations, and virtual reality, eLearning developers can choose from a huge pool of assets to provide learners an immersive learning experience.
Popular desktop-based rapid authoring tools include:
Adobe Captivate
Articulate Storyline 360
Lectora Desktop
Cloud-based Authoring Tools
As the name suggests, cloud-based rapid authoring tools are both hosted and can be accessed online. This means you no longer need to bother about software downloads, installations, and the occasional updates. You can also stop worrying about possible content loss due to system or hardware failures, as all your work is safely saved on the cloud. This also makes remote work possible.
Although both desktop and cloud-based authoring tools offer similar assets, cloud-based tools allow flexible collaboration of teams online. Moreover, the software also makes stakeholders' online reviews and feedbacks a seamless process (unlike with desktop-based tools where simultaneous teamwork is impossible, and the review and feedback process too cumbersome).
Some cloud-based authoring tools popular with organizations to develop interactive courses include:
Articulate Rise 360
Lectora Online
Elucidat
Choosing an Authoring Tool
Though creating eLearning courses using authoring tools makes a designer's life easy, that's not true about choosing the right authoring tool. As a training manager faced with a myriad of choices, the shortlisting process can become stressful. However, the choice can become simpler if you go about it logically. Here's what you need to do.
1. Determine Your Budget
While choosing a rapid authoring tool, first and foremost, you need to account for all the costs involved – direct and indirect – and carefully weigh the cost vs. benefit parameters to take an informed decision.
Here are some points to consider:
What are the main features you are looking for from the tool?
What is it's learning curve? How easily can your in-house team use the tool?
Do you have a team, or do you need to hire resources to use the tool?
Does it support online collaboration and can your SMEs use it easily?
Which pricing structure will be beneficial for your organizational needs?
Does the tool provider offer timely resolution and learning resources?
2. Understand Your Requirements
Authoring tools come with varying levels of functionalities. Paid tools offer more features compared to the free ones. Hence, clearly determining the kind of features you need, and the courses you want to create with the authoring tools will give you a better insight of which tool to select.
Paid tools offer many features under one roof and help create dynamic and interactive eLearning courses. Scenarios, simulations, quizzes, audios, and videos greatly enhance learners' training experience. Adobe Captivate's virtual reality feature, for instance, makes it possible to engage learners in real-life scenarios.
Unlike in traditional classroom training, VR simulations in an online crisis management course help learners have an immersive learning experience as they come face-to-face with the crisis. Practicing their responses during the training also prepares them for real life crises.
However, if you are just starting with eLearning course development, investing in complex paid tools may not be the right choice. In such cases, free authoring tools such as iSpring Free can help you start off with developing interactive online courses.
3. Assess the Training and Support Offered
The learning curve is yet another important factor to consider when choosing a tool because complex tools require designers to spend more time to master it. Many software providers claim their tools don't require special training and are easy to use. While this is true for experienced folks, beginners always prefer and need some training.
That's why it is wise to choose tools that offer the 'learn' feature which helps users gain tool expertise through tutorials, community portals, and manuals. Training in Articulate 360, for example, consists of a bunch of Articulate 360 related videos and training webinars by industry experts.
It is also important that tools offer timely support for technical issues. So, the kind of support offered by the tool will also help you in the decision making.
4. Carry out Thorough Research
The next and final step in the journey to choosing your rapid authoring tool is research. Based on the above points, shortlist tools and begin your research by going through reviews and talking to people already using them. You can then go for software demos that will help you assess whether the tool is the right fit for your specific needs.
You can also opt for free trial runs, which will help you dive deep and get a first-hand experience of the authoring tool. dominKnow for instance, offers a 14-day trial run.
Final Thoughts
If you go by the points I've discussed, choosing the right rapid authoring tool should not be a difficult task. They will help you develop learner-centric eLearning courses at scale and speed. Do check our eBook that will help you successfully and quickly implement eLearning in your organization.