What Happens When you DON'T Have an LMS?
Are you fed up with course duplication and inefficient tracking of training? Well, that's probably because you are still using a learning portal and not an LMS! Find out more such challenges you'll have to tackle in the absence of an LMS.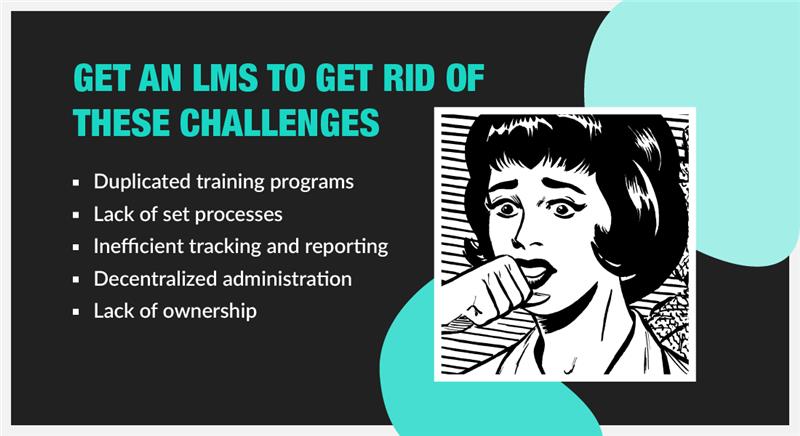 As an L&D blogger, I often get this question from my readers, especially training managers – Do I even need a Learning Management System?
5 Challenges You Will Face in the Absence of an LMS
Duplication of training programs
Inefficient tracking and reporting
Less likelihood of anytime anywhere and offline learning
Difficulty in managing different user requirements
Impossibility of software integration
Do you also doubt the need for an LMS for corporate training? You might now think that your existing learning portal works just fine for you, but wait till you know how an LMS can totally make things easier for you – be it in reducing the time and effort involved in training hosting and administration, or efficiently measuring the results of your training initiatives.
Insight
The terms 'learning portal' and 'LMS' are often used interchangeably. However, there are considerable differences between the two.
A learning portal is an online hub, microsite, or storehouse of all your training and performance related resources, hosted within an intranet.
An LMS offers everything a portal does (and much more), only on the Internet.
While you can use a portal to store, manage, and assign courses to learners, you need to do all that manually. In addition, a portal lacks the capability of tracking, reporting, customization, and software integration – gaps that an LMS fills easily.
Let's look at 5 major drawbacks of not having an LMS. They might convince you to invest in one by the time you reach the end of my blog.
5 Challenges You Face Without an LMS
1. Duplication of Training Programs
When you don't have a centralized (and a more organized) place – like an LMS – to host your learning resources, you could never be fully aware of all the training resources that different departments have. That means there is a high chance of training programs/courses being duplicated in your organization's learning portal.
In some cases, offices in different geographic locations might even be maintaining their own portals. Just think of the time and effort and that'll go into manually managing all of them. First of all, you will have too many administrators managing things. This will lead to a lack of ownership, absence of processes and standards (to handle huge amounts of resources and persistent issues), not to mention duplicated and outdated courses floating on the portal.
If you are a training manager, it's going to be even tougher for you to maintain records of every training initiative, for example:
Department/region-wise training programs in progress
Common courses that need to be assigned
Auditing and archiving the learning portal
….. and so many more challenges!
However, with an LMS, all these tasks will cease to be a headache. A new-age LMS allows you to:
Create cohorts (unique sections within the LMS) for every department's training needs.
Assign courses with not more than 3-4 clicks.
Audit and archive the LMS with automated workflows.
2. Inefficient Tracking and Reporting
Tracking and reporting is definitely the most challenging task to do manually (without an LMS). Whether you want to track basic metrics (number of users and courses, course completion rates) or in-depth metrics (number of unique learners who've completed the assigned courses, most accessed courses, specific areas where learners get stuck) it's going to be a nightmare for you to even begin with the first step – gathering data.
The cumbersome process of maintaining records (physical or digital) makes it highly possible that you'll miss out on crucial information or end up gathering data you didn't need in the first place. Even if you manage to gather the correct data, analyzing the data and preparing reports for actionable insights is going to be a herculean task.
More often than not, you'll end up unable to show proof of completion of compliance training or other training initiatives. In short, it is not only extremely difficult to measure learners' performance with manual tracking, but also to show the effectiveness of training programs. However, when you have an LMS, you can let it do all the hard work for you. You can:
Customize it to track activities that you want tracked
Generate easy-to-read reports in the form of charts, pie charts, or tables
Gain actionable insights without having to do anything manually
Already thinking of going in for an LMS, aren't you? But wait, read on, there's more to come.
3. Less Likelihood of Anytime Anywhere and Offline Learning
Mobile devices have become ubiquitous, and mobile learning is slowly becoming the new normal just like social distancing. However, mobile learning is a far-off possibility if you continue with learning portals.
If your organization is using a learning portal, your learners will need to be connected either by local network (intranet) or VPN (for remote workers) for accessing learning resources. You might not consider it a problem, but your IT team and learners will sure do.
That is because:
Your IT team will have to set up VPN access in each remote learner's system – taking a lot of time and effort.
Loading time will be slow due to heavy load on the server (will become slower as the number of learners accessing the portal increases).
Anytime anywhere learning on mobile devices with VPN access is going to be a tedious process – checking compatibility with different mobile brands, configuring VPN, ensuring cyber security, and servicing mobile devices (in case of breakdown). Meanwhile offline learning is going to stay a distant dream.
With an LMS, you can say goodbye to all these barriers.
Your IT team will need to create unique IDs for users in the LMS just once.
Users can access the LMS by signing in with login details over the web.
In addition, learners can access learning resources anytime anywhere and even when they are not connected to the Internet through the mobile app (offline).
Insight
Go for a new-age LMS – such as Effectus – which is compliant with all latest eLearning technical standards (SCORM 1.2, SCORM 2004, xAPI/Tin Can API) and can track different offline activities, giving you a complete picture.
4. Difficulty in Managing Different User Requirements
If you belong to a global organization, you know how difficult it is to manage in-house training along with that of your customers, vendors, and channel partners.
For instance, you might want to sell specific courses to some of your clients. There might be vendors who just want to access video demonstrations in the portal. While you can restrict access to a specific section in your learning portal, selling courses is simply not possible. And there's always the possibility of cyber-attacks when you let a third-party enter your Networked-attached System (NAS) through the portal.
The point is, it's not easy to segregate and maintain learning portals for different users while also customizing it for clients based on their corporate branding and course requirements. Also, you will face a major setback if any of the users ask for multilingual support.
You can address all such training requirements with an LMS – minus the hassle and efforts of manual management.
With a new-age LMS, there are numerous possibilities. You can:
Create cohorts (mini portals) within the LMS to offer unique learning experiences to different clients based on their requirements.
Customize cohorts according to your client branding or vendor requests – such as specific reports or learning paths.
Integrate eCommerce or payment gateways to a specific cohort within the LMS.
Create a catalog section or resource library to allow free access.
Allow self-enrollment for specific courses or assign courses to a specific user group within a cohort.
Customize user dashboards – calendar, scores, course status, assigned courses, and more.
Make learning fun by adding gamification elements, such as:

Setting up leaderboards, badges, and scores (based on score, course completion, and other criteria).
Displaying each learner's standing on a leaderboard.

Create set learning paths for specific job roles and profiles for a targeted and relevant learning experience.
5. Impossibility of Integrating Software
Are you looking for a way to manage virtual instructor-led training (VILT) as effectively as online or in-person training? Struggling to gather a holistic picture of the impact of your training initiatives on business results? Finding it hard to sell your learning resources without creating an account in online selling portal? Tired of listening to users' complaints about the never-ending list of applications (including the learning portal) they need to use on a day-to-day basis?
Well, you can resolve all these issues with an LMS, once and for all.
You can combine a new-age LMS with third-party applications/tools – which you are already using or intend to use – to streamline all these processes.
You can integrate:
Video conferencing and webinars tools – Zoom, GoToWebinar, Microsoft Teams, WebEx, Adobe Connect – to schedule virtual training sessions, register attendees, report engagement metrics, all in one place.
eCommerce and payment gateways – CCAvenue, PayPal – to sell courses straight from the LMS while ensuring a secure online buying experience.
Other applications such as HRIS, CRM to analyze how training is contributing to business goals.
Single Sign-on (SSO) to let your learners access multiple applications using the same login credentials – saving their time.
Wrapping It Up!
Here's the thing. These are just five of the many advantages of having a new-age LMS, trust me there's more in store! If your organization has a strong requirement for training (be it online or classroom), then going for an LMS is a smart move.
The biggest advantage is the drastic reduction in time and effort required to manage learning portals manually.
However, managing LMS operations is also not going to be easy, especially if you don't have a dedicated team expert in LMS administration and support. In such a case, you can choose to outsource LMS administration and support to a vendor who will take care of everything – installation, customization, integration, and even on-going support.
But, before I sign off, here's something interesting for you. A free webinar on "Introducing the New-age LMS" to understand how an LMS can help resolve business challenges and enhance ROI. Sign up for it today!