What Can be Outsourced in LMS Administration and Support?
LMS is an essential part of online training but setting it up can be a nightmare. Learn more about how outsourcing LMS administration and support can help your organization and what you can outsource.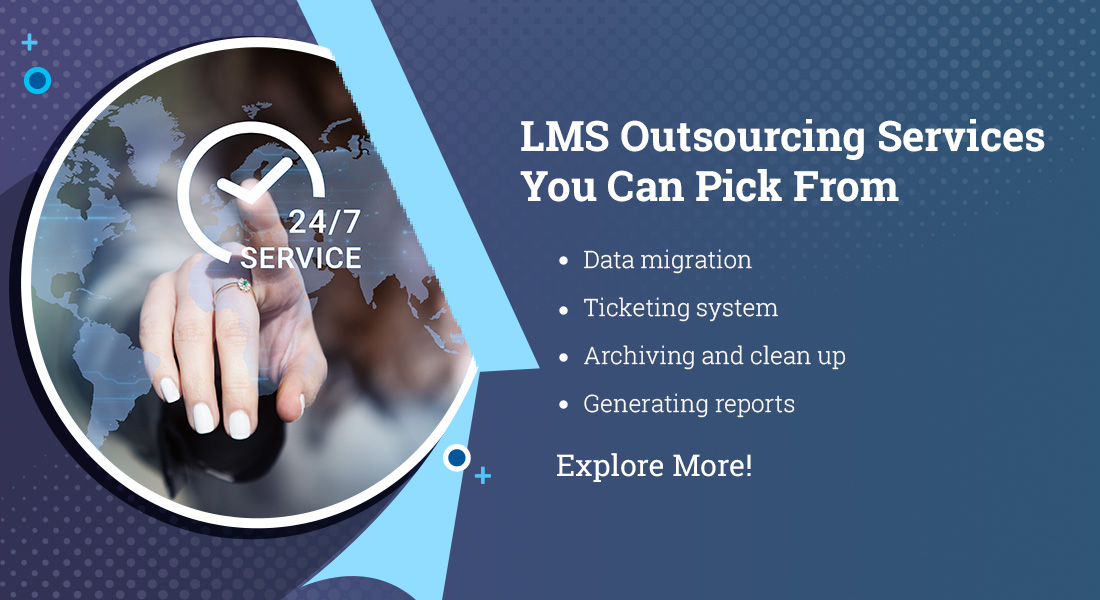 Did you know 51% organizations outsourced some, if not most, of their LMS (Learning Management System) operations?
I'm sure you must be wondering how you will decide if your organization also needs to outsource LMS administration and support.
What to Outsource in LMS Administration
New system setup
Migrating data from an old LMS to New
Setting up classroom to eLearning workflows
Setting up a ticketing system
Integrating an LMS with other software
Creating a training catalogue
Customizing training reports
Ongoing LMS support and maintenance
For learners, instructors, training managers, authors/developers
Here are few questions to help you decide if outsourcing LMS administration is the way for you to go.
Do you have a dedicated team whose primary job is LMS administration and support?
Does your LMS team have enough resources?
Do you have more than one LMS administrator totally dedicated to the LMS, and not responsible for other tasks?
Is your LMS administrator well trained and experienced?
Are you satisfied with the security provided by your LMS?
If your answer to most of these questions is 'no, then the decision is easy – it's high time you outsource LMS administration and support to an experienced vendor, especially if you have:
Plans to replace your conventional LMS with a new-age LMS
A need to:

Rollout hundreds of courses urgently
Track more than just compliance training
Migrate heavy data from old LMS to the new
So, the question is – what can you outsource in LMS administration?
In this blog, I'll take you through the different tasks you can outsource in LMS administration.
What can you Outsource in LMS Administration and Support?
1. New System Setup
If you thought your job was done with choosing and purchasing the LMS, you're in for a disappointment! There's a lot of 'behind the scenes' work to setup the LMS as per your requirements. These are the tasks which your internal team might not welcome but are too important to be ignored.
Hence, the setting up of the new LMS is better left to experts. Outsourcing these tasks will save your internal team's time and efforts to be used for other crucial tasks.
When you outsource LMS administration, the vendor will take care of:
Migrating data from the old LMS to the new one. Instead of hiring a dedicated team for a one-off task, you can outsource this function – which requires massive effort – to a vendor.
Setting up workflows (ILT or eLearning). This includes standardizing the process of setting up trainings (including mandatory training topics) and uploading new eLearning courses in the LMS.
Setting up a ticketing system. Your vendor can set up a support tool for LMS users (learners, managers, administrators) to address their queries and issues with the LMS. In addition, the LMS vendor can also categorize them based on the category of assistance required (uploading courses, setting up user accounts, and so on). The ticketing system includes step-by-step solutions or user manuals with labeled screenshots for better and quicker troubleshooting.
Integrating the LMS with other software/tools. According to a Brandon Hall report, 87% of large organizations and 75% of small to mid-sized organizations consider integration a crucial factor for their next LMS. So, if you need to integrate your LMS with your HRIS, CRM, or payment gateways (PayPal, CC Avenue), leave it to your LMS vendor to do the heavy lifting for you.
Creating training catalogs in the LMS. Your LMS vendor can create a training catalog (based on divisions, training type, products) as a ready reckoner for users to look through available training and sign-up for relevant ones.
Customizing training reports. Instead of making do with conventional reports – which don't give you actionable insights – the LMS vendor can customize the LMS to get you reports on:

Courses currently in progress/ yet to be accessed/ completed by unique learners
Average learning/view time
Most accessed courses
Learner reports across countries
2. Ongoing LMS Support and Maintenance
Setting up a new LMS is itself a huge task, but you also need a dedicated team to ensure its effective functioning. After all, you don't want your users to get frustrated with the LMS when their issues are not addressed. Outsourcing the LMS support and maintenance will ensure ongoing, role-based support for various tasks, saving you a lot of headache.
Support requests can come from different users.
Learners

LMS access/login
eLearning/ILT registration/access
Accessing training content
Notifications/completion status/evaluation of training
Certificates and training history

Instructors

Uploading and accessing content
Updating training content
Updating training records
Evaluation report

Training Managers

Assigning training
Managing direct reports
Training approvals
Training reports for learners, activities

Developers/Authors

Developing content
Uploading courses
Apart from this, you can also outsource LMS administration and support for bulk projects, such as one-off requirements that involve a lot of work:
Setting up a huge training catalog
Bulk registration of learners
Assigning courses to learners, enterprise-wide
In case your in-house team is taking care of ongoing maintenance, you can reduce their work by outsourcing these initial tasks.
Wrapping it Up!
While outsourcing LMS administration and support can result in saving a lot of the in-house team's efforts and time, there are larger benefits that make outsourcing a smart option.
Increase in the usage of your LMS
Organized training that is easier for learners to access
Prevention of security breach
Decrease in the number of tickets
In addition, when you outsource LMS administration and support, you also avail the value-added services of the vendor, such as:
Onboarding training of in-house LMS administrators/trainers at different levels – basic, advanced, expert.
Testing LMS upgradation – Initial updates as well as testing of the functionalities are done on the test LMS before updating the new LMS. The vendor's team will also identify bugs and assist your in-house team to resolve them.
The vendor's team will also identify bugs and assist your in-house team to resolve them.
Offering role-based tutorials and documentation to get started with the LMS. To help your organization's LMS admins and other users, the vendor can create role-based video tutorials and manuals.
Before I conclude, here's something interesting that cannot be missed. If your organization has been thinking of ditching the old LMS for a new-age one, this is something you will need! Sign up for this free webinar on "Introducing the New-age LMS' to know how it can be your partner in resolving business challenges and maximizing training ROI.