What can you Outsource in LMS Support? [Infographic]
Do you know you can outsource more than one type of LMS support? Discover the 3 types of LMS support that you can outsource to an eLearning vendor.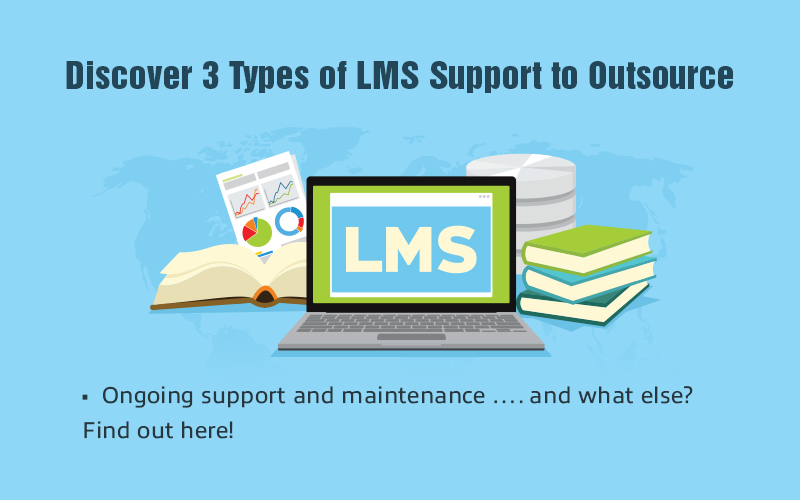 According to the 2019 Training Industry Report, 51% of organizations outsourced some, if not most, of their LMS operations. But, how do you decide if you need to outsource your LMS support to an eLearning vendor?
Here are few questions that might help.
Is your LMS team understaffed?
Do you have only one LMS administrator?
Was the LMS administrator trained only during implementation?
Is your LMS administrator multitasking? Does he have other job responsibilities?
Do you have these challenges?

Needing to roll-out hundreds of new courses soon
Doing more with your LMS than just track compliance training
Migrating data from your old LMS to a new one
If you have answered 'yes' to most of these questions, that's an indication that you need to outsource your LMS support (before your LMS administrator gives up!). Outsourcing LMS support will help meet your challenges and also increase your training ROI. Here's how:
Outsourcing LMS support is more economical than hiring, training, and managing a team of LMS admins.
You will have access to a pool of experts on LMS and training to help you get the most out of digital learning for corporate training.
The 24/7 support from the LMS support vendor and faster turn-around improve LMS usage.
Outsourcing LMS support helps you offer timely inputs to learners, training managers, decision-makers, LMS administrators.
What is the result?
Better use of LMS
Well organized training programs
On-demand customized reports on completion, performance, engagement, and so on.
The upshot of all these is enhanced ROI!
Now you know the benefits of outsourcing LMS support. But do you know there are different types of LMS support? You read it right! You can choose from 3 types of LMS support when outsourcing, based on your requirements.
Here's an infographic that gives you an overview of the 3 types of LMS support you can outsource.