Why and What of Outsourcing eLearning Courses
Many organizations outsource the development of their eLearning courses to experts to deliver innovative learning solutions. Read this blog to know why outsourcing is a good idea and what types of components you can outsource.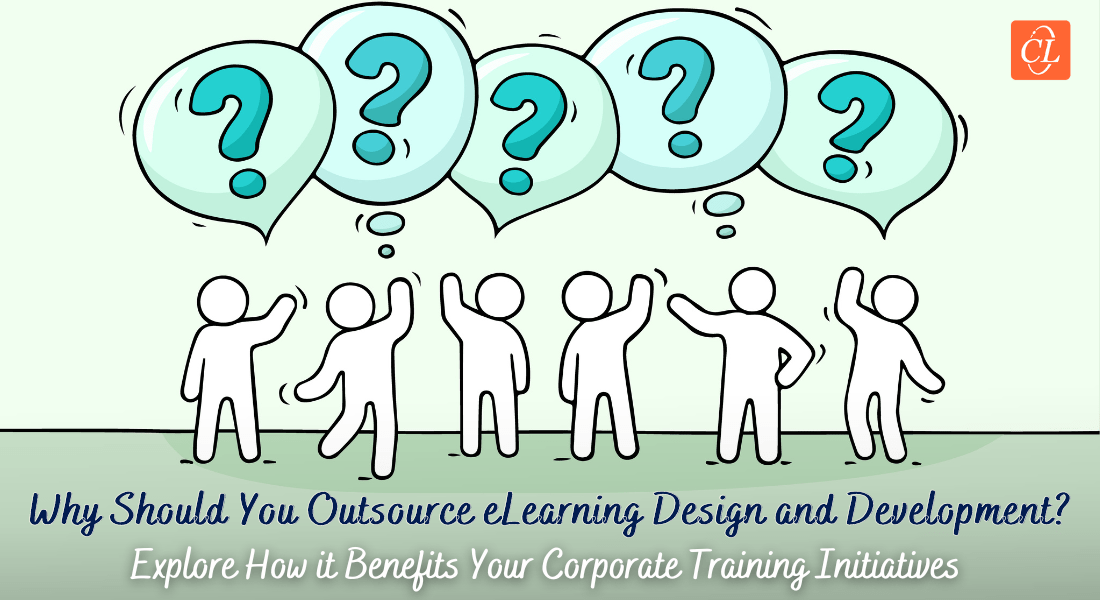 An L&D specialist's main goal is to develop rewarding eLearning courses that will give learners a rewarding learning experience. We rely on instructional designers, experts in authoring software, subject matter experts, and visual designers to create these successful and engaging eLearning courses. What happens if you lack access to these resources, if your internal team is overburdened, or if you lack the skills necessary to create eLearning courses? Outsourcing eLearning might be a smart choice in these circumstances.
Modern learners like interactive and interesting learning environments. Choosing the right vendors will determine how well your training goes. The ability to produce top-notch, engaging, and successful eLearning courses makes it always preferable to select eLearning vendors with experience. The output will increase because of the learners' motivation from these interesting eLearning courses.
Reduce the Ongoing Costs of Purchasing and Upgrading Technology by Outsourcing.
Here are 4 reasons that will convince you to outsource your eLearning courses:
Exceptional Results
Quicker Turnaround Time
Technical Expertise
Cost Effective
What is eLearning Outsourcing?
Given the rising demand for digital training, outsourcing eLearning development is beneficial for your organization. For creating engaging eLearning courses, we require factors like quality, time, money, etc. Finding an experienced vendor to handle the creation of eLearning courses will help you find an equation that creates high-quality courses while boosting the ROI.
By contracting out the creation of eLearning, you have access to both the technological and human resources needed to complete the project. Your ongoing costs for purchasing and upgrading technology can be significantly decreased just by doing this.
Continue reading to learn the benefits of outsourcing your eLearning courses and the various components that can be outsourced.
4 Reasons to Outsource Your eLearning Courses
1. Exceptional Results
Don't you think investing money into high-quality resources that aid in improving learning outcomes is worthwhile? By outsourcing your eLearning requirements, you will be able to work with seasoned teams who have what it takes to complete the task successfully. Each audio and visual element of the course will be unique to you in order to fulfil your specific goals and represent your brand.
2. Quicker Turnaround Time
Time is of the essence, no matter what industry your company is in. Your team will be more effective if you can produce engaging content more quickly without sacrificing quality, this is possible with rapid eLearning. Rapid eLearning creates courses quickly without compromising on quality. In the creation of eLearning courses, there is no exception. Given their background in course development, instructional designers will be able to meet your needs faster than an internal team could.
3. Technical Expertise
The ability to choose, format, and present media within courses in a way that maximizes engagement is a skill that eLearning developers have mastered. To really make courses stand out, we incorporate interactive media like pictures, sound effects, voiceover, and videos. Even though you are the expert on your subject matter, eLearning developers have knowledge of design and learning theory and can make training that is very effective by utilizing these skills.
4. Cost Effective
The biggest advantage of outsourcing eLearning courses is that it is cost-effective. It helps in increasing the turnover and reducing the cost. Instead of spending money and time on an in-house development team, it is always better to hire a team to create eLearning courses. And outsourcing makes it simple to cut the cost of hiring a whole new team and spending money on resources, training, etc. because eLearning service providers already have all the required resources to create engaging eLearning courses.
Types of Components That can be Outsourced
1. Instructional Design
The instructional designer's responsibility is to design and develop storyboards, handouts, scripts, etc. In addition to considering the course's overall mood and aesthetic, instructional designers must assess how well their training materials are working. The course material will be significantly more engaging if the instructional design is outsourced.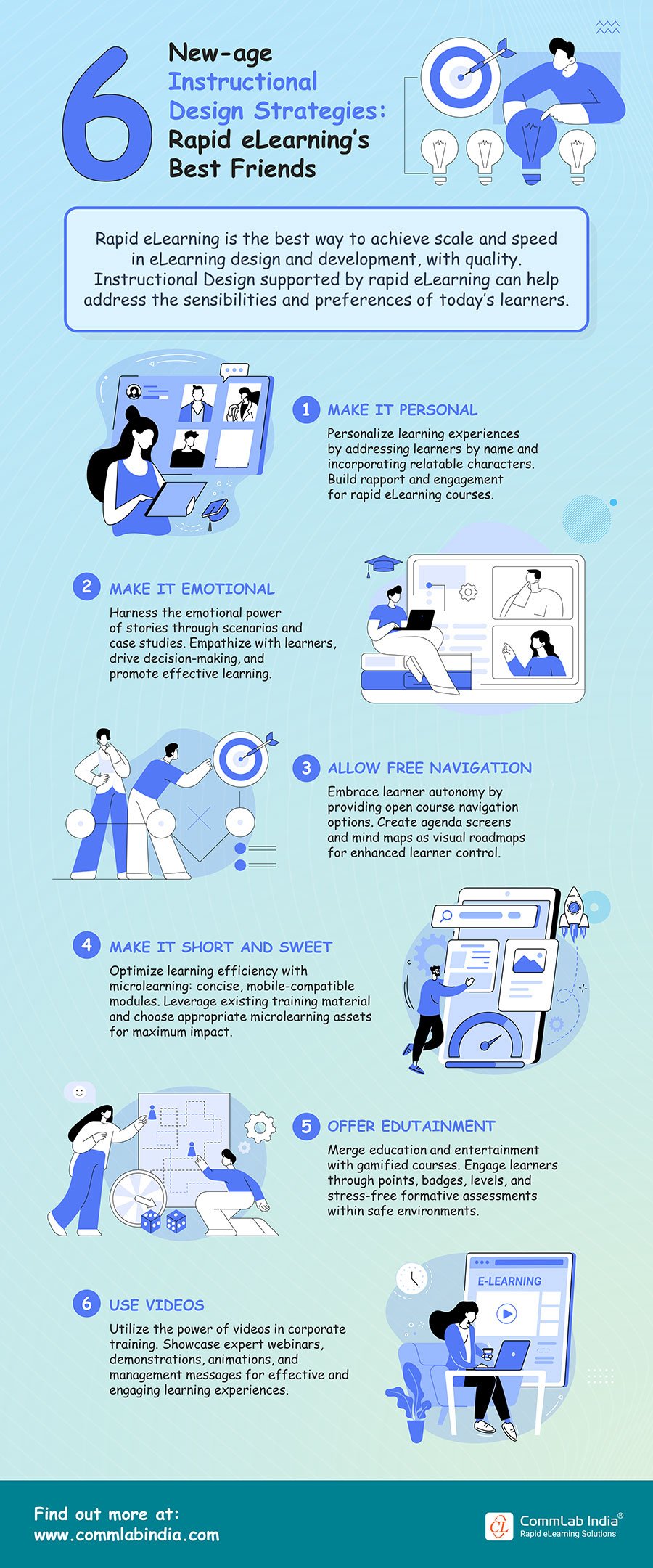 2. Audio and Video Production
Audio is one of the most important elements of eLearning outsourcing because it guides the learners through the course and maintains their interest in the training. Professional voice artists have the knowledge that is required to deliver the information in an engaging manner. Beautiful training videos, explanation videos, and other types of videos are produced by excellent video production companies. Video is one of the most important and effective training methods for your audience because it is inherently captivating.
3. Visual Design
The use of visual design elements can increase the course's engagement level. As opposed to assets created using pencils, markers, paint, etc. Visual design components are perfect for creating website collateral, billboards, social media assets, and many other specialized resources.
Before beginning to work with the visual design elements, spend some time researching the visuals and style you want to achieve.
4. Translations
By outsourcing the translations of your course, the vendors will make sure that the courses are translated by professionals or native translators that are well-trained and who know how to deliver the information in an engaging manner. Here's a 5-point checklist that you must look into before outsourcing eLearning translation.
Prepare in advance: Establish a project plan for reviews and deliverables and allocate the budget according to the number of courses that require translation.
Choose the Best Vendor: Look for a seasoned vendor who specializes in translation. Compare the costs and choose the option that offers the best value.
Create a glossary and style guide: Make sure it includes terms that are frequently used.
Examine the Model: Before publishing the course, make sure that it is consistent and user-friendly and that any bugs have been fixed.
Wrapping Up!
It comes as no surprise to learn that outsourcing eLearning is a trend that will continue given the benefits it offers for corporate training. One strategy for using original thought and developing inventive training solutions is to outsource eLearning. Companies only need to choose the best vendor for outsourcing eLearning. Are you considering outsourcing but aren't sure where to begin? Do not fret! Here is a handy guide that will help you choose the best eLearning vendor for your organization.
Editor's note: This post was originally published in January 2023 and has been updated for comprehensiveness.