The Role of the Modern LMS in 'Learning in the Flow of Work'
Where there's training, there's a Learning Management System! Modern LMSs have mobile apps for remote accessibility and gamified interfaces for edutainment. Find more about what LMSs can do to promote workplace learning.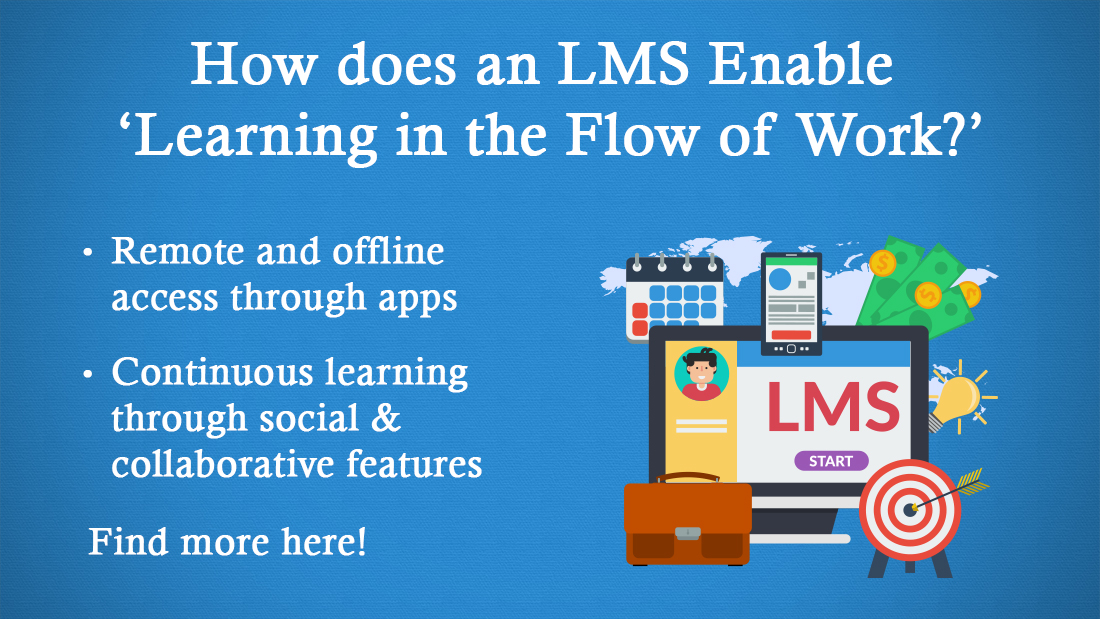 Josh Bersin, in his blog, 'A New Paradigm For Corporate Training: Learning In The Flow of Work' gives a brief evolutionary history of corporate eLearning and Learning Management Systems. He also coins the phrase 'learning in the flow of work' to describe how modern LMSs enable the usage of different learning practices to train employees during their job.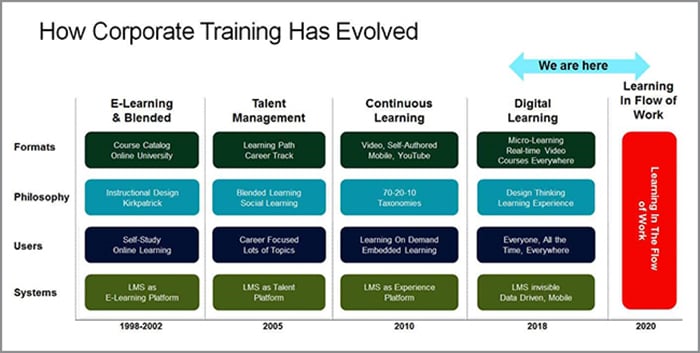 LMSs have changed a lot since they first came into the eLearning market. At that time, LMSs were known as Training Management Systems (even the term 'eLearning' wasn't conceived then!). The first LMS (or TMS to be precise) was designed only for storing heavy CBT (Computer-based Training) files. There was no way to track courses back then.
'Learning in the Flow of Work': Where do Modern LMSs Fit?
Act as an online library of all training resources
Enable remote and offline accessibility through mobile apps
Encourage continuous learning through social & collaborative practices
Support personalized learning with AI-based adaptive learning
"LMS systems were never designed to be employee-centric. They were developed as 'Management' systems for learning, focused on business rules, compliance, and catalog management for courses." – Josh Bersin
Learning Management Systems: Then vs. Now
Today, modern LMSs can host, track, and analyze learner performance in all training programs. They can generate detailed analytical reports, provide a platform for interaction and collaboration, and can even be customized to build personalized learning paths. This transformation from the old school Training Management System to the modern experiential LMS is in part due to advances in information and learning technology, and in part and more importantly, due to the changing requirements and expectations of learners from training.
According to a LinkedIn Learning Report:
68% of modern employees prefer to learn while working
58% of learners prefer to learn at their own pace
49% of learners prefer to learn at the point of need
How do you think LMSs fare in today's corporate training scene? Can they satisfy these demands from the modern learner? Can they really help enable learning in the flow of work?
Well, let's find out.
The Modern LMS & 'Learning in the Flow of Work'
Here is what the modern LMS can do today.
1. Act as an Online Library for ALL Training Resources
Once upon a time, eLearning courses used to be hosted within an organization's intranet or stored in CD-ROMs and floppy disks. As you can imagine, the first option made training neither practical nor easy to access. Forget about learning on demand, employees had to set their schedules according to the availability of specific desktops, even at work, if they wanted to access those training courses. This lack of accessibility was perhaps one of the major reasons behind the concept of a dedicated learning management system.
LMSs were designed primarily to act as a repository for all eLearning courses. Later, they became the main platform for tracking, analyzing, and reporting all learning activities. Today, LMSs host all kinds of training resources like eLearning courses, videos, audio podcasts, microlearning modules, PDFs, and interactive eBooks. Also, eLearning-LMS compatibility standards like SCORM and xAPI combined with learning analytics can help evaluate the impact of training on individual learners as well as on business ROI.
Not only online training, modern LMSs can also keep track of blended learning practices. Learners' get notified about scheduled classroom training dates. They can submit written assessments for evaluation through the LMS. Their progress and scores from classroom training are updated by LMS administrators and the analytics reports take them into account. Many LMSs such as SAP Litmos, Paradiso, ElectaLive, and Edvance360 also have integrated virtual classroom that enables virtual instructor-led training (VILT).
LMSs also act as digital libraries that learners can access whenever they want, to find the information they need.
2. Enable Remote & Offline Accessibility through LMS Mobile Apps
The COVID-19 pandemic and subsequent lockdown have turned us all into remote and deskless workers. It is now more important than ever to make training accessible for learners irrespective of time, place, and device. Most LMSs today come as native apps for both android and iOS mobile devices allowing learners to access all eLearning courses and training resources.
The most important benefit of LMS apps is perhaps in offline mobile learning. LMS apps allow learners to download courses that can be accessed later in the offline mode. This way, having "steady Internet connectivity all the time" will not be a limiting factor for training. LMS apps make for an uninterrupted learning experience for learners, giving them the flexibility to pace their own training.
If you are worried about tracking learners' activity in the offline mode, don't! LMSs that are xAPI compatible can record and track learning actions even when learners' are accessing training in the offline mode.
3. Encourage Continuous Learning through Social & Collaborative Learning Practices
Learning is a process. We keep repeating this to emphasize the fact that your employee learning is not limited to a few eLearning courses every 2-3 months. Learning can happen any time and all the time – while brainstorming with peers for an upcoming project or watching a senior colleague work. That is why the role of the LMS is no longer limited only to formal training. Rather, modern LMSs have gained importance as platforms for informal training through social interaction and collaborative learning practices.
Built-in discussion boards and chat boxes are the major tools for enabling socio-official interaction between colleagues and instructors. They allow for free exchange of ideas and opinions on a variety of training related topics.
Sharing LMS content on social media can help create enable opportunities for social learning.
Gamified LMSs help motivate learners by playing on their competitive nature – who gets the maximum leaderboard score or reaches the highest game level in the game – and can effectively engage learners in collaborative learning.
4. Support Personalized Learning with AI-based Adaptive Learning
When it comes to corporate training, there is no one-size-fits-all learning solution. Flexibility and control over one's own learning is very important to adult learners and so is having personalized learning experiences. While most LMSs can provide learners with individual learning paths to a certain extent, new-age learning practices like adaptive learning have made it even easier for modern learning platforms to provide tailor-made learning experiences.
Adaptive Learning is a learning technology that uses AI-based algorithms to provide customized learning pathways to individual learners based on their activities in real-time. You can implement adaptive learning by integrating an AI-based adaptive engine with your LMS.
An adaptive learning management system will work like a streaming service (Spotify, Netflix, YouTube, etc.), providing learners with a list of courses tailor-made to suit their training requirements and also recommendations based on their interests and search history.
Summing it Up!
LMSs have long been associated with eLearning, and are a crucial part of online training. The rise of the modern LMS has given rise to many speculations on how they are going to change the face of corporate training. It has also given rise to a lot of doubts over whether LMSs becoming more like content consuming platforms will prove to be a disruption in the long run.
But only time will tell which of these speculations and doubts are valid. Till that time, I hope this blog has given you a better idea of the role of the modern LMS in corporate training.
The last few months of lockdown due to COVID-19 have had an unprecedented impact on the corporate world. If you are looking for a way to overcome the training disruption and resume employee training, there is a new LMS in the market – Effectus. It is an open-sourced, intuitive LMS that can support workplace learning in the flow of work.
In addition, considering the disruptions due to the COVID-19 crisis, your organization might be looking for different virtual training methods. So, here's something that will be handy to ensure engaging virtual instructor-led training (VILT). Download our free eBook to explore tips, suggestions, and tools on generating motivation and excitement in VILT sessions.