It's Time for a Rapid New-age Learning Management System (LMS)
Selecting a Learning Management System is no easy job. Especially when you need one that can fulfill the demands of modern learners, admins, and managers. Let's see how the new-age LMS fares in this task.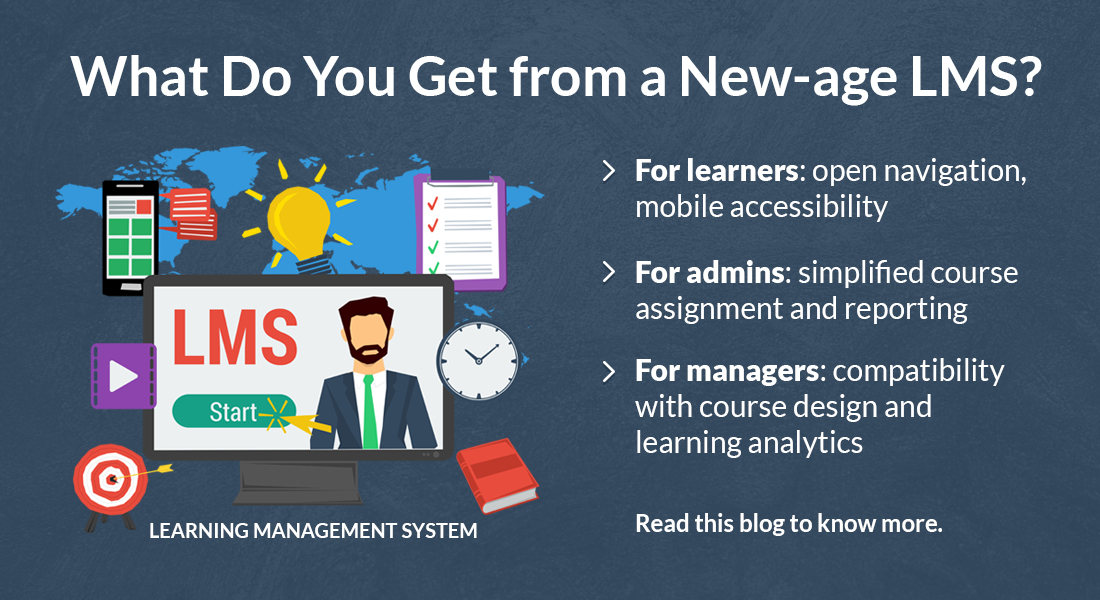 It is no secret that Learning Management Systems (LMSs) play a key role in corporate training delivery. Especially now when organizations are using a combination of training approaches from eLearning to virtual classroom sessions and performance support, and need to measure the effectiveness of all sorts of blended learning activities. But is your current LMS equipped to handle all this pressure?
What to Expect from a New-age LMS
1. For Learners
Simple and open navigation
Mobile accessibility
Personalized dashboards
2. For Admins
Easy installation
Automated course assignment
Easy integration with external platforms
3. For Training Managers
Compatibility with eLearning courses
Tracking offline and blended learning for learning analytics
Traditionally, the job task of the LMS was limited to hosting and delivering eLearning courses with a bit of tracking of learning activities. But as corporate L&D and training requirements evolved, the tasks of the LMS needed to evolve too. Also, the tasks and demands vary depending on the user – learners, training managers, and admins will have different requirements and you'll need to find an LMS that can play at all the tables. Where can you find such an LMS?
Dun dun dun (cue in the drum beats) … Introducing the New-age LMS!
A new-age LMS is not an entirely new concept. It is only a better, modern, and more customizable version of the traditional LMS – the LMS 2.0 that also supports learning activities such as mobile learning, gamification, social learning, and learning analytics, etc. It is more learner-centric and also offers more features to make the job of training managers and admins easier.
Would you like to know what the new age LMS can do?
The Job Description for New-age Learning Management Systems
1. Giving Learners a Smooth Learning Experience
Honestly, your learners were never great fans of your old LMS for a very simple reason – it's a nightmare to use. Traditional LMSs are slow, restrictive, and have a very unappealing interface. It's like using windows 98 in 2020. On the other hand, new-age LMSs are designed to be learner-centric. Here is how a new-age LMS ensures a smooth learning experience for modern learners.
Simple and Open Navigation
When it came to searching for courses and training material in an LMS, learners had two complaints. First, it was very difficult to find something quickly. And second, they could only access courses they were assigned to, and not something they were interested in learning about. And both these problems are solved by the simple and open navigation offered by new-age LMSs.
By simple navigation, I mean that no matter where learners are in a course, they should be able to go back to the home screen in just a few clicks. It also means that there should be a searchable index where learners can search for courses by typing the keyword. On the other hand, open navigation allows learners to access courses that are not assigned to them but may be relevant to their jobs.
Mobile Accessibility
We have learned the hard way with COVID-19 that learning should not be restricted to when learners are sitting behind their desks at the office. Whether they are working from home, or are in the field, or like to access training during their breaks and leisure time, learners should be able to learn anytime, anywhere and a new-age LMS gives them this mobile accessibility.
Personalized and Gamified Dashboards
Our experience of a product or software depends very much on how it looks and feels. Customizing the dashboards to reflect the color and branding of your organization can make learners feel more connected and provide them a more personalized experience. Also, gamified dashboards are not just a ploy for a new-age learning strategy but make learners feel rewarded, appreciated, up for competition, and motivated to do better in training.
2. Allowing Easy Training Delivery for LMS Administrators
LMS administration tasks often do not get the attention that they deserve, but that in no way diminishes their importance. From routine tasks like assigning courses to learners to more advanced ones like integrating different software and platforms, LMS administration can be a lot of work. But with a new-age LMS, these tasks can either be automated or done fairly easily. With a new-age LMS, admins can:
Streamline different training plans as installation doesn't take too much time
Create user groups, set up access rights, and automate assigning courses and sending notifications to learners.
Generate reports automatically once the parameters for measuring training are set
Easily customize the dashboard and KPIs to generate customized learning reports in visual formats like pie-charts, line graphs, etc.
Integrate with external channels like CRMs, PayPal, etc. as well as virtual classroom platforms
3. Simplifying Learning Design and Measurement for Training Managers
Training managers have the task of designing learning according to LMS functionalities and gaining actionable insights based on reports. And with a new-age LMS, their jobs become incredibly easier.
Most new-age LMSs are compatible with eLearning standards such as AICC, SCORM, xAPI, and cmi5. This means no matter what the course format, it will be compatible with the LMS.
Mobile accessibility through LMS makes it easier for training managers to go for a mobile learning strategy.
New-age LMSs can easily track courses with new-age instructional strategies (simulations, scenario-based, and gamified eLearning).
Modern LMSs allow the tracking of offline and blended learning, making the measurement of training effectiveness incredibly precise. They also allow the generation of customized reports, simplifying the implementation of learning analytics.
End Note
The task of selecting a Learning Management System for your organization needs careful planning, especially when you need to fulfill the requirements of learners, administrators, and training managers. I hope this blog has helped you gain some insight on where to start and what to look for.
If you need more information on selecting a new-age LMS, download our eBook.