Unleash the Power of iSpring to Develop Effective Videos
Want to create videos for your e-learning program but don't know where to start? Use the iSpring Suite to make the process easy.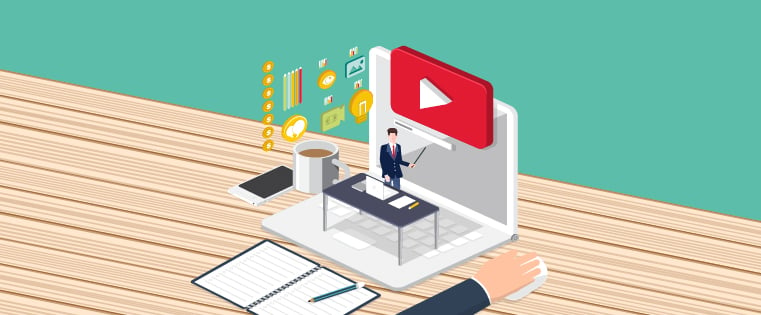 Learning through standard, text-heavy methods may not be a suitable option for every topic. Subjects such as compliance, health, safety can prove to too mundane for your employees if conveyed through plain text or even static images. Such topics when conveyed through an audio-visual medium really come to life. Since everyone likes watching videos, they generate a great deal of interest in your subject, and engage your learners like never before.
The use of videos is not just restricted to convey mundane topics. They can also be used to explain complicated subject matter, which can give your learners a hard time if conveyed through conventional methods. By using a combination of innovative animation techniques, live-footage, and immersive voiceovers, videos can breakdown a subject of any complexity into easily absorbable information nuggets. Be it the maintenance of a sophisticated machinery, the management of your global supply chain, or the functioning of your ERP portal, no topic is beyond the reach of explainer videos.
But for a video to create the necessary impact, it must be developed the right way, using the right tools. Luckily, modern e-learning authoring tools come with enough functionalities to create powerful video learning modules. iSpring Suite is one such tool that makes developing and deploying immersive explainer videos an easy task. Let's check some of its prime functionalities that help it achieve a high level of ease in a supposedly complicated exercise:
Convert from PowerPoint
Let's say you already have developed videos for an older legacy digital program. If you have an old e-learning courses, then with the iSpring Suite you can use such presentations as a basis for your new e-course. This authoring tool preserves your entire PowerPoint presentation after converting it to a Flash or HTML5 course, including transitions, complex animations, and triggers. This conversion also includes the videos that are embedded in your old courses. iSpring Suite preserves the output and quality of your videos without any loss of quality. iSpring pays particular attention to the crisp quality of videos and screencasts, making sure it stays impactful even after the conversion.
Add Narrations Easily
The iSpring Suite, a versatile authoring tool allows you to import audio or record a voiceover right in the tool. To add narrations for your videos, you can import your pre-recorded lectures, reports, and presentations. The built-in microphone setup wizard will help you select and adjust the best recording device type. If you don't have a video already, then you can simply record it right from your webcam with the built-in recording tool. Later on, you can synchronize it with your slides and even add animations.
Optimize Videos
With iSpring you can edit your narrations in the new audio and video editor. In just a couple of clicks, easily remove a fragment of the audio and video, remove background static, fade or adjust volume, and get access to many more sound editing functionalities. The iSpring tool also comes with the Video Lecture Player. This player has been designed specifically for courses with video narrations. It allows you to choose the optimal ratio of the size of the video and presentation, using which you can have the right emphasis between them.
Create Screencasts Effortlessly
Creating simulations for your software applications have never been so easy. iSpring Suite comes with a built-in Cam that includes a complete set of functions for screen recording. You can record audio, highlight cursor movements, create mouse click effects, and use hotkeys for easy management of the recording process. It also lets you edit your screencasts using an integrated video editor wherein you can delete fragments of video, remove background noise, and adjust the volume of the audio narration. You can even export your screencast immediately to the desired location, save it as an MP4 video, insert it on a PowerPoint slide, and even upload it to YouTube in just a few clicks.
Fine-Tune Publishing
The iSpring Suite lets you enhance your course with rich media by allowing you to publish videos right from the Internet to your e-learning course. iSpring Suite also has the ability to convert courses to HTML5, Flash, and MP4 video formats for universal compatibility. Giving you the control of adjusting the size of the output file further reinforces this universal compatibility. To reduce the size of the output file, you can adjust the compression settings for all images, video, and audio inserted into the course and ensure full access even on slow Internet networks.
Videos are one of the most potent forms of delivering quality information to your learners. Use the iSpring tool and make sure that you create an output of the right quality.