5 Steps for a Seamless Flash to HTML5 eLearning Migration
Planning for Flash to HTML5 migration? Read this blog for 5 steps you shouldn't miss during Flash to HTML5 migration in this blog.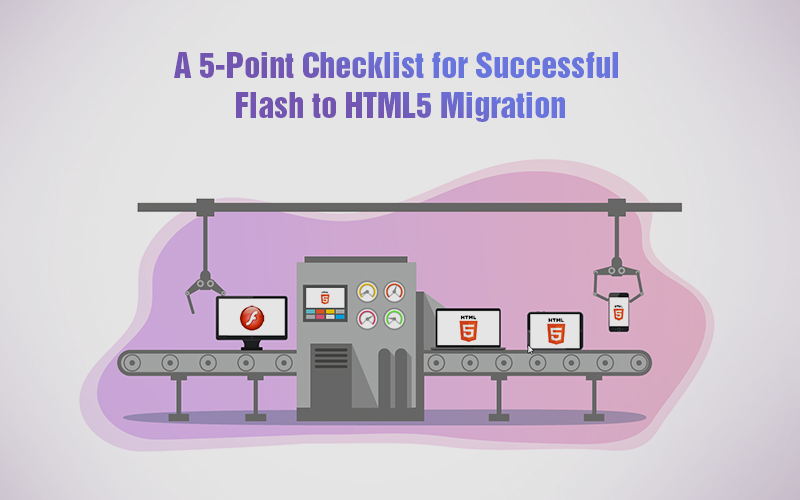 According to Warren Buffett, "An idiot with a plan can beat a genius without a plan". So, do you have a cohesive, comprehensive, and concrete plan for the Flash to HTML5 migration of your eLearning courses?
The Flash to HTML5 conversion process is usually long and weary because of the sheer volume of courses involved – you might be having thousands of legacy courses developed over the years using Flash. And there may be additional issues such as missing source files and outdated course content.
Flash to HTML5 Migration
What are the steps for success?
Create an inventory of inputs
Check the skillsets and expertise needed
Select the right tool
Prepare a QA checklist

Select courses for a pilot run
So you can understand why having a clear idea of what you can expect during the migration process is not only important but also essential. To save you from this pickle, I've made a checklist of things to do.
5 Things to Do for Flash to HTML5 Migration
1. Create an Inventory of Inputs
The first step of the plan is to ask yourself, 'What do I have?' and 'What am I supposed to do with it?' The entire process of migrating your courses from Flash to HTML5 hinges on these questions. Therefore, you need to prepare an inventory of all inputs.
Identify all the Flash-based courses in your repository. These files may be in .FLA or .SWF format.
Extract the source files and sort legacy courses – based on topic, urgency, level of interactivity, duration, and authoring tool – into separate folders. You can also have separate folders for courses with missing source files and those with outdated content.
Gather all the inputs you have on course templates, style guide, branding, and GUI.
Based on the complexity of the content and availability of tools and source files, decide which courses you'll need to Record, Republish, Rebuild, or Redesign.
2. Check the Skillsets and Expertise Needed for Flash to HTML5 Migration
Once you have the inputs and resources in place, you'll need to focus on your L&D team. Flash to HTML5 migration will require experienced and skilled instructional designers and developers with expertise in different authoring tools.
Instructional designers will need to go through the courses and make them instructionally sound by updating the content using new-age learning strategies.
Developers will need to work with the authoring tool of your choice and mitigate the differences in functionality between Flash and HTML5 output.
The best way to go about this is to list the eLearning experts and their skillsets, and assign them specific tasks. You can notify them about the deadlines, requirements, and the time they will need to dedicate for a smooth conversion process.
If your in-house team lacks the manpower or expertise for such an extensive project, outsourcing to an expert Flash to HTML5 migration vendor is a good option. Whether you proceed with the conversion process in-house or decide on outsourcing, keep in mind that you'll need a qualified and experience L&D team to bank on.
3. Select the Tools and Resources Needed for Conversion
As important as an expert L&D team is for migrating eLearning from Flash to HTML5, the process also depends extensively on different software. From authoring tool licencing to SCORM Cloud accessibility, there are many factors at play in the Flash to HTML5 migration process. You will need to ensure all these tools are in place.
Check the licenses of the authoring tools to be used in the conversion process – Are they web or cloud-based? How many developers can work on it at the same time?
Are you using online review tools such as Lectora Online to ease reviews?
If your courses are hosted on multiple LMSs, you can opt to migrate to a single LMS which can host all converted courses.
Ensure access to different operating systems (both for desktops and mobile devices). You will need to check how converted courses play in iOS, Android, and Windows across devices, screen sizes, and orientations.
Do tests run with SCORM Cloud, a web application to check if courses are SCORM-compatible to be hosted, tracked, and reported within an LMS.
4. Prepare a Quality Assessment Checklist
Courses which are converted from Flash to HTML5 are not exact replicas of the original ones. For all its drawbacks, Flash was capable of generating some really rich, nuanced and complex interactivities. These interactivities often need to be changed or tweaked for HTML5 output. All these changes make it necessary to plan for thorough functionality and compatibility checks. A thorough quality check will prevent last minute errors.
A development checklist based on course requirements, templates, style guide, devices compatibility, and compliance
A checklist for the quality team to identify errors and gaps
A SCORM-Cloud testing checklist for the LMS specialists
5. Choose Courses for Pilot Testing
Instead of attempting to convert all courses at once and deploying them to learners, it makes sense to do a trial run. For this pilot testing, you can choose courses based on their interactivity level, instructional design, and/or duration.
This combination of different courses for the pilot will offer an opportunity to check the functionalities used, and identify the source of problems, if any. You can select about 2% of the total number of courses to convert and deploy to learners as the pilot run.
Summing It Up!
Phew! There's nothing like an action plan to give you that adrenalin rush and get you battle ready. And trust me, this conversion process is a battle, a battle against time, and you will be at the frontline. The clock is ticking away fast for the Flash phase-out and you need to ensure your eLearning course repository is ready for an imminent Flash-less world. Now that you have this checklist, I am sure the idea of migrating your Flash-based eLearning to HTML5 looks less tiresome.