5 Compelling Reasons for Flash to HTML5 eLearning Migration
Have you considered migrating your Flash-based eLearning courses to HTML5? Read to find out why Flash to HTML5 eLearning migration is the need of the hour.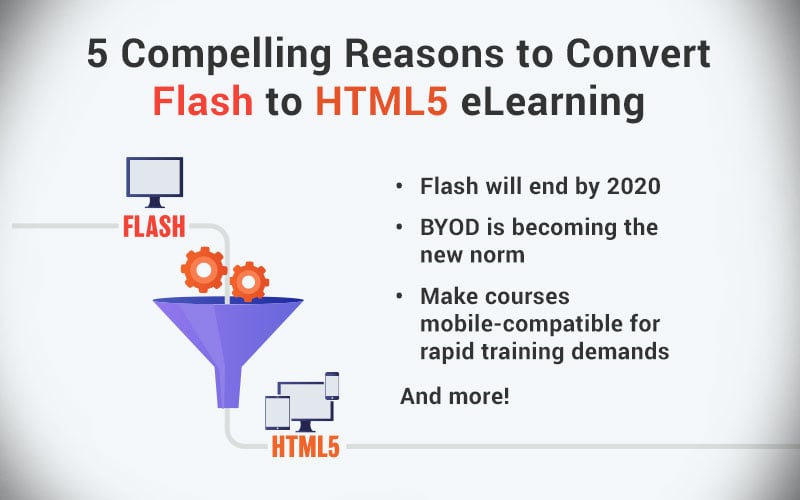 As training managers, you must have heard quite a lot about Flash to HTML5 eLearning migration by now – about conversion techniques and processes and tools and what not. While you may not know the details of the process, you must have sensed the hint of urgency in these discussions.
Why this urgency?
For those of you who have not read any of the articles out there on the imminent phase-out of Flash, let's take a step back and understand the reason for the urgency in Flash to HTML5 eLearning migration. Let's get to know the 'why' of the matter before we delve into the 'how'.
Why Migrate your eLearning from Flash to HTML5?
Flash will no longer we functional by end of 2020
BYOD is becoming the norm
Flash is not equipped to meet rapid training demands
Flash is not suited for new-age learning
Flash to HTML5 migration will future-proof eLearning
5 Reasons for Flash to HTML5 eLearning Migration
1. Flash will NO Longer be Functional by End of 2020
Flash is ending! Most blog articles about Flash to HTML5 elearning migration start out this way, don't they? But what does the end of Flash really mean? And what is the urgency here?
The decline of Flash started when Apple decided to ban Flash from iPhone iOS because of its incompatibility with mobile devices, in addition to its many security and proprietary issues. Later in 2017, Adobe announced that it will pull the plug on Flash by the end of 2020.
So, what's the big deal? Why are we concerned that Flash will no longer work by the end of 2020? Because this will have a huge impact on your legacy courses – for a long time now, most eLearning courses were developed using Flash. Even courses developed with older versions of rapid authoring tools have Flash components embedded in them.
The end of Flash not only means you can't use it in future, it also means that all those legacy courses will lose their functionality and will no longer run in any web browsers.
You have just a few months left to go through with the conversion. After that, all those Flash-based online courses, developed so painstakingly, will no longer be of any use. This will be a huge setback for your training initiatives as you'll have to develop those courses again from scratch. So, the time for Flash to HTML5 eLearning migration is now or never.
2. BYOD is Becoming the Norm
We are living in a post-mobile digital age where the world is at our fingertips. Most organizations have their workforce across the globe and out in the field. More and more businesses are going in for the 'Bring Your Own Device (BYOD)' policy, and 74% of the workforce prefers accessing training through their mobile devices. Mobile learning is the only feasible way of training in such circumstances. It gives learners control over their own training – offering the flexibility of accessing information whenever and wherever they want.
When Steve Jobs decided to say NO to Flash, he made it very clear that Flash was created for a world of drag n' hover using the desktop and mouse. That is true since Flash courses are incompatible with mobile devices and don't play on them. HTML5 courses on the other hand, have no such compatibility issues and are also easy to develop using authoring tools. Most authoring tools today can develop HTML5-based mobile-responsive eLearning too. In a technology-driven world, Flash to HTML5 eLearning migration helps you keep up with the L&D trends, in this case mobile learning.
3. Flash is NOT Equipped to Meet Rapid Training Demands
Today, business is all about getting faster and better results with minimum effort. Developing courses in Flash requires extensive coding and programming skills. So, Flash will be found wanting in situations where there is an urgent need to rollout online training to employees.
HTML5 courses on the other hand, can be developed quickly using rapid eLearning, cutting down on the development time and cost. Having your eLearning course in HTML5 format also gives you the flexibility to update and modify the content as per your needs.
4. Flash is NOT Suited for New-age Learning
Flash was a hot industry favorite for many years because of its ability to create highly interactive courses. But not without a cost! Developing a course with even low-level interactivity with Flash required extensive coding. So you can imagine the time and effort required to develop a highly interactive course!
HTML5 on the other hand, solves this problem by using built-in templates and interactivities which do not need programming knowledge.
There has been gradual shift in eLearning design over the years. Today, courses are tending to be more minimalist. But if you see traditional legacy courses developed with Flash, you will notice that many of the interactive elements are superfluous and are only intended to create a 'bang'.
So, how does Flash to HTML5 eLearning migration helps? Whether it's microlearning, mobile learning, social learning, or even immersive learning, all these new-age learning practices focus on improving learning experience without using
too many interactivities. HTML5 is much more suited than Flash for developing new-age courses.
5. Flash to HTML5 eLearning Migration will Future-proof eLearning
Perhaps the greatest flaw in Flash was that because it was the property of Adobe, the process of updating or implementing changes was incredibly complicated because of proprietary reasons. So, Flash was unable to keep up with the advances in L&D technology and practices.
HTML5 on the other hand, is an open and self-updating language which is not bound to a single individual or company. It easily keeps up with changing learning technologies and practices. Adopting HTML5 will future-proof your eLearning, and not require you go for such large-scale course migrations in the future.
Summing it Up!
HTML5 has many clear advantages over Flash, and as promised, I have explained very clearly why Flash to HTML5 eLearning migration is extremely important at this time. Remember, time is very short!! So, don't waste any more of it – start planning for your migration strategy NOW!
Download our eBook if you want to know how to go about the Flash to HTML5 eLearning migration process. We'll be glad to help.