3 Areas Adobe Captivate 17 Scores Over Other Authoring Tools
Adobe Captivate is a preferred tool for simulations but there is a lot more this tool can do. It scores high on responsive design and conversion of legacy courses to the mobile format. This blog will tell you more.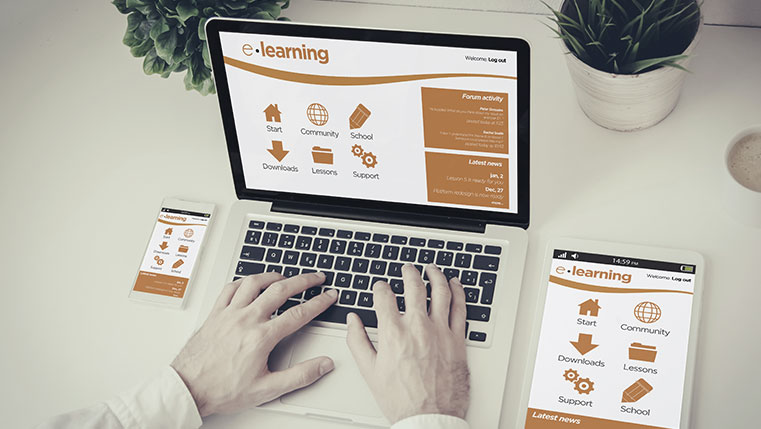 Adobe Captivate has always been a preferred authoring tool among e-learning developers for its ability to create excellent software simulations. The tool has been reinventing itself every time Adobe releases a new version of Captivate in the market. Adobe Captivate 17 is no exception. We will look at some special features in this authoring tool that compel learning designers to choose it over others for e-learning design.
In our comparison of the features of Captivate with those of Articulate Storyline and Lectora Inspire, we found three areas where Captivate does better. Read more about it in the blog.
1. Making Legacy Courses Mobile Compatible
One major advantage with Adobe Captivate 17 is that it has features that allow you to convert non-responsive legacy courses built in Adobe Captivate to responsive mobile learning courses with HTML5 output.
This feature helps you save existing legacy courses as responsive projects by clicking the 'Save As' option. This feature saves the time and effort of creating mobile learning from scratch. The 'Fluid Box' feature rearranges and groups objects logically. This helps avoid unnecessary rework.
Comparison with Other Tools
Lectora too offers the option of converting legacy courses developed in earlier versions of Lectora, but it cannot directly convert them for mobile learning. This tool offers wireframes that act as a framework for the course and has built-in templates for different devices. Compared to Captivate, the conversion process is not so quick.
As for legacy course conversions with Articulate Storyline, there are several templates for different devices like with Lectora. These templates come with a set of interactivities that can be customized. However, the limitation with Storyline 360 is that you need to use the available templates and cannot directly save to a mobile format like Captivate.
2. Software Simulations
As we mentioned earlier, the ability of Captivate to create excellent software simulations cannot be denied and it just got better with Captivate 17. The new version allows you to generate robust software simulations with better resolution, which has been upgraded to 4K HD. The 'Record Software Simulation' allows the capture of all demonstration steps as screencasts. You can capture all onscreen actions from mouse movements, system audio, and keyboard actions. You can even convert the screencasts to video.
Apart from this, a responsive angle is added to the screencasts, because you can create a single responsive screencast project which will play on all devices. The tool detects activity in the recording window and automatically focuses on those areas to create screen captures for tablets and mobile devices.
(Ref: https://www.adobe.com/in/products/captivate/screen-recording.html)
Comparison with Other Tools
In Storyline, simulations are captured in a video format, which makes it difficult to make changes later while Captivate allows you to capture single screenshots and later integrate them in the simulation in case of changes.
Storyline also does not allow setting a theme for the recording which has to be set up for every style whereas in Captivate, it is a one-time effort to set the style and process. As for software simulations in Lectora, it does not have a built-in tool for simulations. You will have to record, edit, and include actions and feedback manually.
In comparison with these tools, Captivate is a better option for software simulations.
3. Responsive Learning
The 'Fluid Box' feature in Captivate 17 takes the creation of responsive learning a notch higher. With this feature, content is made automatically responsive. Objects placed on the slide adapt automatically so that they can be viewed on multiple devices. The content has to be added only once and it will either shrink or expand according to the device.
The feature helps instructional designers create page layouts using horizontal and vertical boxes. This aligns the course automatically and it becomes responsive to any device. With this feature, there is no need to worry about breakpoints or how content will look across various devices. This feature saves time and effort and helps create a responsive learning experience.
Comparison with Other Tools
Lectora has in-built features for responsive course design. You can enable responsive content with one click in course settings. Course settings enable you to automatically create breakpoints for your content for different devices. Content objects can be adjusted for each breakpoint individually. But breakpoint sizes cannot be adjusted for devices that do not confirm to its parameters. It also has issues with adding background images.
This is not the case with Captivate where there is no need to worry about breakpoints because the fluid box feature helps fit content according to the device.
Articulate has 'Rise' for responsive learning. Rise is a web-based authoring application that is fully responsive. The tool has a variety of templates for creating responsive design for interactions, quizzes, or multimedia. But as it is web-based, you need a constant Internet connection to design courses. Moreover, templates do not provide for any flexibility in design whereas in Captivate, the fluid box feature provides design flexibility.
Adobe Captivate has competitive features in certain aspects that make it a better authoring tool compared to others in the market. But it has its drawbacks as well which include a steep learning curve and being less intuitive than other tools according to learning developers. However, you can consider this tool if you have any of the design needs mentioned in this post.