The Key Features of Adobe Captivate 2017
Adobe Captivate 2017 offers a host of user-friendly features that help to quickly create e-learning courses that highly engage learners.17 Release.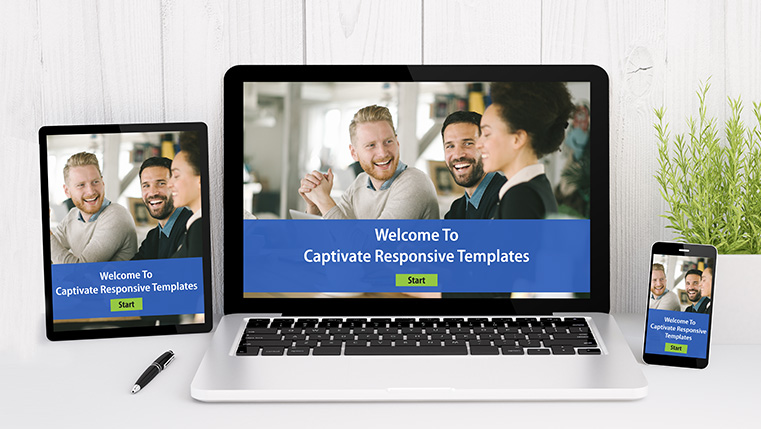 Adobe Captivate 2017 stands out as one of the best authoring tools for developing e-learning courses. Two of its features that are favorites with instructional designers are the authoring tool's responsive design and its ability to create e-learning modules based on HTML5, without any prior programming knowledge. E-learning courses developed using Adobe Captivate 2017 will be perfectly compatible with any device, be it a tablet, desktop PC, laptop, or a smartphone. Also, one need not be a software programmer to create HTML5 based content on Adobe captivate 2017. This authoring tool offers in-built HTML5 compatibility that converts any type of content to the HTML5 format.
In addition to these two features, Adobe captivate 2017 has a host of user-friendly options that help in developing e-learning courses very quickly. Let us have a look at some of these features.
Creating Responsive Content for all Devices
'Fluid Box' is a feature that enables the creation of e-learning courses that will be compatible with any device. The content created using this feature will either shrink or expand depending on the device type, thus making the course fully responsive. Instructional designers can also create page layouts using a combination of horizontal and vertical boxes. Once the project is saved, the e-learning course is automatically aligned and becomes responsive to any device.

Converting Legacy E-learning to Responsive Courses
Courses developed using the earlier versions of Adobe Captivate are non-responsive. The Fluid Box feature in Adobe Captivate 2017 offers the option of converting these legacy non-responsive courses to fully responsive ones. Also, the conversion process is very easy. One has to just access the legacy course and click the 'Save As Responsive' option.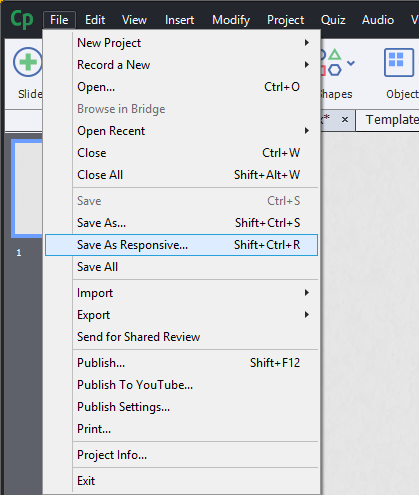 Enhancing the Resolution of Simulations
Simulations very effectively demonstrate the use of tools, machinery, software, and procedures. One of the basic requirements for any simulation is the image resolution. The simulations feature in Adobe Captivate 2017 has been enhanced from 1280 pixels to 2K or 4K HD resolution. The 'Record Software Simulation' option captures screencasts of all the demonstration steps. Also, there is an option to convert the screencasts to a video.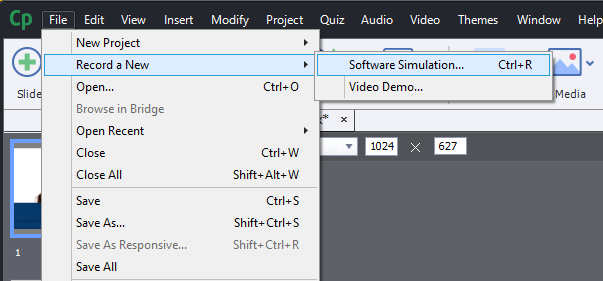 Supporting a Wide Variety of Font Styles
Adobe Captivate 2017 is integrated with the Typekit library, providing access to thousands of font styles. This option enables the use of attractive font styles for developing e-learning courses and thereby create a great viewing experience for learners.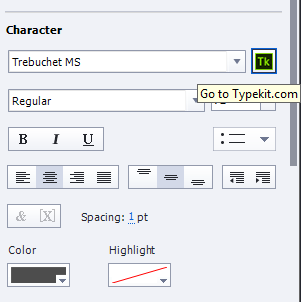 Ensuring Scalable Text for Easy Readability
This feature is very important for developing e-learning courses with text-heavy content. The uniform text scaling feature adjusts part of the content to fit a given screen size. Users can choose to read the remaining part of the content by clicking the relevant icon on the screen. Also, the minimum font size that is set, condenses the font size accordingly and allows users to view the whole content in a single screen capture.
Previewing in Different Devices
Adobe Captivate 2017 allows designers to preview how an e-learning course aligns with different devices. Previews can be accessed either through the menu or by using the responsive slider. Once a course is previewed in various devices, the next step is to publish the course.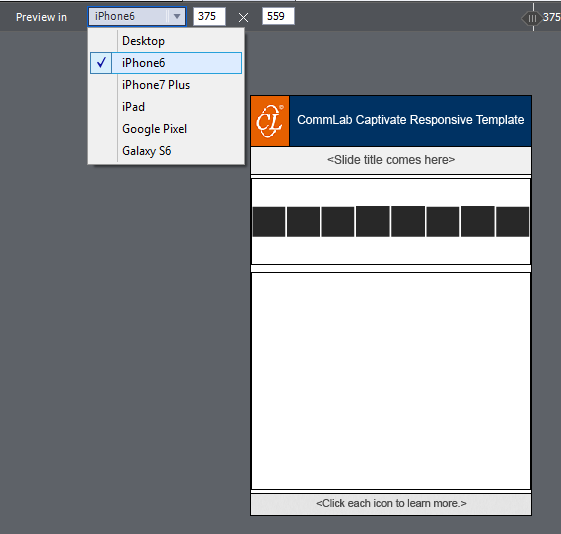 Creating Engaging Content using the Assets Store
Adobe Captivate 2017 has access to a library with more than 75000 images, photographs, scenarios, etc. This Assets store can be accessed for developing interesting, lively, and visually appealing courses to easily engage learners.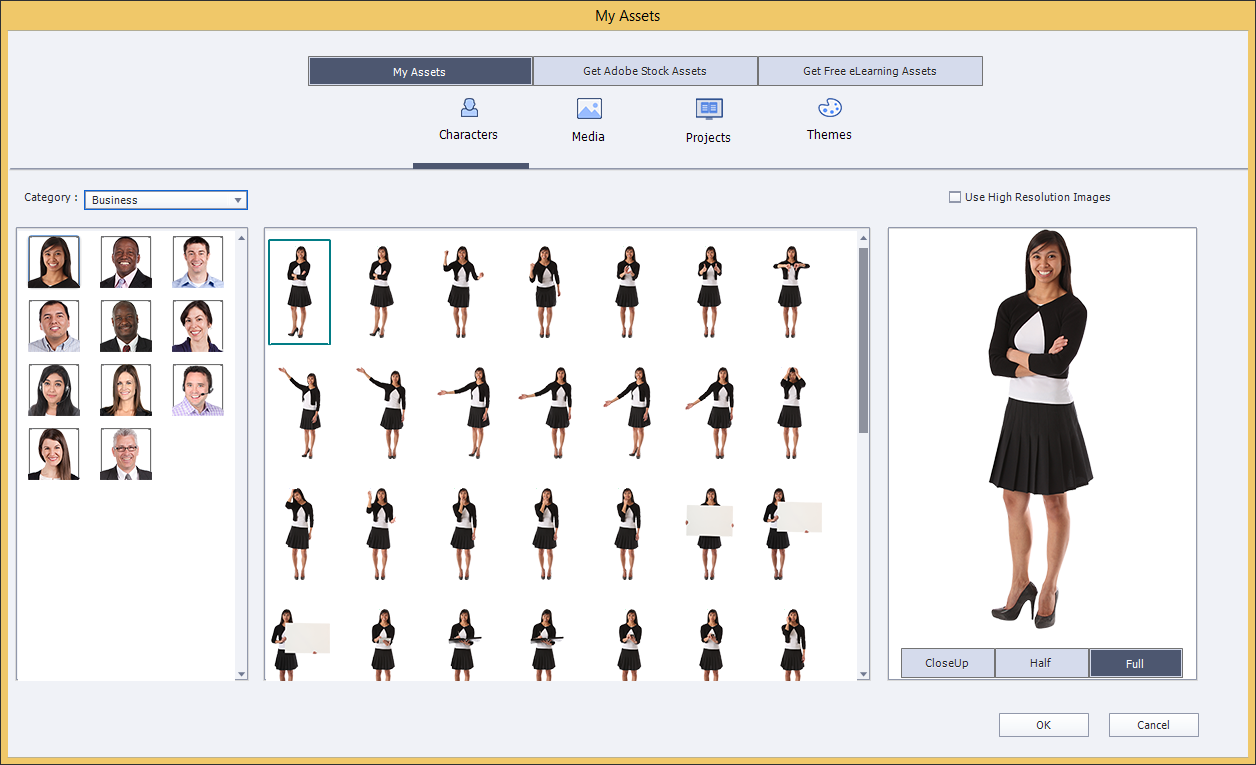 Adobe Captivate 2017 offers a wide variety of features that help in creating e-learning courses quickly. The ability to create responsive content for all devices is in sync with the trend of employees accessing e-learning courses on smartphones. The Assets store, enhanced pixel resolution, and access to thousands of new font styles from the web help in creating highly engaging courses for a great learning experience.