4 Features of Adobe Captivate that Facilitate Effective Mobile Learning Development
Adobe Captivate offers a few neat features that facilitate responsive and mobile learning development. In this blog, let's look at what these features are and how they contribute to the development of effective mobile learning courses.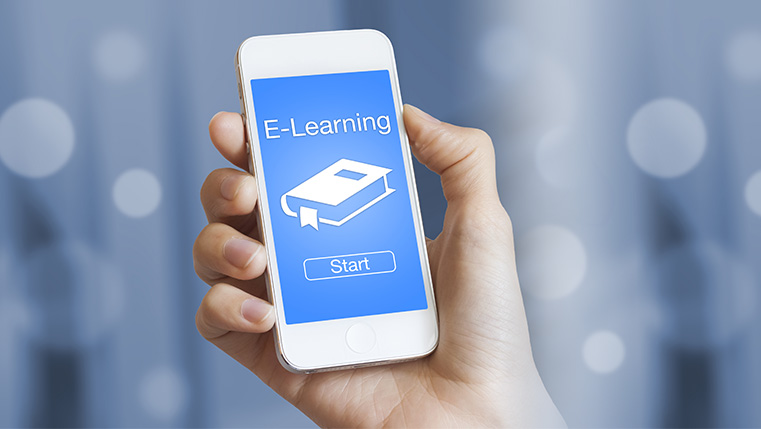 Adobe Captivate offers tons of features for courseware designers to create good e-learning modules. Be it custom e-learning development, rapid authoring, or simulation-based modules, e-learning created using Adobe Captivate is of top quality that keeps learners engaged and makes learning efficient. Another important feature of Captivate that sets it apart from its counterparts is the support for creating mobile learning courses.

Learning through mobile is one of the biggest trends to have hit the corporate world in recent times. Learners expect their e-learning on tablets and smartphones and are no longer content with desktop learning. Responsive course design (RCD) is a trend no organization can ignore in today's learning scenario, and there is no doubt that it is the future of e-learning. Adobe Captivate offers a few neat features that facilitate responsive and mobile learning development. In this blog, let's look at what these features are and how they contribute to the creation of effective mobile learning courses.
1. Make use of responsive themes
The goal of any theme is to have a consistent look and design throughout the course. Adobe Captivate's responsive theme library consists of fully customizable themes to develop mobile learning modules that are engaging and visually appealing. Responsive themes come equipped with a feature called Fluid boxes. Fluid boxes enable designers to render fully responsive content that is just right for mobile learning. This translates to little or no visual blunders in the layout on mobile devices, such as overlapping of text and images or text exceeding the size of a textbox. Everything is rendered properly so that learners are provided with a fluid, seamless mobile learning experience.
Designers can also customize these themes from the library based on specific requirements to provide the mlearning course with an enhanced look and feel, adding other elements such as backgrounds, styles, fonts, and layouts. Come to think of it, responsive themes are mighty useful when an organization takes the rapid development route. Ready-to-use themes can be easily added to the course to produce visually pleasing responsive courses, saving both time and cost.
2. Preview mobile learning projects on multiple devices
Adobe Captivate makes it easier and possible to view how a responsive course will look like on a learner's device. Designers can comfortably preview mobile learning projects before they are rolled out to learners. It allows designers to preview exactly how the course content will look on specific devices.
This feature of device-specific previews reduces redundancy. M-learning designers have to create just one course, let's say for the desktop, then use the device-specific preview to see how the course appears in other screen sizes (such as smartphones, tablets) to make any adjustments to the layout. The tool will then publish the course for all these devices. This process, though it seems tiny, saves a huge amount of development time. Imagine the time it would take to create a separate course for every different device your learners use to access learning content.

3. Use geolocation templates for mobile learning

What makes mobile learning so exciting is the unique capabilities of mobile devices used by modern learners. One such capability is geolocation. Adobe Captivate 9 has the capability of using a learner's geographic location to provide content. Using geolocation templates adds a different measure of customization to mobile learning. It gives developers the opportunity to build m-learning that is unique for learners, based on their location.
For example, let us say an organization is developing mobile learning for its global sales force. However, the organization wishes to train these sales force on different processes and selling skills. Adobe Captivate's geolocation feature locates the longitude and latitude of the learner and sends the appropriate course content based. So, the same course will ask a sales rep in UK to listen to an audio clip explaining certain product features and a sales rep in USA will be asked to watch a video on selling skills.

4. Supports HTML5 publishing
Last but not the least, HTML5. HTML5 is the successor to Adobe Flash whose lack of support for mobile devices means Flash-based courses can no longer be accessed on mobile devices. HTML5-based content, on the other hand, can be played and accessed on any device or browser. Adobe Captivate is one of the few rapid authoring tools in the market today that provides a HTML5-ready output, making it possible for creating effective mobile-friendly courses.
To meet new-age learning needs and challenges, e-learning vendors and authoring tool companies have periodically come up with innovative solutions. Captivate offers e-learning designers the best features which help them reimagine an organization's mobile learning needs. It allows them to easily author HMTL5-based e-learning courses i.e., courses that can run on any device, seamlessly. With the distinct features it offers, designers can create fully responsive multi-device e-learning and mobile learning content.