HTML5: A Worthy Successor to Flash
This post examines the growing importance of HTML5 when compared to Adobe FLash in the eLearning world and the implications of using this web technology.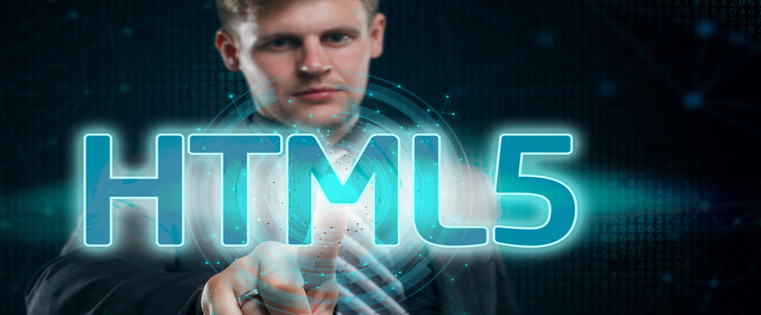 It is no exaggeration to say that no other technology is discussed as widely as HTML5. What makes this latest development in web technology so important for eLearning? Well, before we see the impact of HTML5 on online training, it is necessary to understand the situation prevailing prior to the advent of this radical technology.
The eLearning world prior to the development of HTML5
For years, Adobe Flash was the monarch of eLearning technologies. This highly flexible tool can be used to develop stunning courses with wonderful animations, interactivities of a very high quality including drag and drop, simulations, role plays and so on – it facilitated the harness of creative powers of the online course developer. It appeared that the reign of this software from Adobe would never come to an end. But all changed with the statement of one person – Steve Jobs, who declared that the iOS would not support Flash-based content.
In 2010, Steve jobs announced that the iOS, Apple's operating system for its mobile devices would not support Flash-based content. This had tremendous ramifications for the eLearning world. The demand for mobile learning is steadily increasing as evidenced by the Ambient Insight's report, in 2011, which stated that the mLearning market in the USA was growing at the rate of 29.3%. IOS' incompatibility with Flash was major blow as iPads constituted a major chunk of market for tablet computers. Things only got complicated when Adobe announced that it was withdrawing support to the mobile version of Flash. ELearning developers need a new technology and that technology was HTML5. Let us now see the advantages of using this latest web technology to develop online courses.
Reasons for the Increasing Popularity of HTML5
HTML5 increasingly became popular with eLearning developers not only because it is possible to develop courses compatible with mobile devices, but also because of these advantages.
Online courses can now be delivered on all devices:
With HTML5, you can develop a responsive eLearning course that can be accessed seamlessly on all devices, irrespective of their screen-sizes. The possibility has heralded the dawn of a new era of flexible training. Learners can now access the course truly anytime, anywhere. It provides unparalleled flexibility to the learner.
For instance, a busy employee needs to complete an online course. He can finish a part of the course on the desktop computer in his office. Then after coming home, he accesses the course on his iPad and completes the unfinished part.
Companies, too, can benefit from responsive eLearning because they can overcome the following drawbacks of developing multiple versions of the same course.
Reduced cost and time:
It is very expensive to develop multiple versions of the same course for different devices. Training managers find this very hard, as L&D budgets are shrinking and the pressures to make the best use of the training dollar are ever-increasing. Moreover, developing multiple courses takes considerable time, and this is not acceptable when shorter turnaround times result in improved profitability.
Simple to develop:
Different mobile devices have screens of different sizes. Developing several versions of the course, each for a specific screen size, is impractical if not impossible. Things get more complicated if you adopt the Bring Your Own Device (BYOD) policy. Using HTML5, you can develop a single course that is accessible on all "screen sizes" effectively.
Easy to maintain:
Often, companies find it hard to maintain multiple versions of a course. This is because when the course needs to be updated, the content has to be altered in all versions of the course. This can be time-consuming and cumbersome. You can effectively overcome this problem with responsive learning.
No Plug-ins are required to access the course:
A major drawback of the Flash-based course is that you need to install player plug-in. In case you don't have the player or it is not of the right version, the user will have to download or upgrade the flash player. This may result in learner frustration. You have no such problems with HTML5.
Ideal for using scalable vector graphics:
It is common knowledge that graphics play a very important role in enhancing the effectiveness of online courses. You can use HTML5 to develop courses containing scalable vector graphics (SVGs). SVGs have many benefits when compared to other graphic formats. They are:
Reduced file size:
These graphics are based on mathematical formulae that need very less data to be stored in the source file. This is because it is not necessary to store data for each individual pixel.
Vector images scale better:
A major drawback of pixilated image formats is that when you try to enlarge the image, it gets distorted. These images are designed for a specific size. When you enlarge the image, the software displaying it has no clue about how to fill in the new, extra pixels. With vector images, mathematical formulae can be adjusted whenever the size of the image changes. Hence, there are no distortions.
Faster loading time:
As the source file is smaller, the time taken to load SVG graphics is much less when compared to other image formats.
Ideal for data driven applications:
Images in the SVG format can be created programmatically. They can be altered dynamically, making them ideal for charts and other data driven applications.
Fully supports mobile apps:
It is estimated that more people would access the Internet on their mobiles than desktop computers by 2015 (Morgan Stanley Research). The tremendous spurt in the usage of "mobile Internet" has led organizations to use mobile apps to deliver training through these devices. These apps have come to occupy a pivotal role in mLearning because they provide instant and easy access to the learning content. You can use HTML5 to create web apps that are accessible on all mobile platforms.
Two major problems with HTML5
Issues with old browsers:
"Old" browsers such as IE7 & 8 have difficulties in reading HTML5 content. So, if you use these browsers then you have to decide between sticking to flash-based courses or upgrading your browsers. HTML5 is not browser independent. Different browsers interpret the HTML and CSS code differently. This could, at times, be problematic.
Inability to create Flash-like interactivities:
While it is true that HTML5 can be used to create interactivities such as Drag and Drop, it trails Flash in terms of the flexibility to create learning content rich in interactivities. You can develop multimedia rich graphics without any hassles, using Flash. After all, HTML5 has been developed to make it easier for people to surf the net, without depending on plug-ins; using it for eLearning courses is just a byproduct.
We need to remember that HTML5 is still evolving, and it will take some more time before it emerges as a fully matured technology. This web technology holds immense potential that needs to be realized by the eLearning world. What do you think? We'd love to hear your views.