Why Use Adobe Captivate to Develop Responsive E-learning
Check out this post to know how Adobe Captivate helps develop good responsive online courses.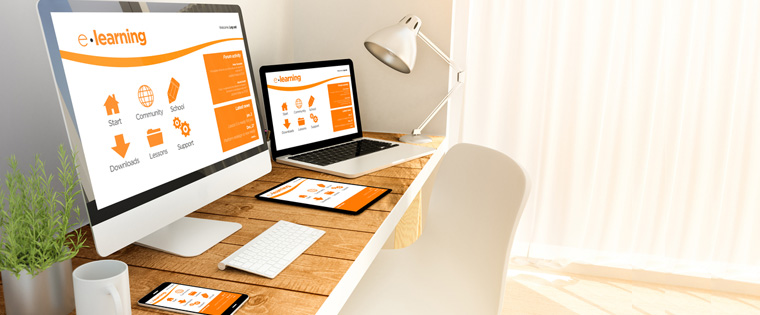 Today, people no longer rely only on desktop computers to access the Internet. The advent of the mobile revolution has resulted in a phenomenal growth in the use of a wide variety of devices, such as smartphones and tablets, to go online. A study by Gartner reveals that more than 50 percent of users will use a mobile device first, for all digital activities, by 2018.The huge diversity in the world of connected devices is compelling the corporate world to develop web-based resources that are device-neutral, and e-learning courses are no exception.
Are you too planning to climb the device-agnostic online learning bandwagon? How can you develop a good responsive e-learning course that can be accessed on any device? I suggest you use Captivate 9. This rapid e-learning development tool from Adobe, is power-packed with various features that allow you to build technology-enabled learning resources that can be accessed seamlessly on multiple devices. Let's see what they are.
1. Facility to Develop Courses for Multiple Devices by Tweaking the Desktop Version
Adobe Captivate 9 makes the development of responsive e-learning development simple. This allows you to develop several versions of courses, for different devices, from a single source. All you need to do is develop a course for the desktop and then tweak it to make the course suitable for delivery on multiple devices.
2. Ability to Create Responsive Screencasts Seamlessly
We all know that screencasts are used widely to develop simulation-based digital learning resources to impart software training. Adobe Captivate 9 allows you to develop responsive screencasts which can be delivered on any device, in a hassle-free manner. The e-learning development software detects the device on which the screencast is being rendered and automatically adjusts the output to fit its screen.
3. Option to Preview Courses on Different Devices
You can use Adobe Captivate 9 to preview how a device-neutral technology-enabled learning material is rendered on the screens of multiple devices, and this helps you make changes, if required, to deliver a good viewing experiences.
4. Delivery of High-Quality Support to HTML5 Objects
Adobe Captivate 9 enables you to unleash the power of the mobile device to impart good training, by providing excellent support to HTML5 objects, such as animations. The e-learning course development software allows you to indicate a range for the size of each object, thereby preventing re-scaling of views across various devices. This is useful to ensure images are displayed properly on all devices.
5. Creation of Good Learning Experiences Through Gesture-Enabled Learning
We live in the age of 'touch' devices. Adobe Captivate 9 can be used to facilitate effective learning interactions on all touch-based devices, irrespective of the size of their screens. Your staff can navigate through mobile learning materials very easily, using their fingers. They can tap, pinch, scroll and swipe the screens to move seamlessly through the resources.
6. A Library of Responsive e-Learning Development Themes
The vast collection of responsive themes on Adobe Captivate 9 paves the way to develop effective responsive web-based learning resources. The themes are flexible in terms of customization. You can create themes of your own too.
We thus see that Adobe Captivate 9 can be used to develop good responsive e-learning courses. The rapid authoring tool is also renowned for its abilities to create high quality software training simulations. How do you plan to use Adobe Captivate 9? We'd love to know.