The Top 5 VILT Platforms that Make 'Training from Home' a Reality
Is this your first time using VILT platforms? Are you overwhelmed by the vast number of virtual classrooms available today? Don't let that stop you. Read on to discover the top 5 VILT platforms that you can choose from.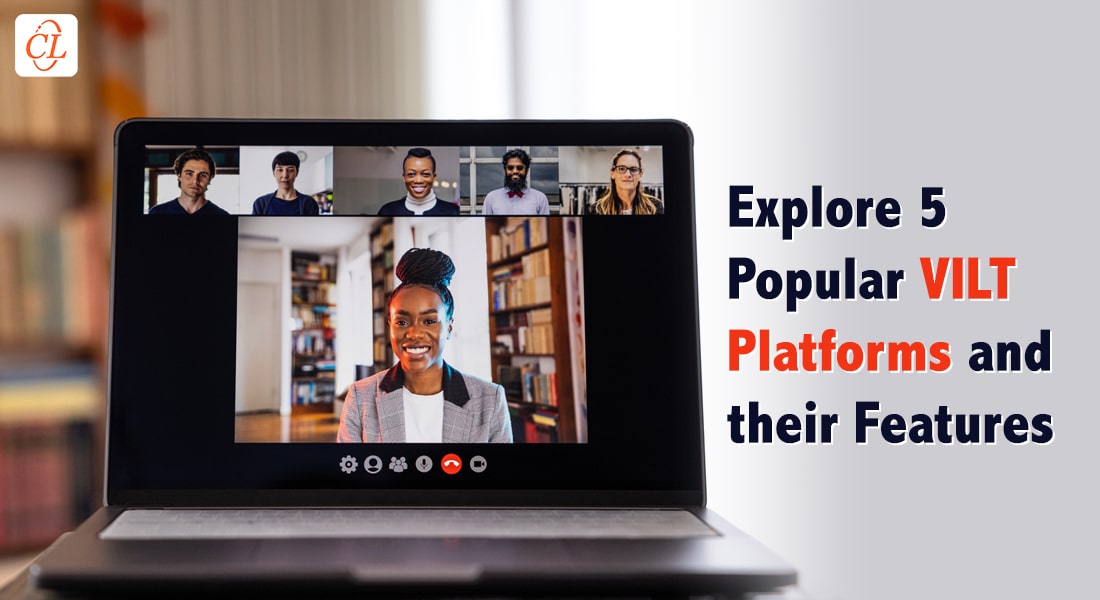 No one saw it coming! Nobody ever anticipated the scale at which the COVID-19 outbreak would affect our lives – both at work and at home. Over the past two years, there has been a significant spike in the number of organizations interested in virtual platforms for corporate training. According to the Training Industry, the interest in topics related to VILT (virtual Instructor-led Training), remote models, and leading through adversity and change has increased eighty times.
What are the Different VILT Platforms?
Here are the top 5 VILT platforms to revamp your corporate training game:
WizIQ
Vedamo
Adobe Connect
Microsoft Teams
Cisco Webex
There has never been a better time than now for virtual training. With the COVID-19 pandemic continually interrupting work and training schedules around the world, video conferencing has kept us going over the last couple of years. It has also highlighted the enormous impact of internet-based learning. Virtual instructor-led training is offered vis-a-vis online platforms where learners and instructors engage in virtual synchronous training sessions from various locations.
This is hardly surprising, given that much of the corporate workforce works from home, and companies are seeking innovative solutions to fulfil their training needs. Adopting the virtual instructor-led training technique will undoubtedly assist you in maintaining your training courses. To grasp the relevance and significance of virtual instructor-led training, one must first define it.
What is VILT?
VILT (virtual instructor-led training) is a highly interactive mode of instruction offered, by an instructor, through digital media. It promotes learning while also ensuring accessibility, diversity, and adaptability. It allows learners to benefit from traditional classroom learning while also ensuring they can work from the comfort of their own homes.
Now that we know what VILT entails, let's look at the top 5 VILT Platforms and their characteristics.
What are VILT Platforms and Their Features?
Live video conferencing tools enable engaging learners in face-to-face and online training sessions. They provide the best of both worlds, with virtual formats for remote access as well as in-person contact between the instructor and the learners during classroom sessions. They also allow instructors to keep learners focused and involved by using high-quality, real-time audio and video. They provide a suite of collaborative capabilities to transform distracted spectators into active learners by leveraging the power of interactive tools such as chat boxes, discussion forums, whiteboards, and online polls.
Due to the COVID-19 pandemic, many organizations have had to convert their ILT (instructor-led training) programs into VILT. To do so, businesses have learned to adapt to the needs of a remote and hybrid workforce. However, once your classroom learning content has been transformed into online sessions, how do you decide which VILT platform to host your courses on?
The VILT platform offers access to a wide range of capabilities. Chat, video conferencing, online polls, audio-visual recordings, whiteboards, breakout rooms, and discussion forums are a few of the features available through this innovative platform. The best-suited facet that is right for your company is dependent on your training needs. Here's a list of the top 5 VILT platforms to assist you on your rapid eLearning journey.
The Top 5 VILT Platforms for Effective Corporate Training
1. WizIQ
WizIQ is a popular web-based platform that can be downloaded on android and iOS devices and used for virtual classroom training. It offers a 5-way audio-video arrangement that allows instructors and learners to collaborate through a high-definition format. It also allows you to record sessions so that your learners can revisit them for performance support at their own pace. You could also successfully engage learners during the course of your sessions by using chat boxes, online polls, and quizzes.
This tool allows instructors and learners to connect vis-a-vis discussion boards and interactive online whiteboards for Q&A and brainstorming sessions. It also encourages social learning through synchronous training sessions.
WizIQ offers cloud storage that helps instructors create their own training content libraries. Learners can share useful videos, photos, PPTs, and PDFs with their instructor during a session. They can also use API plugins to connect to other applications and tools, such as a learning management system (LMS) using a single sign-on (SSO).
The best aspect of this platform is enabling learning at one's own pace. This enables on-the-go learners to participate in live training sessions from their mobile devices, anytime, and from anywhere.
2. Vedamo
One of the most challenging tasks for organizations that are just starting out with virtual classrooms is motivating instructors to get comfortable using digital platforms. Recently, many firms have had to convert their classroom training material into virtual training courses, and as a result, off-the-shelf courses on 'training the trainers' are becoming increasingly popular.
While it is an innovative idea to train the trainer, it can be time-consuming. Most virtual classroom software focus on interactions, however, Vedamo is a platform created by instructors for instructors, that takes pride in being highly user-friendly. Just because it is easy to use doesn't mean it cannot be used in a variety of interactive ways. It focuses on online learning and employs a browser-based virtual classroom with no need for plug-ins. Vedamo comes with a variety of features, including an online whiteboard as well as screen sharing facilities. It also provides access to breakout rooms for collaborative learning.
Vedamo is compatible with other online digital platforms such as Canvas, Google, and Moodle. In addition, it enables video conferencing for up to 25 individuals at one go. It's a mobile-friendly platform that lets learners attend training courses anytime, from anywhere, and on any device.
3. Adobe Connect
If you've been involved with online learning software for a while now, then you must have heard of Adobe Connect. Adobe Connect is a virtual classroom that includes not just chat, but also an interactive whiteboard, cloud recordings, online polls, a content management system, and discussion forums. This platform takes interaction and learner engagement to the next level.
Adobe Connect is the first choice of many firms that protect their intellectual property using a multi-layered security strategy.
It provides an immersive virtual classroom environment that increases learner engagement by:
Persistent rooms
They're best defined as customized virtual classrooms used for specific types of learners. Each persistent room has its own content library, which instructors use to store digital media files.
Breakout rooms
They allow learners to take part in group activities, while also enabling increased engagement, brainstorming, and collaborative learning. In a single VILT session, Adobe Connect provides 20 breakout rooms.
Backstage tools
Backstage tools are meant primarily for instructors. They provide a "behind the scenes" platform where facilitators get to interact with other instructors, share notes, files, and resources, create online polls, and privately discuss online poll activity and results.
Adobe Connect can be readily linked to a variety of LMSs through API plugins, and it can also be used with Adobe Captivate and Adobe Illustrator to generate quizzes, simulations, and other interactivities for the virtual classroom. All these interactive features are conveniently accessible on mobile devices, both Android and iOS. Adobe Connect can also track learner activity and provide analytical reports.
4. Microsoft Teams
Microsoft Teams is a collaborative platform that facilitators and team members use to increase the efficiency of their training meetings. Although it is not a comprehensive stand-alone VILT platform, Teams does have several learning technologies that can be combined with other platforms to create an intelligent and strong combination. When you join Teams, you turn on your video, and start to present and it automatically organizes your learning material on screen with the best viewing options for you.
Microsoft Teams also features PowerPoint live that is used to transition between presenters and review and update notes. Teams is one of the only online platforms that allows presenters to handle custom registration and send out confirmation messages. Here are a few of its key features.
File storage
Screen share
Seamless application integration
Security
Link to other devices
Breakout rooms
5. Cisco Webex
The Cisco Webex platform was built around the simple but powerful idea of keeping your team connected while keeping your work safe. It simplifies video conferencing, and, because it was created for large-scale virtual events, it has no restrictions on the number of people that can participate.
Cisco Webex can be linked to a variety of cloud-based, file-sharing, social networking, and sales management platforms. This is its most significant feature. It can also function in tandem with Google Drive and Google Calendar, Microsoft Outlook, Twitter, and Salesforce, just to name a few.
Working with other platforms, however, does not imply that Cisco Webex is an unsecured platform. It provides end-to-end encryption of shared files and integrates data loss prevention (DLP) along with Cisco Cloudlock to create an ultra-secure platform for VILT sessions.
In addition to normal chat and screen sharing functions, Cisco Webex provides interactive whiteboards as well as enables file-sharing for greater collaboration. Video-based breakout sessions are also possible. As it's a mobile-friendly platform, you can call and connect with other participants at any time, from any location, using any device of your choice.
Summing it Up!
Remote employees are becoming more commonplace in our workspaces today. The L&D (learning and development) sector has recently been inundated with virtual classroom platforms. Every day, new tools and applications are released into the market to aid in rapid digitalization.
As a trainer, you'll need an efficient learning platform that enables increased learner interaction and engagement. When selecting a virtual classroom platform, you must first assess the critical capabilities and benefits of each software and make an informed choice based on your requirements.
VILT is just one component of the training solution. You'll also need to motivate your learners and get them excited about online training. Check out this free eBook for further information on VILT in corporate training.