Six Reasons Cloud-based Authoring Tools are Better than Desktop Tools
Cloud-based authoring tools enable users to access content anytime, anywhere – developing, publishing, reviewing, and more. Explore why cloud-based authoring tools score over desktop-based tools.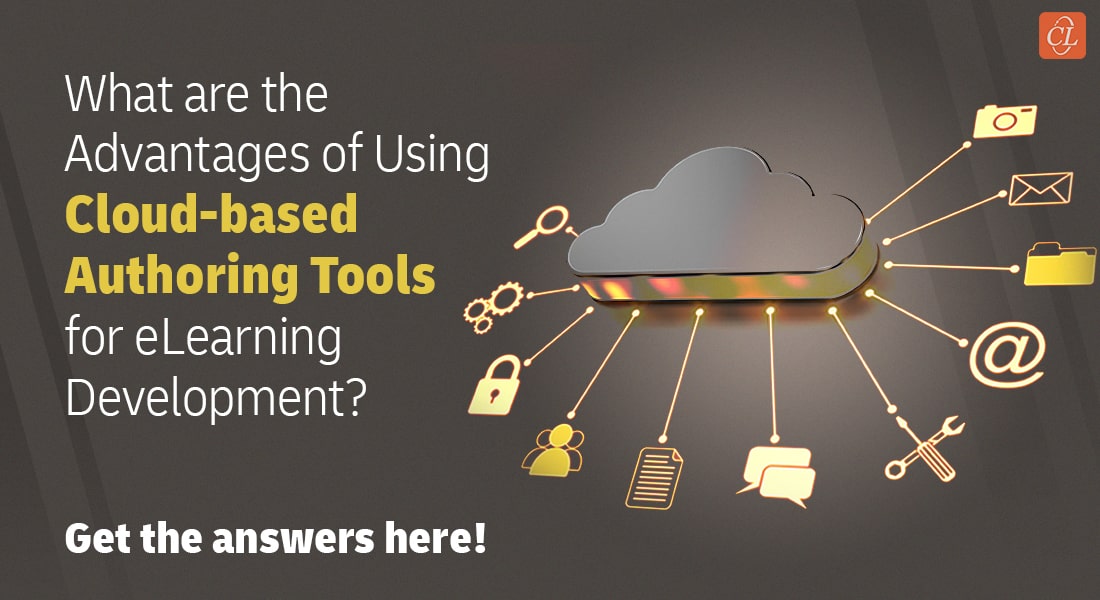 Rapid authoring tools are specialized software used to develop interactive eLearning courses. There are many authoring tools available in the market today, each with its own unique features and advantages. Some are designed for beginners looking to make use of pre-designed templates while others are meant for specialist developers who would like to design highly customized interactive courses.
Authoring tools may be desktop-based or cloud-based. Tools installed on the local computer are called 'Desktop Authoring Tools', whereas those hosted on external servers and used via the Internet are 'Cloud-based Authoring Tools'.
Cloud-based authoring tools help users work on courses – anytime, anywhere. And everything – the development, publishing, review, and storage of SCORM files – can be done online.
Why are Cloud-based Authoring Tools Better?
Earlier, desktop-based authoring tools were the preferred option to develop eLearning courses. But today, with the rapid increase of the mobile workforce, the usability of cloud-based authoring tools has also increased – leading to a rise in their popularity.
Why Use Cloud-based Authoring Tools
The Advantages Over Desktop Tools
Reduced cost
Simplified reviews
Flexibility
Cloud-based authoring tools don't require any software for download. There is no need for installation or to update the software to newer versions, as it is automatically updated with new features as well as bug fixes. And there are no storage issues with cloud-based tools.
A Few Cloud-based Authoring Tools
Adobe Captivate
Articulate 360
Lectora Inspire
Adapt
DomiKnow
Six Reasons Cloud-Based Authoring Tools are Better than Desktop Tools
1. Simple to use
Cloud-based authoring tools are designed in such a way that multiple users can use them at the same time through the online mode. The Software-as-a-Service (SaaS) feature allows users to easily develop and share their own content.
2. Cost-Efficient
Desktop-based authoring tools require (depending on the number of systems) financial investment for the purchase of licenses to install the software, and for new versions or upgrades. Also, desktop tools need highly skilled staff to install them and train users on how to use them.
In contrast, most cloud-based authoring tools need a single payment to use – no extra or additional costs to update them as updates are automatically added to the tool. Cloud-based authoring tools can help you save time as well as money.
3. Accessible
Cloud-based courses can be accessed from anywhere because the system is always online and ready to be used. Users need to simply log in through the Internet to start working on projects. This improves enterprise-wise productivity as employees can easily access and share content from different places.
4. Compatible
Unlike desktop-based authoring tools which are compatible with specific operating systems, cloud-based authoring tools are compatible with all platforms as they can be accessed through online browsers.
They work on all devices including PCs, laptops, tablets, smartphones, etc. You just need an Internet connection to develop courses or make edits.
5. Flexible
Most organizations are now moving to cloud-based authoring tools due to the flexibility they offer. Publishing content takes time with desktop tools. Also, you need to go back to the local computer if you want to implement any changes. If you don't have tool knowledge, you will need to hire the tool experts to work on the desktop tool.
However, content publishing is very simple with cloud-based platforms. Editing and updating content is also easy as it does not require re-uploads. Unlike many desktop-based authoring tools that don't support Mac operating systems, cloud-based authoring tools support all operating systems – no compatibility issues at all!
6. Collaborative
Cloud-based authoring tools offer collaboration – multiple users can work simultaneously to create or update content, a very quick and effective way of creating content. With desktop authoring tools, creating, publishing, and sharing content is a lengthy process that requires each user to work independently.
Cloud-based authoring tools are simpler, faster, more versatile, and offer better data security than desktop-based tools. Multiple reviewers can access courses to resolve contradicting feedback, developers can make edits which can be checked easily by the reviewers, and more.
Parting Thoughts
Given these advantages, it sure makes business sense for organizations to shift to cloud-based authoring tools. However, when it comes to creating complex branched scenarios and game-based scenarios, desktop-based platforms remain the go-to option for authoring tools.
For more insights into designing and developing eLearning courses, don't miss this eBook!