10 Popular VILT Platforms to Provide High-Quality Corporate Training
VILT is one of the most popular corporate training formats because it provides highly engaging and productive training that is synchronous. This blog discusses 10 popular VILT platforms and their various features to help you get started with VILT.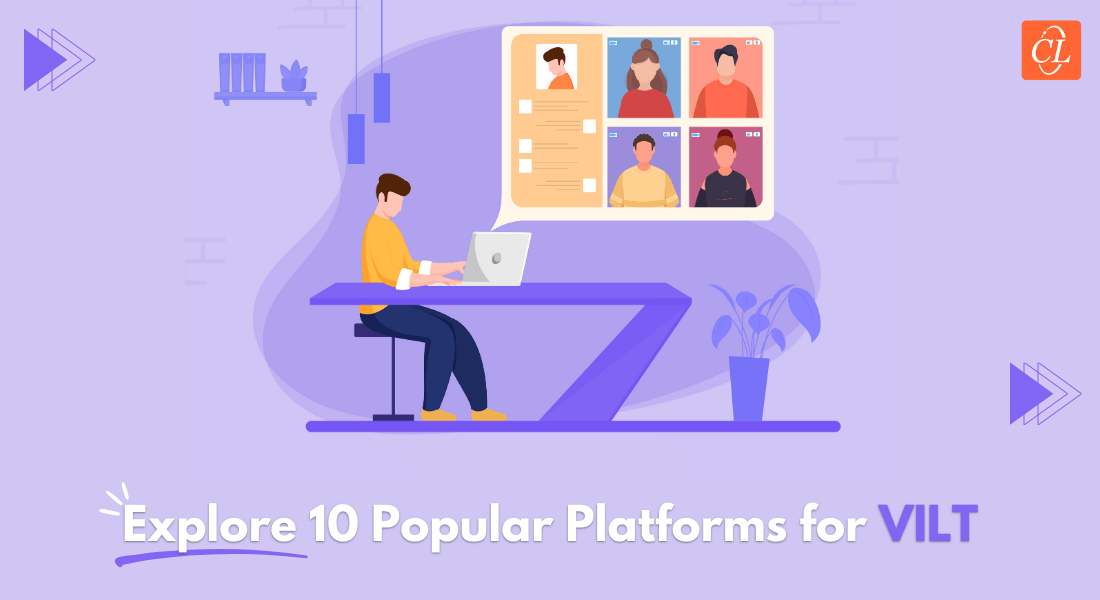 The recent pandemic has changed the preferences of the modern generation and the latest technological advancements have only added up to that. Earlier, organizations kept virtual and digital training formats as an option, but now it's more of a necessity because of the decreasing demand for physical/classroom training formats. But, to replicate the classroom training sessions because of the value it offers, is extremely important. Virtual instructor-led training is one of the many formats or strategies that can replicate the impact and feel of real classrooms. There are various VILT platforms available in the market today, and this blog discusses the 10 popular ones.
Finding It Hard to Choose a VILT Platform for Your Corporate Training?
You can try any of the popular ones listed below –
Zoom
Webex
Microsoft Teams
BlueJeans
Jitsi Meet
Read on to explore 5 more popular VILT platforms…
What is VILT and Why It's so Beneficial for Corporate Training?
Virtual Instructor-led Training is a synchronous mode of training where the learners and the instructors can interact with each other in real-time, but virtually. It is highly impactful because everyone can be present at their homes or any other remote locations and yet they won't miss out on their training. Learners can enjoy learning alongside their peers in a collaborative environment, while also being able to feel the impact of real classroom training in a virtual environment. Features such as chat, polls, canvas, breakout rooms, screen sharing, screen recording, video conferencing, etc are some of the basic modalities provided by VILT platforms to facilitate interactive and engaging training sessions.
10 Popular VILT Platforms to Conduct High-Quality Training Sessions
1. Zoom
Zoom is a widely used VILT platform and its usage skyrocketed during the recent pandemic. Zoom allows for high-quality video conferencing with up to 500 participants on its paid plans, and 100 participants on the free plan. It supports HD video and allows for real-time audio and video interactions. It is easy to use and offers a wide range of features such as virtual backgrounds, external app integrations, password protection, waiting rooms, etc.
Zoom is compliant with various security and data protection regulations such as HIPAA, SOC 2, and ISO 27001. Zoom can be integrated with various tools and platforms such as Google Calendar, Slack, and Salesforce, which allows for seamless scheduling, joining, and collaboration. Zoom offers a free 'basic' plan for casual use and 3 paid plans called 'Pro', 'Business', and 'Enterprise' for more advanced features and more participants.
2. GoToTraining
GoToTraining is a VILT platform that helps organizations with easy scheduling, registration, and management of virtual training sessions. It is a product of the company LogMeIn and one of the key features of GoToTraining is its ability to support up to 5000 attendees in a single session. Additionally, it allows for easy sharing and collaboration on documents, files, and multimedia, which can be useful for presentations, group projects, and other collaborative activities.
GoToTraining also includes a range of accessibility features, such as closed captions and keyboard shortcuts, and it is also integrated with GoToWebinar, GoToMeeting, and GoToConnect which allows for easy integration with other tools and resources used in the various types of corporate training sessions. In terms of pricing plans, GoToTraining is available on a subscription basis and consists of 3 separate pricing plans called 'Starter', 'Pro', and 'Plus' but the platform also offers a free trial to test its features and capabilities.
3. Webex
Webex is a feature-rich VILT platform developed by Cisco Systems that is widely used in the corporate and government sectors for remote work and online training. Webex allows for high-quality video conferencing with up to 1000 participants on its paid plans. It can be integrated with various tools and platforms such as Microsoft Outlook, Slack, Salesforce, etc.
Webex also offers a mobile app that allows users to join and host meetings, make video calls, and access collaboration tools on the go. Webex is part of Cisco's collaboration portfolio, which includes other products such as Webex Teams, Webex Meetings, Webex Calling, and more. Webex offers a free plan for basic use and several paid plans for more advanced features and more participants.
4. Adobe Connect
Adobe Connect is one of the most popular VILT platforms developed by Adobe that allows for virtual meetings, webinars, and training sessions with up to 100 participants on its paid plans. It allows users to customize the virtual meeting room by choosing from a variety of backgrounds and layouts, and by adding different types of content such as videos, images, and documents. This feature can be used to create a personalized and professional environment that reflects the organization's branding.
It can be accessed through a web browser or the Adobe Connect mobile app and can be used for real-time and asynchronous collaboration. Additionally, Adobe Connect allows for integration with other Adobe products such as Adobe Creative Cloud and Adobe Experience Cloud. The software is often used for business and educational purposes, such as online training, remote team meetings, and eLearning. It provides a free trial and there are 3 different paid subscription plans available either monthly or yearly; they are 'Adobe Connect Meetings', 'Adobe Connect Webinars', and 'Adobe Connect Learning'.
5. Microsoft Teams
Microsoft Teams is a collaboration and communication platform that is part of the Microsoft 365 suite of tools and includes VILT capabilities. It allows for video conferencing, screen sharing, and recording, and includes all the required features a VILT platform needs to have along with the ability to share files and collaborate on documents. In addition, Teams offer a transcription and captioning service to make online training more accessible. In terms of security, Teams is built on Microsoft's trusted cloud infrastructure and includes built-in compliance and security features, such as data encryption and multi-factor authentication.
Another important feature of Microsoft Teams is the ability to integrate with other Microsoft and third-party apps and services. This allows users to access and use other tools, such as OneNote, SharePoint, and Power BI, directly within Teams. There are 2 pricing models, one is for home and the other is for business. The 'Home' model has a free plan, and two paid plans called 'Microsoft 365 Personal' and 'Microsoft 365 Family'. Whereas the 'Business' model has three paid plans called 'Microsoft Teams Essentials', 'Microsoft 365 Business Basic', and 'Microsoft 365 Business Standard' along with a starter plan for free.
6. BlueJeans
BlueJeans is a cloud-based video conferencing and collaboration platform developed by Verizon Communications, and it has partnered with Airtel Business to start providing its services in India. It allows you to conduct high-quality video, audio, and web conferencing to provide high-quality virtual training sessions. This platform is designed for both personal and enterprise use and is compatible with a wide range of devices and operating systems, including Windows, Mac, iOS, and Android.
One of the key features of BlueJeans is its ability to connect users across different platforms and devices, including web browsers, mobile devices, and conference room systems. The platform also offers advanced security options such as password-protected meetings, a meeting lock, and a waiting room to ensure organizational safety and other compliances. Additionally, it provides a variety of learning analytics and reporting options, which can be used to track and measure the effectiveness of online training. The pricing consists of 2 paid plans called 'Pro' and 'Enterprise' and it also provides a free trial for 1 month.
7. Blackboard Collaborate
Blackboard Collaborate is a VILT platform that allows for online meetings, webinars, and virtual training sessions. Blackboard Collaborate allows for both synchronous and asynchronous learning, meaning that users can participate in live sessions or view recorded sessions at their own pace. Blackboard Collaborate is integrated with Blackboard Learn, a Learning Management System (LMS), allowing easy integration with other tools and resources used in the classroom.
It's a widely used platform in the academic and corporate sectors and it's compatible with different devices including laptops, smartphones, and tablets. Some of the pricing plans are based on a number of users and the platform is also provided as part of the Blackboard Learn LMS. Two of its major pricing plans are 'Classroom License' and 'Department License', and you can request a demo as well.
8. BigBlueButton
BigBlueButton is an open-source VILT platform that can be integrated with various Learning Management Systems (LMS) or used as a standalone platform. BigBlueButton is designed to be highly scalable and can support thousands of concurrent users. It is also built on open standards, which allows for easy integration with other systems, and it's accessible via web browsers without the need for additional software or plugins. Additionally, the platform has been designed with security and privacy in mind, ensuring that the session and data are protected.
9. Jitsi Meet
Jitsi Meet is also an open-source VILT platform that allows users to conduct online meetings, video conferencing, and live streaming. It is built on top of the Jitsi Videobridge, a WebRTC-based technology that enables high-quality, secure, and scalable video conferencing. Jitsi Meet is designed to be easy to use, with a simple and user-friendly interface that does not require any software downloads or plugins. Users can join a meeting by simply clicking on a link, and can participate from any device, including computers, laptops, tablets, and smartphones. Jitsi Meet is open source, which allows anyone to install it on their own servers, customize it as per their needs, and use it without any subscription cost.
10. Google Meet
Google Meet is a VILT platform that is integrated with Google Workspace (Formerly G Suite) and one of its main features is the ability to support real-time, high-definition (HD) video conferencing for up to 250 participants. Another important feature of Google Meet is the ability to integrate with other Google Workspace tools. This allows users to easily schedule meetings using Google Calendar, share and collaborate on documents using Google Drive, and more.
Google Meet is widely used by organizations of all sizes and is particularly well-suited for remote teams and distributed organizations. It can also be used in education, training, and other industries to improve communication, collaboration, and productivity. The pricing plans are categorized as 'Business Starter', 'Business Standard', 'Business Plus', and 'Enterprise' but you can try Google Workspace for free as well.
Wrapping Up!
Regular technological innovations have made it really easy for organizations to help their global workforce collaborate with each other seamlessly. There are numerous tools getting introduced every now and then, with unique user interfaces, technological integrations, and facilities to gain an edge over their competitors. But, their use cases remain similar, i.e. to provide interactive and engaging virtual training as effectively as possible. If you wish to understand how you can replicate your real classroom training sessions virtually and make them even more fun and exciting for your employees, you can access our free webinar recording and get started right now!