3 Key Considerations While Converting Classroom Training Material to VILT [SlideShare]
Virtual Instructor-Led Training (VILT) has gained a lot of popularity and is buzzing in the corporate world. In this blog, I will take you through the key factors to consider while converting classroom training material to VILT.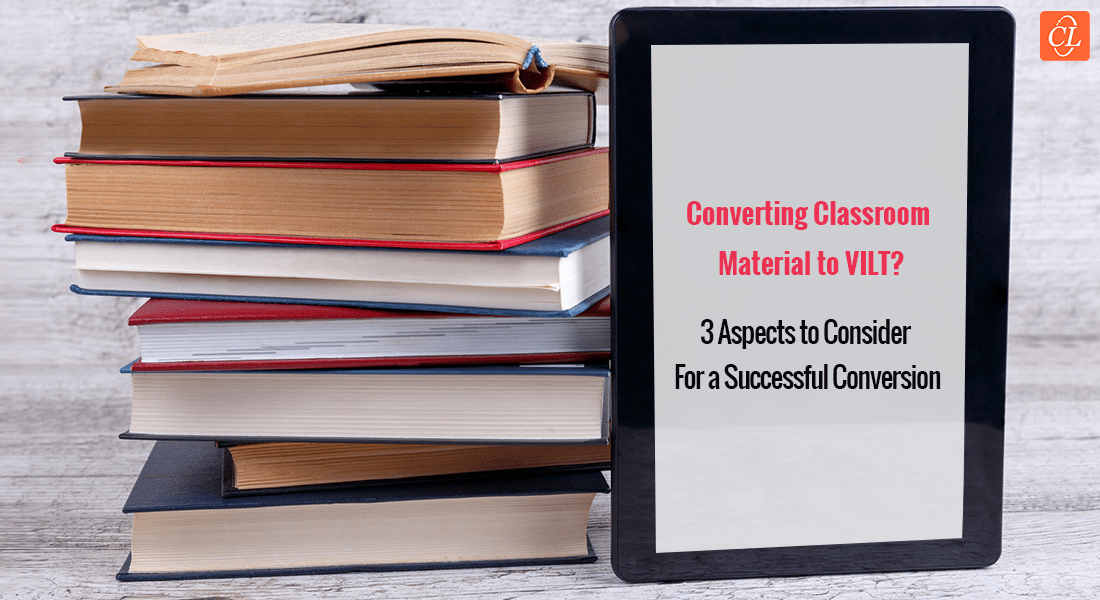 Organizations that had traditionally relied on in-person instructor-led training (ILT) were compelled to immediately adopt alternative approaches during the COVID-19 pandemic. The transition from office to remote or hybrid setup compelled organizations to quickly adapt to virtual training methods to ensure uninterrupted training and virtual instructor-led training seems to be the best bet! solutions.
VILT: What is it?
Virtual instructor-led training (VILT) is the digital version of in-person classroom training. It allows learners to engage with the instructor in real time, allowing them to experience most of the benefits of traditional classroom training from the comfort and safety of their homes. It saves money and time and is especially beneficial for globally dispersed workforce by making learning more accessible.
Are you considering implementing VILT in your organization as well? Then here are some important aspects to consider when making the switch from ILT to VILT. Continue reading to know the 3 key considerations for implementing successful VILT program.
3 key Considerations to Implement While Switching from ILT to VILT
1. Make it Learner-Centric and Focus on Learner Engagement
The needs of modern learners are extremely different from those of the past and quite diverse. As the hybrid and remote workforce evolves organizations are striving to involve employees while learning. In instructor led training (ILT) sessions, learners don't want to express their ideas or interact completely in the learning process.
Through VILT, learners can engage more, and their involvement can be enhanced To ensure effective engagement of learners in your VILT sessions, consider including the following:
1. Icebreaking Sessions: Icebreaking sessions allow learners to interact and collaborate with other learners. You can include interactive sessions like polls, short videos, individual introductions etc. These sessions will help learners to build rapport with the trainer and peer learners.
2. Breakout Rooms: Breakout rooms are a way to capture the essence of team activities in a virtual classroom. The learners are divided into small groups and are engaged in various activities. These groups allow them to discuss and express their views on the topics discussed in the training session. It is said to be an excellent method to boost learner participation and energy.
3. Q&A sessions: It helps with knowledge retention and can be used to evaluate training effectiveness. Learners can post questions in the chat box to the trainer during VILT sessions, which are saved and answered directly by the trainer either during or after the training session.
As a result, Q&A segments are an essential component of the VILT session, and you must account for such an activity to guarantee that learners have the opportunity to communicate with trainers and get their doubts resolved.
However, you might find it quite difficult to grab your learners' attention during the Virtual learning sessions. No need to worry about it.
2. Create Engaging Content
You must first understand your learners to create interesting content for them. Understand their requirements to determine what they expect from their virtual learning experience. This will allow you to connect with your learners more effectively.
Before creating the content for VILT, you must first define learning objectives. Then decide upon the instructional strategies to make your learning more engaging and interactive. You can create online surveys where your learners can offer their views and opinions, as well as enable chat sessions for text-based information exchange between the facilitator and the learners. Playing a game of Pictionary on your whiteboard with your learners is another approach to engage them. Through worksheet activities, you may support learners in participating in team building initiatives.
3. Choose the Appropriate Online Platform
VILT sessions can be held on a variety of platforms, like Microsoft Teams, Skype, Google Classroom, and Zoom and each of them have variety of features. Choose the appropriate platform that will help you to create an interactive learning environment in the virtual classroom. Make a guide or teaser video to introduce users to the chosen platform so they may better grasp how to utilize it.
We are aware that migrating from ILT to VILT is not a simple process, but you need not to worry since we are here to assist you. Check out this SlideShare for a primer on everything you need know before moving from ILT to VILT.
Wrapping Up
Virtual instructor-led training is a useful solution to modernize your corporate training program and give your employees the convenience of in-class learning without any disruptions during the sessions and without sacrificing the one-on-one training experience.
I have covered quite a bit about virtual training programs, and if you are considering switching from traditional classroom to virtual training, here is a handy eBook that offers you all the insights that goes into designing and delivering effective, engaging virtual classroom sessions. Grab your copy now!