Top 4 Fail-Safe Techniques for Promoting Learner Engagement in VILT
Organizations have seen benefits from virtual instructor-led training (VILT) in terms of cost savings and participant flexibility. Are you interested in learning the best methods for developing an effective VILT program? Continue reading to find out.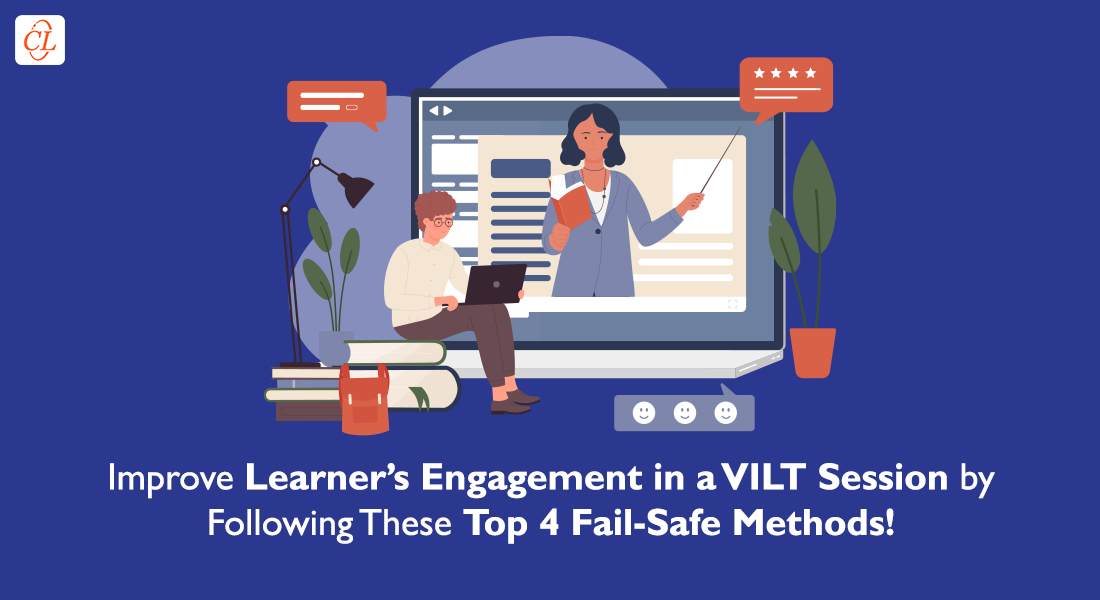 As the COVID-19 epidemic continued to disrupt business and training throughout the globe, video conferencing was what kept us going over the previous year and illustrated the enormous effect and advantages of online learning. When it comes to online training, evaluating, and maintaining learner engagement is a problem L&D teams must conquer.
Many businesses continue to question the value of employee training via screens. They are usually concerned if employees will recall information as well as they would in a classroom setting. Additionally, they think that the absence of the physical presence of instructors would lead to low motivation and achievement. However, L&D teams upped their online training when COVID-19 drove everyone indoors. To captivate learners and provide sticky information, virtual instructor-led training has risen.
However, because there is no direct face-to-face connection, it can be difficult to keep your learners motivated and engaged during a VILT session. What can you do, then?
Wondering How to Enhance Learner Engagement Through VILT?
Here are the top 4 Fail-Safe Techniques to Keep in Mind:
Organize Instructional Activities Beforehand
Combat Distraction
Use Polls During VILT Sessions Generously
Promote Learner Involvement by Using Whiteboards and Breakout Rooms
Top 4 Fail-Safe Techniques for Promoting Learner Engagement in VILT
1. Organize Instructional Activities Beforehand
Due to the physical proximity of the learners and instructors, interaction in the traditional classroom is significantly easier. In VILT sessions, spontaneity may not always be attainable. It may throw off your training schedule or altogether derail you. What can you do, then, to prevent it? Of course, make a thorough game plan in advance! All training exercises should be planned to provide a smooth and coherent training course free of interruptions
In VILT, the available classroom training resources cannot be used "as is." It will have to be carefully divided into several content sets. Both participant and facilitator guides are required. Include comprehensive information about how to conduct the tasks when making facilitator guides. You will also need to create all the worksheet activities, PDFs, and documents beforehand if you intend to use templates or worksheets in breakout rooms.
2. Combat Distraction
There are many distractions for learners in a VILT session; they could be changing tabs, reading their emails, browsing the web, or even ordering stuff online!
This can be avoided by establishing fundamental ground rules such as turning off work and mobile devices, forbidding sending or responding to emails, and setting up an activity at the start of the session for immediate participation. As a result, make sure to let learners know in advance about the interactive session, encourage quick interaction by including an icebreaker or meet-and-greet activity online, and build rapport with attendees by beginning the meeting with a social event or experience.
When there are frequent breaks and diversions, productivity immediately declines. You may prevent this by including interactive features in your VILT sessions, like:
Quizzes
Virtual Breakout Rooms
Chats
Polls
3. User Polls During VILT Sessions Generously
The convenience of the instructor merely pointing to a learner and asking questions is not available in VILT sessions. Since there is no face-to-face connection, the instructor cannot determine how engaged or alert the learners are.
The most straightforward technique to include learners in the instruction is through polls. They enable instructors to verify learners' knowledge and opinions on a particular issue while also serving as an efficient means of ensuring learner engagement. F or this reason, you should liberally employ polls at regular intervals during the VILT session. One poll every 10 to 15 minutes over an hour is fairly doable.
You may run polls using the built-in polling functionality on your VILT platform or third-party polling applications like Mentimeter and Polly. In addition to a straightforward Q&A, polling platforms like Polly provide multiple options to choose from, like multiple-choice, open-ended, and rating-based poll questions. VILT systems may quickly incorporate these tools via plugins.
4. Encourage Learner Participation with Breakout Rooms and Whiteboards
Breakout rooms, as the name implies, are designed to provide learners with a break from the ongoing training session and provide participants with a platform for team building, idea brainstorming, and collaborative learning. You may divide people into teams of a specific size and assign them tasks, or you can have them discuss and find a solution to a problem.
Breakout rooms serve a variety of learning requirements and learning styles, allow learners to pause a session that is already in progress, and also provide them a chance to communicate and focus in specific small groups.
Whiteboards offer a platform for interaction between learners and other attendees. Just like real whiteboards, allowing learners to write their comments, draw pictures, input images, etc. They may be utilized both during the primary training session and in separate breakout rooms. They may also be utilized by the instructor to graphically emphasize content. They are the ideal tools for annotating and flipped classrooms. Whiteboards and breakout rooms combined allow learners to participate actively in training.
Parting Thoughts
Virtual classrooms will be utilized more frequently to guarantee continuous instruction as social distance becomes the new normal. Even while managing the accompanying technology and reproducing classroom interactions virtually is difficult, it is not impossible.
Virtual instructor-led training may seem like a lot of effort at first, but when everyone becomes accustomed to the technology, they get easier and provide opportunities for plenty of creativity and cooperation. Check out our free eBook, "Virtual Instructor-led Training: A Beginner's Guide," for a handy reference on the ideas, principles, and best practices for developing and delivering training in a virtual classroom.