4 Popular Training Programs Where Rapid eLearning Works as a Savior
Organizations tend to conduct various sorts of training sessions to enhance the productivity of their employees. It is a challenging task and this blog will help you understand how rapid eLearning helps in doing so.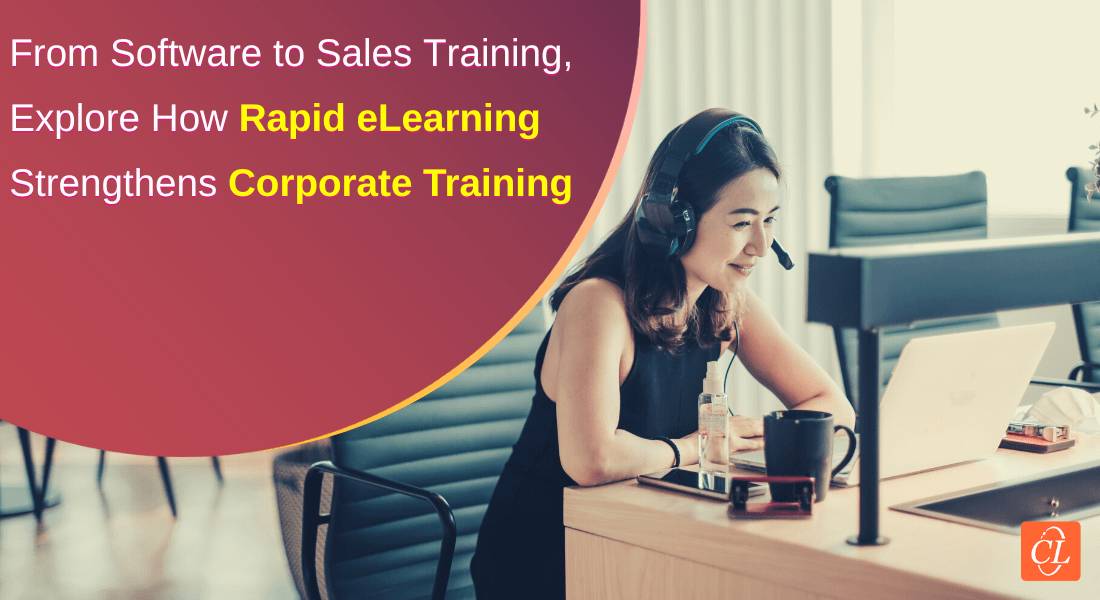 Organizations tend to have multiple types of training sessions such as product training, IT training, compliance training, etc for different departments so that each employee can perform productively at their job. But, to facilitate these training sessions successfully, there are certain barriers, the most common and problematic ones being time and money. Rapid eLearning is one of the best solutions for issues where the main enemies are a clock and your pockets. Explore how rapid eLearning can help organizations create effective eLearning courses for different types of training under tight deadlines and a limited budget.
Are you Confused About How to Use Rapid eLearning for Corporate Training?
Here are a few training programs it is useful for:
Sales Training
Soft Skills Training
Compliance Training
IT & Software Training
4 Training Programs where Rapid eLearning Works as a Savior
1. Sales Training
Sales executives are mostly not available at the workplace, so an important aspect of their training has to be its availability on multiple devices, and accessibility with or without the internet. Apart from this, the courses are advised to be highly creative and immersive so that sales professionals retain most of the information about the product they are pitching for.
Rapid eLearning can help the L&D teams create responsive eLearning courses quickly by using pre-designed templates and assets offered by the rapid authoring tools. They allow you to customize these templates and assets to meet the specific training needs and make the courses highly engaging and impactful for your sales team and enhance their productivity. You can also design various images, videos, GIFs, and audio clips as microlearning assets using these rapid authoring tools and use them for just-in-time training and performance support.
2. Soft Skills Training
Unlike technical skills, which can be gained directly in a limited time through various knowledge resources like eBooks, videos, eLearning courses, etc. soft skills require quite a good amount of time to be developed and get polished. Some of the soft skills that are most important to sustain yourself in a corporate world are communication skills, problem-solving, decision-making, critical thinking, and time management. Even though hard skills help you become eligible for a certain job, your soft skills will land you that job and help you stand ahead of your competition.
Rapid eLearning can help you enhance your soft skills by developing immersive eLearning modules using strategies such as gamification, AR and VR simulations, and virtual instructor-led training. For example, Lectora, a rapid authoring tool, allows arcade games and VR simulations to be integrated within the eLearning courses in a few clicks and enhance its engagement factor. You can also take references from various classroom activities and try to replicate them for VILT sessions and the required assets can be developed through rapid eLearning solutions.
3. Compliance Training
Sometimes, certain training programs are rather mandatory to be conducted, and compliance training is one of them. The main objective of compliance training is to ensure workplace ethics, safety, rules, and regulations are understood and followed by each and every employee. Compliance training helps employees avoid penalties, injuries, and lawsuits and maintain a healthy work culture.
Rapid eLearning is useful here mainly because of 2 reasons, the first being that company policies change from time to time so compliance courses have a short shelf life and need to be updated in regular intervals, that too under a limited budget. And the second reason is modern learners demand their courses to be interactive and immersive, or else the dropout rates tend to increase. Rapid eLearning authoring tools can create immersive compliance training courses using various templates, and other multimedia assets available in their content repository.
Using techniques such as guided learning to explain the consequences of not following them, scenario-based learning to help learners make critical decisions compliant with company guidelines, and gamifying the courses can make compliance training interesting. Rapid authoring tools can also ensure these courses are accessible on multiple devices either online or offline. This way, rapid eLearning solutions can make use of various instructional design strategies and authoring tools to create interesting compliance training modules.
4. IT and Software Training
Most organizations are automating their processes and for successful automation, you still need a well-trained human workforce who is aware of how the various software and tools used by their companies actually work. Organizations also conduct software training to ensure employees are well-trained about any new software inclusions or when there are certain changes in some of its features.
Rapid eLearning can make use of raw online content like how a particular tool or any of its features work and create an interactive microlearning course for the same. These raw resources can be either an eBook, PPTs, PDFs, or just video lectures, and all of these can be segregated as per their respective topics, and only important information can be included in the course to make it learner-centric.
There is a possibility that organizations might have legacy courses because they have been using the same set of tools and software for years. So rapid eLearning can be useful here as it can help the organizations convert legacy courses into HTML 5 so that they are updated as per the latest learning standards and accessible on mobiles as well. While they are being converted, their interactivities and assessments can be upgraded as well, to make them engaging for modern learners.
Parting Thoughts!
There are various types of training sessions where rapid eLearning can be extremely helpful because of its ability to roll out eLearning courses under a limited budget and tight deadlines. Using various rapid eLearning services comprising of the classroom to eLearning/VILT conversion, legacy courses to HTML5 conversion, and eLearning translations. The secret behind rapid eLearning being so impactful and effective is the existence of its 4 Rs. If you are interested to find out more about these 4 Rs, you can access our free eBook and explore its benefits.