A Snow White's Mirror to Rapid eLearning
Are you new to the concept of rapid eLearning? If yes, many questions must be popping up in your head. This blog throws light on a few narratives that can help you differentiate between the facts and misconceptions of rapid eLearning.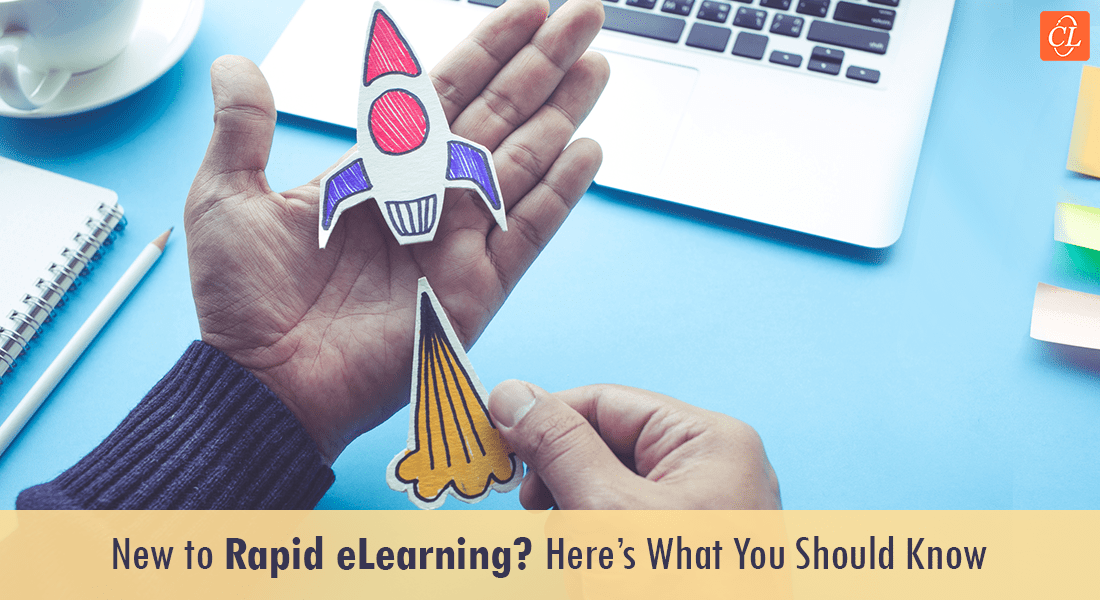 Time and Tide wait for none, we all might have heard it multiple times since our childhood. Everyone might not follow this principle forever, but corporate organizations certainly do. eLearning development and training rollout require a considerable amount of time invested in them so that they are effective. But organizations generally do not have that much time to dedicate to the development of training programs and digital assets. Hence, rapid eLearning turns out to be an impactful solution for corporates.
Let's take a deeper look at what exactly rapid eLearning is and what rapid eLearning isn't.
Planning a Rapid eLearning Approach for Your Corporate Training?
Here are a few benefits of rapid eLearning to get started with:
A faster and more effective form of custom eLearning
Entirely aligned to business goals
A time saver for subject matter experts (SMEs)
Read on to gain clarity over a few misconceptions associated with rapid eLearning.
What Is Rapid eLearning?
Rapid eLearning is a method to develop eLearning courses swiftly, leveraging the power of rapid authoring tools while following the principles of instructional design. Rapid eLearning eliminates unnecessary frills while maintaining the quality of courses. Rapid eLearning is
1. A faster and more effective form of custom eLearning
Rapid eLearning follows instructional design principles that streamline the development process of custom eLearning while cutting down the extra nice-to-know content. Unlike traditional courses, rapid eLearning courses can be rolled out within a few weeks by modifying the existing materials such as classroom training content, legacy courses, and media elements. The power of authoring tools and learning management systems(LMS) plays a vital role in the development and delivery of rapid eLearning courses. Due to the fact that rapid eLearning adheres to the agile project management fundamentals, the complete course development process saves cost and time effectively.
The best use cases of rapid eLearning are when:
Training is meant to be delivered to a large number of employees under packed deadlines.
eLearning courses need to be translated into multiple languages for consistent training of the global hybrid workforce across the organization.
Training materials need to be updated on a regular basis as per the latest trends.
2. Entirely aligned to business goals
A rapid eLearning course totally follows performance-based learning objectives that are aligned to an organization's business goals. Performance-based learning objectives mean that organizations will be able to ensure that the learners are able to perform the specified tasks or gain the required knowledge about a certain topic once they finish the course. These learning objectives are decided and specified before the course development starts and are cross-checked by the subject matter experts to avoid misunderstandings or errors. Once the learning objectives are verified, it sets the path for how the course will be developed in terms of instructional design, interactivities, and assessments.
3. A time saver for subject matter experts (SMEs)
Subject matter experts aren't necessarily professionals in developing eLearning courses because the primary responsibilities of SMEs are entirely different. SMEs are high-profile professionals and training is not their core domain. On top of that, it's extremely challenging to have your course reviewed after its development as SMEs do not have that much spare time. So, when you follow the rapid eLearning approach, you involve SMEs from the initial stage of your course development so that they can provide all the relevant information at once. When SMEs are involved from the kick-off call that helps them understand the learning objectives, course content, instructional strategy, and expected outcome.
After you involve SMEs in the beginning, you can also share your insights about the development processes and objectives, as well as schedule their time slots for any potential reviews. Due to a well-planned project management process in place, SMEs can schedule their calendar better and provide inputs that match outcomes thereby leading to course rollouts as per the desired timelines.
What ISN'T Rapid eLearning?
1. A shortcut that downgrades the course quality
It's a popular misconception that if something maintains the quality, saves time, and is cost-effective, it's almost impossible to exist. Since it is a fact that rapid eLearning saves time and cost, people often assume that the course quality must be compromised either in terms of engagement, information, or interactivity. Some people even believe that designing a PPT with the help of authoring tools is equivalent to rapid eLearning but that isn't anywhere isn't close to reality. Rapid eLearning does not compromise the quality of courses whatsoever and instead enhances a few of their aspects with the help of strong instructional design principles, agile development & management processes, and visually appealing built-in templates and interactives.
2. Monotonous courses that lack creativity, or engagement
This is another equally believed misconception as the first one, but more specific to the in-course details. People think rapid eLearning courses are mere "click next" slides that aren't interactive at all but that's not true. Rapid eLearning avoids complex interactivities to save time and development costs, but that nowhere mean it lacks creativity or engagement. Actually, this misconception arises due to the wrong narrative stuck in the public's mind that makes them compare creativity with complexity. For the new age learners, engagement depends on modern trends and innovations and that's where rapid eLearning has a lot of scope for growth.
Here are some ways you can make your rapid eLearning courses interactive and engage learners:
Use comic strips, scenarios, and case studies to enhance engagement through storytelling.
Use quizzes and polls mid-course to keep the learners active throughout the course.
Personalize courses with the help of customized avatars and address them with their unique identity.
Gamify post-course assessments to gain instant feedback and keep the learners motivated.
Facilitate free navigation to allow self-paced learning.
Parting Thoughts!
It's not complicated to understand what rapid eLearning is and what it isn't, once you grasp the logic behind it. The main concept is to make the employee training productive by linking it with their performance so that it is aligned properly with the business objectives. To make sure your rapid eLearning development is on the right path, let me introduce you to the 4 Rs of rapid eLearning and corporate training. Grab this free eBook to get started!