The 11-Point Checklist to Choose a Rapid eLearning Development Tool
How do you choose a rapid eLearning development tool? Here's a checklist that can help you with the task of choosing a rapid eLearning development tool.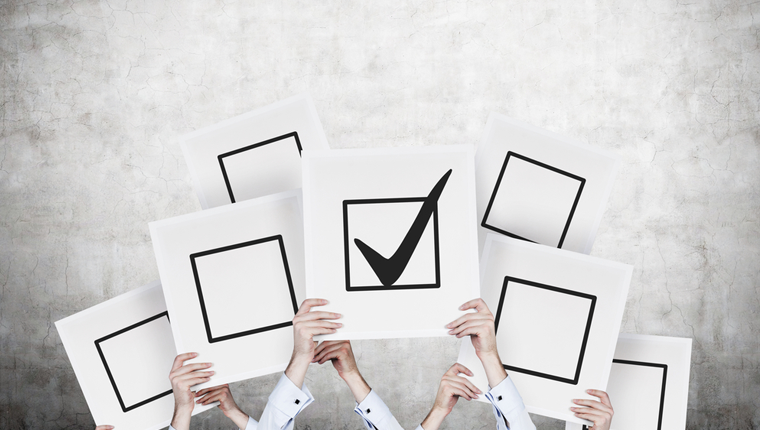 New products, changing policies, and upgrades in business applications – all these have led to a demand to provide continuous learning experiences. Given the rate at which the shelf-life of training content is on the decline, rapid eLearning development has become the need of the hour. Thankfully, we have rapid eLearning development tools to help us design eLearning that can quickly address our training needs.
A Checklist to Choose a Rapid eLearning Development Tool
Meets course requirements
Includes a content library
Provides templates
Supports a variety of assessment features
Has an easy learning curve
Supports mobile learning
Is cloud-based
Output is compatible with the LMS
Is suitable for Windows or MAC
Vendor offers good technical support
Is priced within budget
Currently, the focus is on lean instructional design and that requires authoring tools that can aid quick development of interactive eLearning programs. But with so many options available in eLearning authoring tools, it can become quite confusing for a training manager who's assigned the task of choosing a rapid authoring tool for eLearning development.
Checklist to Choose a Rapid eLearning Development Tool
How would you go about choosing a rapid eLearning development tool? Here's a 11-point checklist to help you make that decision.
1. Does the Rapid eLearning Development Tool Meet My Course Requirements?
Your choice of rapid authoring tool must be able to match your course requirements. Here are a couple of questions that you need to have answers to.
What's the content of the training program? For example, if it's an online compliance training program, you might want to consider an authoring tool that can help you create scenarios easily.
What are the interactivities that need to be included in the course?
Let's consider that you have an instructionally designed PowerPoint deck used in classroom training to be converted to an eLearning course. Then iSpring could prove to be a good choice as this tool is designed for rapid conversion from PPT to eLearning.
Now suppose you are converting a Flash-based course to HTML5, and you need Flash-like interactivities recreated in your course, you might want to consider a rapid eLearning development tool such as Articulate Storyline.
Check if the rapid authoring tool meets your requirements to include videos, simulations, and quizzes in the course. Also keep in mind your future training needs and the kind of content it might involve.
2. Does the Tool Provide a Content Library?
With rapid eLearning development, you are looking to ramp up your training requirements quickly. What if you need to roll out an entire eLearning curriculum quickly and require a lot of characters, images, and icons to be used?
Choose a rapid eLearning development tool that offers a content library. Doing so can save you a lot of time and effort involved in searching for copyright-free images or including multiple characters. Authoring tools such as Storyline 360 let you change the expressions of characters or include characters in various poses.
3. Are Templates Included in the Tool?
Templates in rapid eLearning development tools offer pre-programmed layouts for course design. eLearning developers can easily add images, videos, specific assessment types, or interactive elements easily, in these templates, even without extensive design experience or programming knowledge. You can make use of eLearning templates for:
Welcome screens
Learning objectives
Assessments
Interactivities
Recap slides
When you use responsive templates offered by various authoring tools, there is the additional advantage of saving development time as the extra effort involved in designing the layouts of slides to make it compatible with the learning device is avoided.
4. Does the Rapid eLearning Development Tool Offer a Variety of Assessment Features?
You might want to include a variety of assessments in your eLearning course. Authoring tools such as Lectora Inspire, iSpring, Captivate, and Storyline offer quiz templates for assessments ranging from simple true/false and multiple-choice questions to hotspots, drag and drop, short answer and essay type question templates. For example, an authoring tool such as iSpring offers 14 different assessment types while Storyline 360 offers 25 different assessment types.
Would you need to design randomized assessments that utilize a question pool?
Would you need different scores assigned to each question type?
If you need such features included in the eLearning assessment, ensure you choose a rapid eLearning development tool that offers these features.
5. Does the Tool Have an Easy Learning Curve?
The learning curve of the rapid eLearning development tool is especially useful when you're considering in-house eLearning development. The time it takes for in-house eLearning developers to master the tool adds to the project completion timelines.
For instance, if your in-house team is familiar with PowerPoint, they might find it easier to work with a tool such as iSpring (that can be accessed within PowerPoint) or even Storyline (features an interface similar to PowerPoint).
Before you invest in the rapid eLearning development tool, find out if:
Developers need to be trained on the tool
The authoring tool vendor offers training resources, guides, and videos on creating courses using the tool
6. Is Mobile Learning Supported by the Rapid eLearning Development Tool?
If your organization has a considerable number of employees who are often on-the-go or would love the flexibility of learning on their mobile devices, choose a rapid eLearning development tool that offers support for mobile learning. Features such as support for responsive learning, support for touchscreen gestures, and publish to mobile options can ease the development of mobile learning.
If you are currently not using m-learning, but have plans to include it in your training strategy in future, it is better to invest in a rapid authoring tool that supports mobile learning rather than incur additional expenditure in future.
7. Is the Tool Desktop or Cloud-based?
Most eLearning authoring tools were desktop-based before authoring in the cloud became popular. The advantage of using desktop-based rapid eLearning development tools such as Lectora Inspire or Adobe Captivate is that you can leverage their powerful features.
On the other hand, cloud-based authoring tools offere advantages such as:
No installation, as the tool is accessible on the web
Automatic updates for software
No need of local data storage as data gets stored in the cloud
If you would like to go in for collaborative development for your eLearning course or would like the course to be reviewed by multiple reviewers simultaneously, then it makes sense to choose a cloud-based authoring tool such as Lectora Online or dominKnow|ONE.
8. Is the Output of the Authoring Tool Compatible with the LMS?
Before you invest in a rapid eLearning development tool, check its compatibility with the existing LMS in your organization. Most authoring tools support eLearning standards such as AICC, SCORM 1.2, SCORM 2004, or xAPI. Most LMS vendors provide a list of authoring tools that are compatible with their LMS. An authoring tool might feature an option to publish to mobile devices, but is your LMS designed to support mobile learning? All these are factors to keep in mind before selecting an authoring tool for eLearning development.
If you still have apprehensions, contact your eLearning partner as they would have experience in using a variety of rapid eLearning development tools and publishing to various LMSs.
9. Is the Rapid eLearning Development Tool Suitable for MAC or Windows?
Many organizations use MACs and would like the authoring tool to work on various platforms such as MAC and Windows.
Currently, most rapid authoring tools work well on the Windows platform but that shouldn't restrict you to selecting authoring tools that work on MAC. As far as eLearning authoring is considered, even if you are using a MAC OS, all that's required is to install software such as Parallels, VMware, or Apple Boot Camp and you should be able to use the rapid eLearning development tool in a virtual Windows environment.
10. Does the Rapid eLearning Development Tool Vendor Offer Good Technical Support?
While you may not have a problem if you have decided to outsource the development of your rapid eLearning course, when it comes to in-house development, the quality of technical support offered by the authoring tool vendor does matter.
If you run into problems during course development, a vendor who provides prompt assistance can save your time and effort.
11. Is the Rapid eLearning Development Tool Priced Within Your Budget?
The cost of the eLearning authoring tool can prove to be a decisive factor. If a tool is priced beyond your budget, find out what additional features the tool has to offer, compared to the other tools you have shortlisted. Check if the price of the rapid eLearning development tool includes technical support.
The price of eLearning authoring tools may vary based on the license model and these tools can be classified into three license models.
Perpetual License Model – You can use the authoring tool indefinitely and it involves one-time payment. But, if the tool goes through upgrades, you may not get an automatic upgradation to access the new features of the tool.
Subscription Model – You can use the tool for a specific period, and will have to renew the license if you need to keep using the tool. Once the license expires, you would not be able to update or create courses.
Mixed Model – In this model, you can use the authoring tool indefinitely but you need to pay for advanced technical support and upgrades (based on your need).
Using the above checklist can help you finalize a rapid eLearning development tool for course development. If you still have apprehensions, you could talk to your eLearning partner who has the expertise of developing courses using these tools. You could also look up feedback and testimonials from eLearning developers who have used the tool.
Rapid eLearning development tools can streamline eLearning development and cut down time involved in course development.