The Three Critical Questions about Rapid E-learning You Must Know About
To understand rapid eLearning, you need to know its 'What', 'Why', and 'How'. This blog discusses what rapid eLearning is, how it helps businesses, and why you should go for it.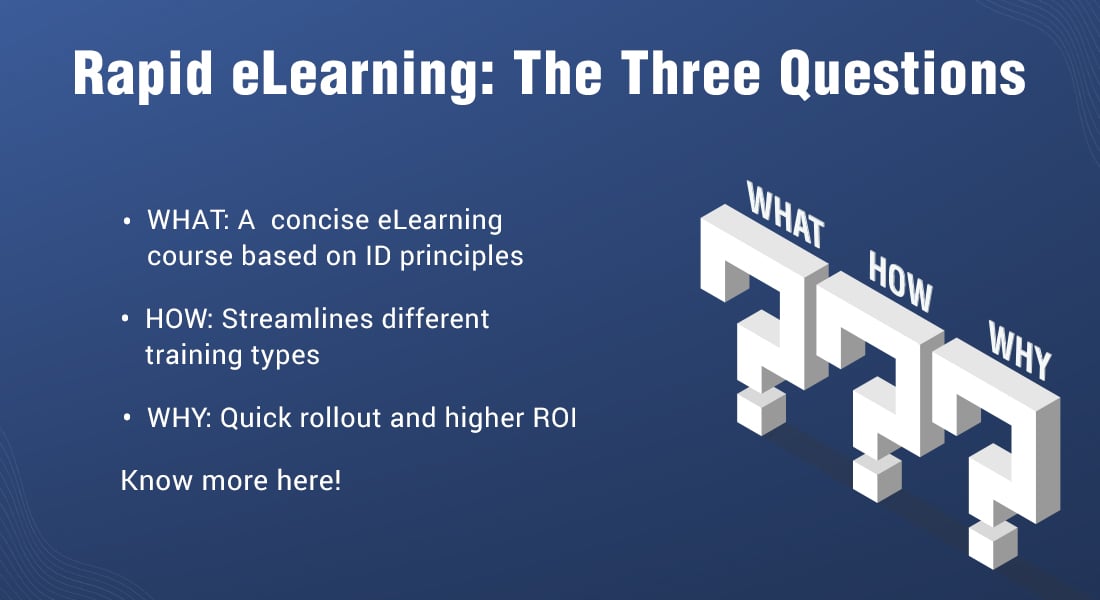 All of us have been hearing a lot about the whole 'rapid eLearning for corporate training' thing, even those of us not directly concerned with corporate L&D. COVID-19 has really made us all start using cost effective and time saving strategies for training. Unlike conventional eLearning courses, rapid eLearning courses can be developed in a matter of weeks instead of months, and therefore 'rapid eLearning' has become a corporate training buzzword.
Rapid eLearning for Corporate Training: Three Critical Questions
# 1: What is Rapid eLearning?
Building e-learning courses rapidly which:
Are based on robust instructional design principles
Are built with rapid authoring tools
# 2: How does Rapid eLearning Help Business?
By quickly training their employees, resulting in improved sales efficiency and better compliance
#3: Why Go for Rapid eLearning?
Reduces development time by 30%
Addresses multiple training requirements
Results in greater training ROI
For those who have only scratched the surface till now, this blog takes the shovel and digs deep inside rapid eLearning for corporate training. There are three central questions that need to be answered to understand rapid eLearning development.
What is rapid eLearning actually?
How can rapid eLearning help achieve business results?
Why should you go for rapid eLearning? In other words, what are its benefits?
WHAT is Rapid eLearning?
If you have been using eLearning in your organization, you already have an idea of the amount of time, effort and money required to build one eLearning course. Rapid eLearning development significantly cuts down the cost and time required for that. And that has raised a lot of questions on how good rapid eLearning courses actually are. What if I tell you that the only thing a rapid eLearning course does not cheap out on, is quality?
Hard to believe, is it not? Believe it – rapid eLearning development rolls out eLearning courses faster than normal. Rapid eLearning:
Uses only concise 'need to know' content, excluding the unnecessary bells and whistles of traditional eLearning
Is based on strong instructional design principles and strategies
Leverages rapid authoring tools for course development
But how does rapid eLearning do that? There are three things that are important for rapid eLearning development:
Specific and Trimmed Content
Rapid eLearning courses need to be short and crisp by nature. But that should not mean compromising on 'need to know' content. Unlike conventional eLearning courses that have a lot of additional design elements that do not really add to the instruction, rapid eLearning focuses on core knowledge, cuts short the additional fluff, and only provides learners with the most specific and concise content.
Robust Instructional Design Principles
Just because rapid eLearning equals faster development does not mean it is not based on instructional design principles that are a part and parcel of traditional eLearning. From the framing of performance-based learning objectives, the use of adult learning principles, ensuring sufficient level of interactivity, maintaining the accuracy of content and proper use of media elements, to using formative and summative eLearning assessments, everything is done based on strong ID principles.
Quick Development Using Authoring Tools
Rapid eLearning course development requires rapid authoring tools. But what makes an authoring tool rapid? The ability to design and develop stunning and effective eLearning courses fast. That means the authoring tools must have quick authoring capabilities – pre-built templates for interactivities and games, and a library of elements for different screen layouts and assessments that can be used during development.
Rapid eLearning for Business Results – HOW?
Every business has three goals which remain constant:
Improve Sales and Marketing to sell more
Improve Processes, Software, and Onboarding to increase efficiencies
Stay Compliant to Legal and Safety requirements
Rapid eLearning helps achieve those goals by making the employee training process more streamlined and efficient.
Product Sales Training
Employees handling products and sales need to be kept constantly updated on any changes made to the product. Turns out, rolling out eLearning courses is actually cheaper than going for in-classroom training. For product sales training, rapid eLearning can be used to provide:
Small bite sized microlearning for continued learning and better completion rates
Video-based learning for training on complex products
Interactive documents and eBooks that can be downloaded and saved on mobile devices
Mobile learning modules for just-in-time training
Employee Onboarding
Onboarding new employees into the organization can be made easier with rapid eLearning, through:
Videos of SMEs or influential speakers (CEO or Founder)
Testimonials of existing employees
Virtual tours of office/workplace facilities
Game-based assessments
Software Training
Rapid eLearning can help in quick and effective software training through:
Hands-on simulations
Online training modules with role-based functions
Online job aids for learning when required
Blended learning solutions
Compliance and Safety Training
Compliance and safety training is compulsory in almost all organizations, big and small alike. Rapid eLearning can be used for compliance and safety training by:
Providing training updates for changes in regulations
Using scenarios to:

Teach dry and tedious legal content
Demonstrate chemical, biological, ergonomic, physical, and work-related hazards

Using case studies with real life experiences and lessons for improved safety
WHY Rapid E-learning – What Are the Benefits?
I know that you are all waiting for this section – what are the different benefits of going for rapid eLearning over conventional eLearning?
Rapid eLearning Solutions can be Executed Quickly
Most of your high-level executives (Sales Managers, Operations Heads, etc.) work under really tight schedules. Rapid eLearning solutions can be developed and rolled out approximately 30% faster than regular eLearning courses, meaning they are the perfect fit for training under strict deadlines. The faster you train your learners, the faster you get your results.
Rapid eLearning Addresses Diverse Training Needs
Business needs are constantly changing and evolving. And training requirements also change accordingly. Rapid eLearning can address these diverse training requirements successfully.
Rapid eLearning courses are built with authoring tools, which make it possible to develop courses with different requirements. From text heavy courses to software simulations, role based courses and simple videos – everything can be developed rapidly, and used to address the changing training dynamics in the corporate world.
Rapid eLearning Follows Agile Project Management
Rapid eLearning development is made possible by the lean and iterative Successive Approximation Model (SAM). In this 3-phase project management model, the stakeholders are continuously kept in the loop through constant communication, and each successive phase only goes forward after their approval on the previous one. This makes the process very agile, with feedback implemented at each phase, leaving no room for last minute surprises, and thus avoiding rework.
Rapid eLearning Results in Great ROI.
Improved training ROI (return on investment) is a key reason why rapid eLearning is everyone's favorite. Given that rapid eLearning courses focus only on the core essentials and not the extra fluff, they are highly cost effective, while at the same time, also contain only information that matters.
Rapid eLearning courses also do not hamper training effectiveness, as they are aligned strictly with the set learning objectives. A lower development cost plus better outcomes from training equals approximately 30-50% higher training ROI.
Summing Up!
So, there you go – three core questions on rapid eLearning answered.
Rapid eLearning for corporate training is in no way a replacement for classroom instructor led training (ILT) or virtual instructor led training (VILT). It has its own uses and benefits in corporate training. Those that have tried it, have not regretted in any way.
If you need further convincing, I would suggest you read the eBook on quick rapid eLearning design, which I have linked below.