Why Should You Use eLearning Authoring Tools for Effective Course Development [5 Reasons Explained]
Costly classroom training. Ineffective, irrelevant course content. Bored audience. These are some of the many possible scenarios when it comes to corporate training. eLearning authoring tools help you handle them effectively. Read on to know how!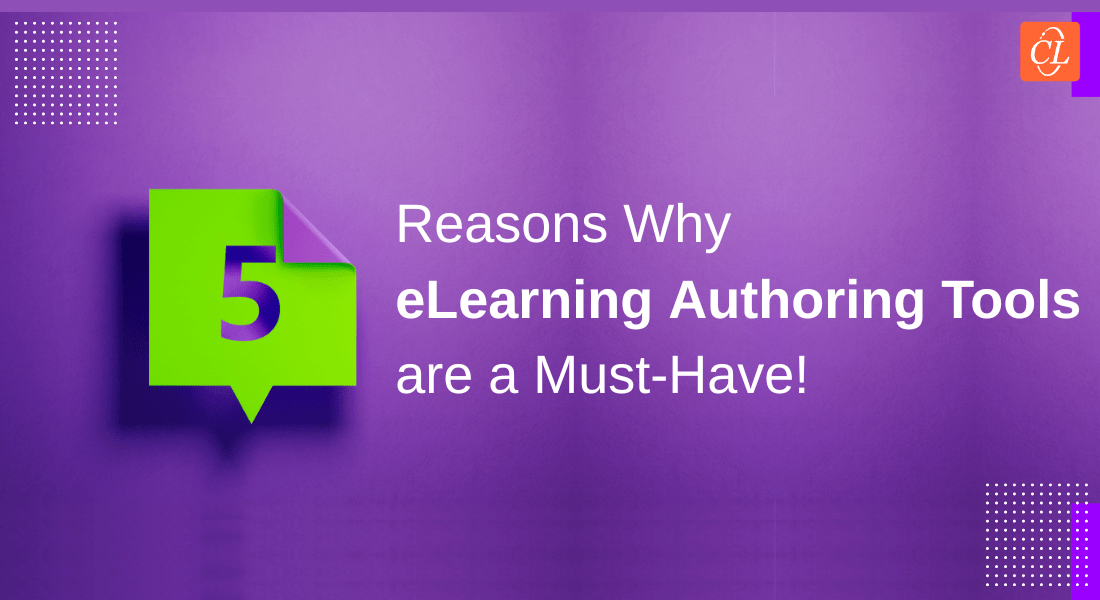 Attention, instructional designers! Are you tired of being stuck in the old ways of corporate training that are as stale as yesterday's bread? It's time to step up your game and spice things up with eLearning authoring tools! Think of them as the secret ingredient that transforms your bland training sessions into a five-star culinary experience. In this blog, we'll dive into the top reasons why eLearning authoring tools are the key ingredient to your effective eLearning course development recipe.
5 Reasons Why eLearning Authoring Tools are a Must-Have!
Here's the list:
Reduces cost
Offers easy customization
Enhances learning experience
Increases accessibility
Improves performance
Whether you're a Jedi master in training or a wizard of instructional design, eLearning authoring tools can elevate your skills to the next level. So, put on your chef hat, grab your apron, and get ready to cook up some fantastic training sessions that will leave your employees hungry for more.
Then let's get cooking!
Why Should You Use eLearning Authoring Tools for Effective Course Development: 5 Reasons Explained
Reduces Cost
One of the most significant reasons for using eLearning authoring tools for effective course development is that they are cost-effective. Traditional training methods often require the hiring of trainers, travel expenses, and the cost of physical training materials like handbooks, worksheets, charts, etc. Whereas, eLearning authoring tools ensure cost-saving measures such as reduced travel expenses and the ability to reuse training materials.
By leveraging the 4R strategy of rapid eLearning, you can easily reconfigure your existing training content into more effective and immersive formats. Moreover, you can also enhance the audience reach of your eLearning courses by making them multi-device, multi-browser compatible without incurring any extra expense to your training budget. This means that organizations can provide training to a large number of employees at a lower cost without compromising the quality of training.
Offers Easy Customization
eLearning authoring tools provide customization options that allow you to tailor training content to the specific needs of your organization. So you can easily personalize the training material as well as the learning paths as per the individual employees or departments. This helps you improve the engagement and retention rate among employees. Even better, the customization options make it easier for you to update training materials as and when needed, thereby ensuring that employees receive the most relevant and up-to-date information.
Enhances Learning Experience
Well, the importance of learning experience is no secret when it comes to improved productivity, higher engagement, participation, and positive training ROI. And even this is no secret that lacking proper resources and features can be frustrating and nerve-wracking when you intend to provide an immersive, effective learning experience. It hampers the seamless design and development experience which somehow reflects in the overall outcome of the eLearning course, thereby impacting the learning experience.
Say goodbye to all such stress because eLearning authoring tools offer you a range of interactive features that allow you to enhance the learning experience. You can incorporate gamified elements to make training more engaging and enjoyable. Furthermore, multimedia components like videos, audio, and animations also help you convey complex information in a more lucid and interesting way. These features make the training more engaging and enhance the learning experience among the employees.
Increases Accessibility
Let me ask you something. Does your company also have a remote workforce? If yes, then you'd know the effort that goes into providing corporate training to geographically dispersed employees. Some of them might be in different time-zones, some of them might be unavailable during the training session due to various reasons, etc. All these problems have one solution — eLearning authoring tools.
They enable you to offer flexibility in accessing training materials. With that said, your employees can access the eLearning courses remotely. This means that they can undertake and complete the training at a time that is convenient for them. To make things even more better, eLearning authoring tools also facilitate training courses that can be accessed by the employees from any location, thereby reducing or even eliminating the need for travel. Not only do they help you solve the travel issues, they also foster flexibility and accessibility by allowing you to design and develop training courses that are multi-device compatible.
Improves Performance
The use of eLearning authoring tools for course development leads to improved employee performance. They help you provide personalized, immersive, and learner-centric eLearning courses for your corporate training. This benefits the employees as they are more likely to retain the acquired information and apply it to their work. Apart from that, even measuring the effectiveness of your corporate training is easier with eLearning authoring tools. You can leverage the learning analytics to identify areas where additional training, support, or guidance may be needed. In this manner, eLearning authoring tools contribute to employee development and career progression.
Wrapping It Up!
Imagine being able to design and develop training programs that not only engage employees but also lead to improved performance. With eLearning authoring tools, this is not just a pipe dream but a reality. As an instructional designer, you have the power to transform the way your organization approaches training. So don't let traditional training methods hold you back. Check out these instructional design strategies to explore your creativity and design effective training courses with eLearning authoring tools now!