Top 6 Ways to Make Compliance Training More Engaging
Compliance training is among the most important aspects of corporate training. However, the complexity of the topic can make it dull. Read on to discover the top 6 ways to make compliance training more engaging.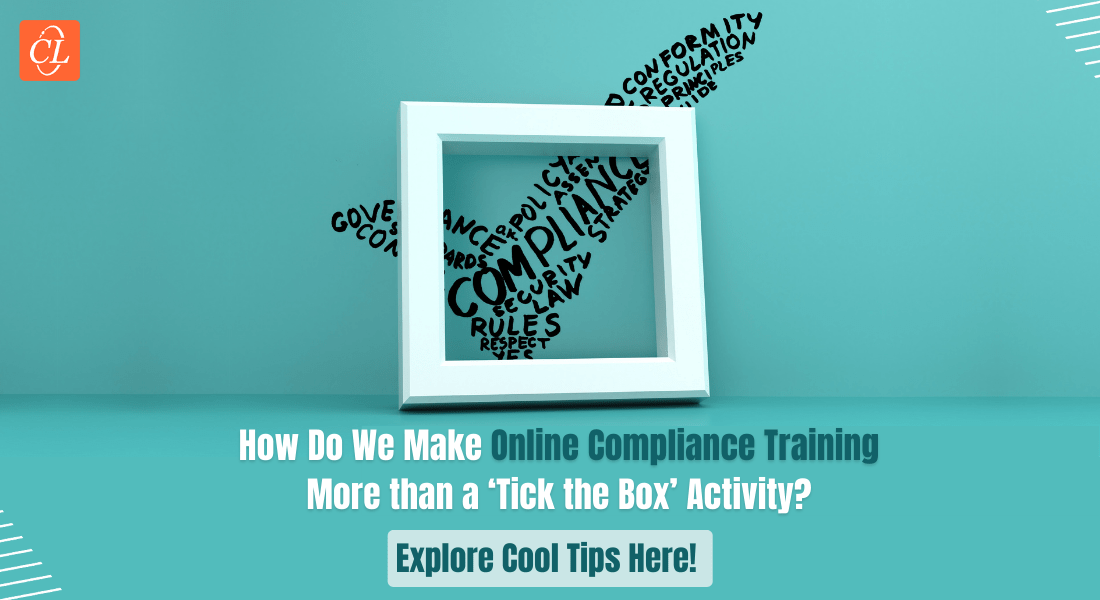 There was a time when employees treated compliance training as a tick-the-box activity. However, with the evolving organizational environments, compliance training has become crucial and decisive, with respect to the organization's image and reputation. However, compliance training can be complicated, and the employees get deviated easily. So here are some ways to make your compliance training more engaging and fun for employees.
The Complexity of Compliance Training can Make the Sessions Monotonous.
Here are some ways to make it more engaging:
Know your Employees
Make it a Part of Your Organizational Culture
Use a Variety of Multimedia
Reward the Learner for Making Progress
Use Real-Life Scenarios
Keep it Short and Simple
Top 6 Ways to Make Compliance Training More Engaging
1. Know your Employees
This is the very first activity that you should be doing before you actually start designing and developing compliance training material. By researching and understanding your target audience, you will be able to make the most impactful decision about the development project. What are the learning preferences of your target audience? Why do they need the training? When, where, and how will they be learning? Answers to questions like these will give you a better idea of how to design and deliver the online training material, and what to include in it.
2. Make it a Part of Your Organizational Culture
Owing to the ever-growing regulatory burden, Organizations today are under the pressure to invest their attention in operational risks, governance, and compliance.
A company's ethical performance is now a key factor shaping the public perception and corporate reputation of a company.
Taking all these factors into consideration, it is important that you make compliance training a part of the entire organization's DNA. Compliance and ethical behaviors have to be put on the forefront of the business strategy. Creating a true culture of compliance, builds a sense of responsibility and employees tend to show greater levels of engagement and involvement in the training delivered.
3. Use a Variety of Multimedia
As a learning manager, it is of utmost importance that you acknowledge the fact that your employees have different learning curves. And a one-size fits don't work in corporate eLearning. The learning requirements of individual employees must be taken into account, especially in light of the importance of the topic and its potential effects on the business.
One way is by incorporating different forms of multimedia into the online compliance training to meet the needs of all learners. You can use eLearning assets such as infographics, short videos, animations, game-based interactivities, etc, you can capture the attention of all types of learners. Such formats make even the driest topics of compliance training engaging and enjoyable, and also boost their performance.
4. Reward the Learner for Making Progress
When handling complicated subjects such as compliance training, rewarding the employees for their progress and efforts can have a very positive impact. Employees are highly motivated when they receive rewards for the efforts they put in, especially for their personal improvement. Getting rewarded for their progress conveys appreciation and acknowledgment.
Learning Management Systems (LMS) are excellent for this since they allow the employees to have their own portals where they may track their learning, schedule or receive reminders, and obtain rewards for activities successfully completed. Additionally, it enables you, as the employer or L&D leader, to generate reports based on the progress of the learners which can further be used to motivate them throughout their learning process.
5. Use Real-Life Scenarios
Compliance training is all about educating the employees about the code of conduct, the laws and regulations, governance and risks, and company policies that are relevant to their everyday job responsibilities. Considering the complexity of these topics, it is natural for the employees to drift away from the training programs and the learning being delivered.
In this light, the use of real-life scenarios to explain the topic can be very impactful. This way, the employees will be able to better contextualize how the training relates to their day-to-day work activities. For example, case studies and real-world scenarios that reflect the learners' everyday work circumstances will help them develop a connection with the issues in a risk-free environment. Storytelling serves as yet another rewarding technique to train employees about the rules, corporate policies, and laws.
6. Keep it Short and Simple
Compliance training can be information-intensive and this can make the employees overwhelmed and there is a good chance for them to deviate from the topic being discussed. An effective way to address this problem is by creating bite-size chunks i.e., microlearning modules, that are easy to consume. Modern-day employees find such bite-sized content to be more flexible, and engaging.
Wrapping Up
Compliance training is mandatory! Both employees, as well as employers, need to take it more seriously and take part in compliance training initiatives on a regular basis. The article has discussed the top ways to make compliance training fun and engaging. Following them will also make the training more impactful.
The use of the right Learning Management System (LMS) is also a great way to make compliance training learner-centric and more engaging. It makes the learning content available anywhere and anytime, and also helps track learners' progress. But how to choose the right LMS? Well, this eBook will help you.