Short and Snappy! Top 5 Resources of 2021 on Microlearning
Want to go the 'microlearning' way but don't know how to make the most of it? This blog brings together the top 5 microlearning resources of 2021 to help you design and develop effective, engaging microlearning solutions.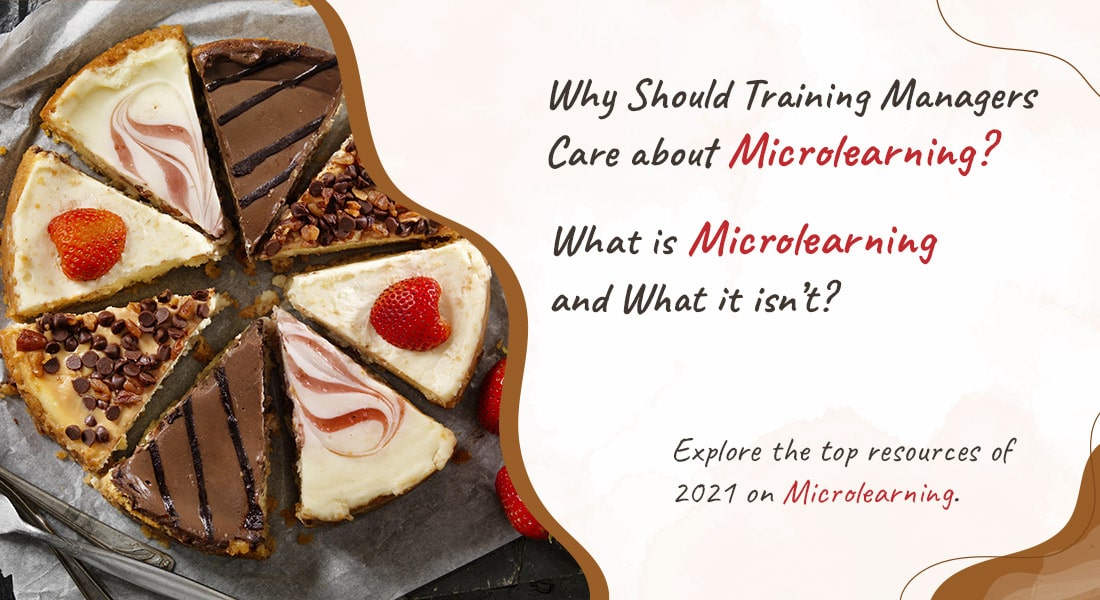 In today's fast changing world with more and more Gen Y and Xers entering the workplace, it's a huge challenge to attract and hold learners' attention. The onus of creating appropriate learning solutions that help learners absorb information and retain it for long periods falls on the shoulders of instructional designers. And that's where microlearning is turning out to be a big boon.
What is Microlearning and How can it be Used?
Microlearning with its short (micro) duration, easy accessibility, and availability in different formats makes it ideal for learners who are used to short, instant solutions. It facilitates 'pull' learning as it is mobile-friendly and focused (on a single learning objective) – and so it can be used when you want your employees to refresh their knowledge or skills or learn during their downtime.
It is also a great tool to beat the forgetting curve, as microlearning assets can be 'pushed' to learners at regular intervals.
Have you explored our top resources on microlearning? If you haven't and would like to know more about microlearning, here's your chance to go through all of them.
Top 5 Resources of 2021 on Microlearning! Wow!
Why Should Training Managers Care about Microlearning?
Understanding Microlearning – What it is and What it isn't
Microlearning in Flipped Classrooms
Microlearning Solutions: 8 Questions to Ask
Microlearning Content Development Rooted in Instructional Design
So, voila!
Top 5 Resources of Microlearning of 2021
1. Why Should Training Managers Care about Microlearning? [Blog]
Microlearning focuses on improving employee performance and proficiency by providing short bytes of very specific information needed to perform specific tasks. Microlearning nuggets can be repackaged and used in different ways for different learner groups:
Before the training to introduce learners to the upcoming training
During the training for assessments/exercises
After the training to provide reinforcement, on-demand, and spaced learning
Organizations that have implemented microlearning as part of their corporate training have seen an increase in employee efficiency and competence; the numbers speak for themselves!
Microlearning:
Reduces development costs and time to proficiency
Enhances learner engagement
Want to explore more on why to use microlearning for corporate training? Click here…!!!
2. Understanding Microlearning – What it is and What it Isn't [Webinar]
What is microlearning? Can it be used for every training situation? Or is it only effective for performance support?
These are just a few of the questions you may have about microlearning before deciding on including it in your training strategy.
There may be others too – Is microlearning limited to videos? How long should a microlearning course be?
Though microlearning is a very effective method of training your employees, there are a lot of misconceptions around it.
If you want answers to your questions and dispel all sorts of misconceptions about it, why don't you watch this on-demand webinar?
3. Introducing Microlearning in Flipped Classrooms [Infographic]
A flipped classroom is the reverse (flip) of the traditional classroom. Unlike traditional classroom training, where the main teaching happens in the classroom, learners go through online training first in the flipped classroom, going to the classroom only to clear doubts or gain hands-on experience.
Flipped classrooms can provide learners with the best of both online and in-person training. Adding microlearning to the mix will only increase its effectiveness. Here's an infographic that explains the advantages of using microlearning in flipped classrooms.
4. Microlearning Solutions: 8 Questions to Ask [Blog]
Microlearning solutions are meant to be effective and offer value for money. But how do you evaluate the effectiveness of a particular microlearning solution?
By going through this 8-point checklist.
How long is the module?
Does it address only one learning objective?
Is the content trimmed of extraneous content?
Does it include assessments?
For the other points to check for, read this blog on 8 things to look for in microlearning solutions.
5. Microlearning Content Development Rooted in Instructional Design [Blog]
We live in a fast-changing world with ever-shifting priorities. Employees in corporate organizations are no longer interested putting in hours of training time nor are they able to. They prefer to learn as they work, to get solutions to their problems without any waste of time.
Fortunately, there is a solution available for you – Microlearning!
Want to try 'microlearning', but don't know how to make the most of it? This blog provides five instructional design tips for creating effective microlearning content, right from covering a single learning objective, to designing for mobile devices, and more.
Wrapping it up
We arrive at the end of the road a few minutes older but much wiser. You can excuse my poetic interjection, but you can't deny that only something out of the ordinary has a chance of leaving an impression on your memory. Microlearning aims to accomplish just that.
Gone are the days of tendinous manuals and boring textbooks. The 21st century is ruled by the short and snappy. So why not take advantage of it in your corporate training? Follow these microlearning content development strategies, and you'll have your ideal microlearning recipe in no time. Still not persuaded by this blog? Here's an eBook to help you on your way too microlearning success.