Why Should Training Managers Care about Microlearning?
Microlearning is becoming increasingly popular in recent years. How does it help employees shift from full proficiency to working proficiency? How does it beat the forgetting curve? Get the answers in this post.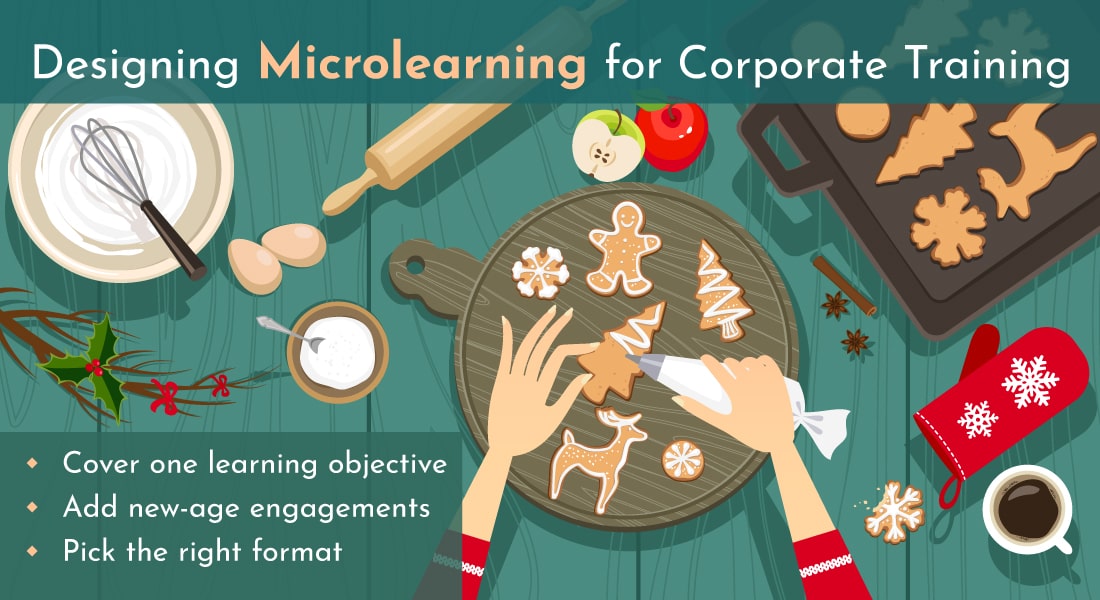 The attention span of humans is a finite resource. How does microlearning help? It's a challenge to both attract a learner's attention and to hold it. The responsibility of managing and leveraging the human capacity for learning and retention in corporate training falls on the shoulders of instructional designers.
Bob Pike's 90/20/8 rule of instructional design says we can teach content for 90 minutes; however, chunking it into 20-minute modules with an interaction every 8 minutes is beneficial. Clearly, reconfiguring content into microlearning modules is a useful way to foster retention.
It is in your organization's best interest to create short, engaging content that's easy to learn, apply, and revisit. And as a training manager, it pays to understand how microlearning helps achieve this.
Why Use Microlearning for Corporate Training?
Microlearning focuses on working proficiency. It provides short bytes of specific information for specific tasks. Microlearning nuggets can be repackaged and used differently by different learner groups – for initial learning, reinforcement, on-demand learning, spaced learning.
What is Microlearning?
Microlearning focuses on delivering information in small, specific chunks. Content can take different forms such as text, audio, visuals, interactive multimedia – as long as it is short. And there is no rule to abide by when it comes to the length of a microlearning module. Each module covers 1 learning objective completely.
This is this the era of distractions, excessive workloads, and dwindling attention spans. The idea of creating content that focuses on one learning objective and contains need-to-know information is the need of the hour. Microlearning is a reliable tool to be used for different kinds of training.
How is Microlearning Different from Traditional Learning?
To understand the difference between microlearning and traditional learning, let's understand the terms "full proficiency" and "working proficiency." These terms were introduced by Joe DiDonato, the Chief Learning Technologies Officer for Countrywide Home Loans, Inc. At the Workforce Performance 2006 conference, DiDonato explained "full proficiency" in a technical product as a complete decomposition of that product coupled with training about its functions. He goes on to point out that most employees might not use the complete information frequently in their jobs, and will be likely to forget it once their training is done.
DiDonato suggested shifting the focus to "working proficiency." Working proficiency involves providing information that an employee needs to do the job immediately and most of the time.
This is exactly what microlearning aims to do. While traditional learning focuses on full proficiency, microlearning reinforces working proficiency. It aims to provide short bytes of specific information for specific tasks.
Benefits of Microlearning
1. Reduces Development Cost and Increases Speed
In the book 3-Minute E-Learning, Jimenez Ray illustrates that it reduces development cost by 50% and increases development speed by 300%. He stresses on how learners are not interested in time-consuming eLearning programs. Learners like to focus on "application points" or performance ideas to upgrade their knowledge to a "working proficiency."
When we use microlearning to highlight these application points, the content is short and crisp and delivered in very little time. Eliminating extraneous content, avoiding complex interactivity, and using authoring tools further helps save time and cost.
2. Offers Efficient Transfer of Learning
The bite-sized nature of microlearning ensures all the clutter and irrelevant information is minimized. The primary focus of designing microlearning is to teach the learning objective via the optimal format. This will make it easier to revisit and retain need-to-know information.
Also, microlearning nuggets can be repackaged and used differently by different learner groups – for initial learning, reinforcement, on-demand learning, practice, and more. In fact, microlearning is a good fit in blended learning programs to beat the forgetting curve. All these strategies lead to efficient transfer of learning.
3. Enhances Engagement
Software Advice surveyed full-time employees to explore the most popular elements of an LMS. They found that 58% of the employees would be more likely to use their company's eLearning if the content was broken into multiple, shorter lessons.
The short and focused nature of microlearning helps time-pressed employees build on a specific learning objective – at their convenience, even during downtime or when traveling. Microlearning can use quick-to-develop engagement elements such as:
Asking learners for name and addressing them using that
Letting learners select the avatar of their choice
Offering visual agenda slides
All these increase learners' inclination to take up training more often. This is a compelling and statistically proven argument showing how microlearning increases engagement.
4. Can be Configured in Various Formats
Microlearning assets can be configured in a variety of formats such as video, quizzes, infographics, scenarios – as tools to deliver and help practice specific information. However, the key to success when designing microlearning assets lies in letting form follow function – the format picked should depend on the topic being conveyed and learner demographics.
There is a lot of variety you as a training manager can choose from in consultation with instructional designers. Let's look at a few microlearning examples that work well for various training needs:
Video snippets to welcome new hires or introduce changes
Software simulations to teach/test software usage
Scenarios – standalone or as a quiz – to offer experiential learning
Games and quizzes for assessments
Infographics to showcase dos and don'ts
Limitations of Microlearning
Yes, there are a few situations where it's prudent not to rely on microlearning as a single dose or standalone training solution. When the training topic is complex or needs comprehensive coverage, it is better to use macrolearning in the form of eLearning or virtual instructor-led training to cover the topic.
Similarly, if the training involves risk or cost, it is important to offer learners hands-on training. However, microlearning can be used in both cases to:
Aid recall
Summarize key takeways
Offer practice exercises
Reinforce knowledge in spaced intervals
Wrap Up
It's clear that corporate microlearning solutions are beneficial for both organizations and learners. From saving developers' time and cost to increasing learning and retention, microlearning does it all.
Organizations should get onboard with microlearning as part of their corporate training. It will increase employee efficiency and competence; the numbers speak for themselves! To get a more comprehensive idea about what microlearning is and why care about it, check this eBook!