Introducing Microlearning in Flipped Classrooms [Infographic]
Flipped classrooms can give learners the best of both online and classroom training. And putting microlearning in the mix will only make the method more effective. Here is an infographic on the benefits of using microlearning in flipped classrooms.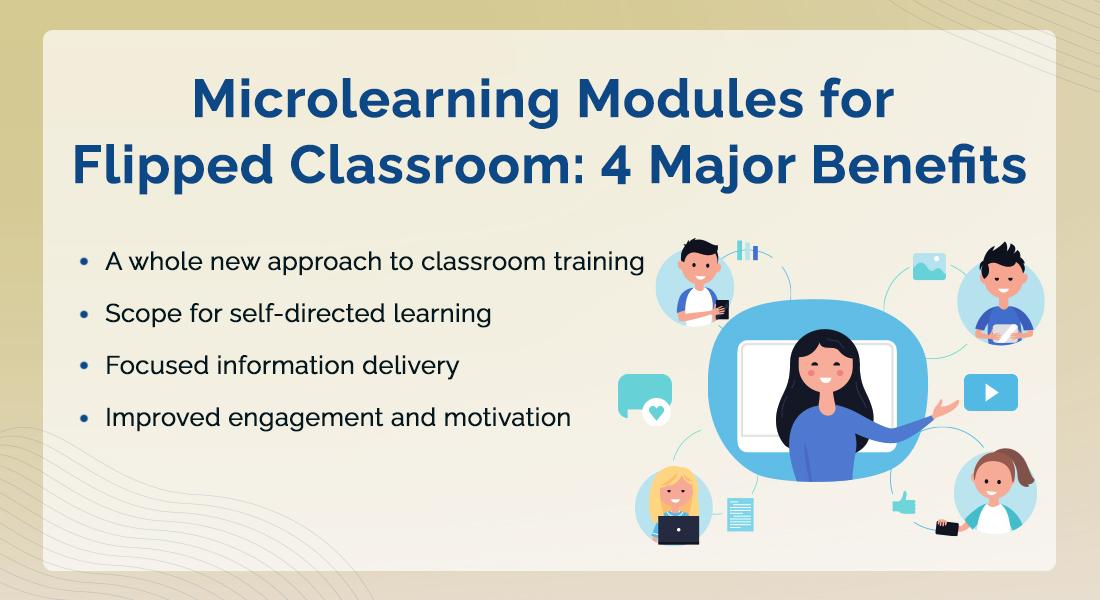 While shifting from classroom to online training, there are a lot of questions that come to mind. Is it going to be effective? Do I have to completely shift from classroom to online training? What about those training programs that need an instructor's intervention or hands-on experience? And to top all those doubts, you wish to have a training solution that could give you the benefits of both classroom and online training. Lucky for you, there is a solution – blended learning. And today we'll be discussing a specific blended solution i.e., flipped classroom with microlearning.
Flipped classroom is an idea to reverse the instructional practice of the traditional classroom. Instead of entering the classroom with a clean slate, learners go through prior online training. This way learners can:
Brush up basic concepts so that the classroom session can be limited to in-depth conceptual knowledge sharing
Check their knowledge and identify gaps from prior training before an instructor-led classroom session
Get bulk of the information through online courses and use the classroom session to clear their doubts with the help of an instructor or gain hands-on experience
Now if you are trying to divide your training plan between two methods, it is extremely important that you do not make the information repetitive. Otherwise, what's the point? And if you are looking for a way to give learners specific need-to-know information, can you think of a better way than microlearning?
Using microlearning modules for flipped classroom sessions will save precious time of learners, make learning engaging for them, and help build a concrete foundation for their classroom session.
Here is an infographic to show you the benefits of using microlearning in the flipped classroom.