How Can Blended Learning be Used for Leadership Training?
Can leadership training be provided online instead of in the classroom? Can any online training format such as eLearning, microlearning, or VILT by itself offer the complete leadership training experience? If not, what's the best solution? Read on to know more.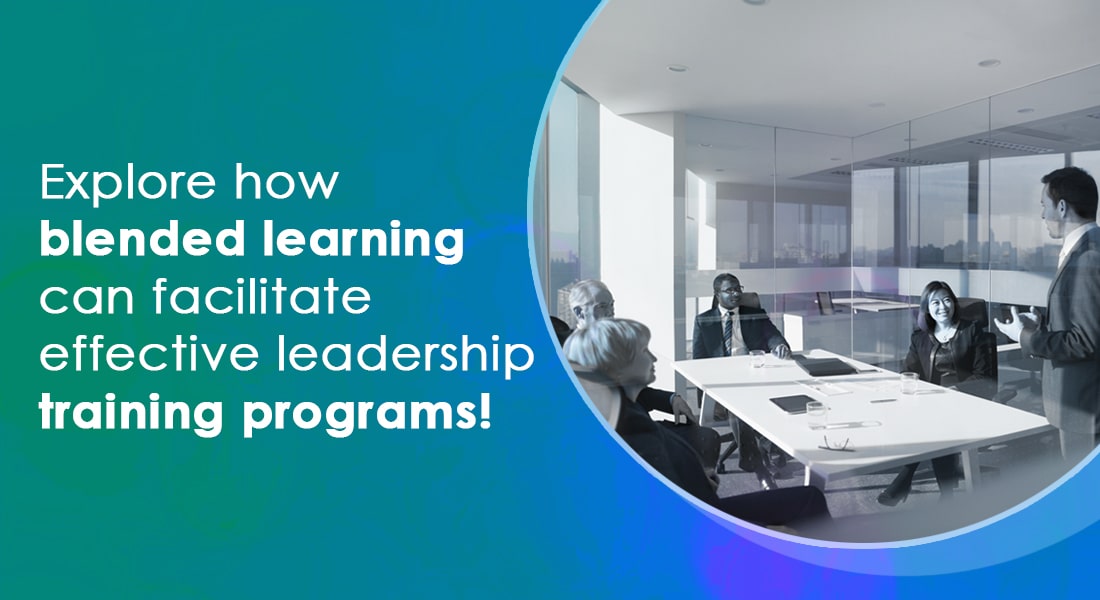 Leadership training helps improve the capabilities of individuals to perform in leadership roles in the organization. It enables individuals to grow professionally and groom their teams. Leadership training is essential for individuals in different roles – from first time managers (without prior managerial experience) to Middle Managers (managers of managers) and even members of the C-Suite.
Blended Learning for Leadership Training
With the pandemic making physical classroom training difficult, organizations were left scrambling for the best option for providing leadership training. And blended learning emerged to be the best way to proceed with it. Blended learning can accommodate formats such as eLearning, VILT, and microlearning to replicate the classroom – offering learning in spaced intervals, practice opportunities, experiential learning, and scope for interaction.

Leadership training helps:
Identify and improve the leadership style of each individual
Formulate and implement leadership strategies
Develop skills such as communication, decision making, and conflict management
Improve confidence and the ability to influence, persuade, and negotiate
Why is the Classroom Preferred for Leadership Training?
Leadership is a skill that cannot be acquired merely by listening to a talk or by attending a seminar about it. It is a skill that can only be developed and polished with learning, practice, and experience. And that's why classroom training is preferred for leadership training because it offers a lot of scope for interaction and collaborative activities.
Classroom training gives learners a dedicated time and space for developing skills and putting their knowledge to practice. After the instructor imparts knowledge, learners can work in smaller groups to collaborate on specific projects, have discussions, present ideas, and give and receive feedback from peers.
Peer interaction in the classroom is also well suited for developing soft skills such as speaking, listening, building relations, and empathy. Navigating through the differences in opinions, and managing and overcoming interpersonal conflicts will help strengthen individuals.
Why Blended Learning for Leadership Training?
With the pandemic making physical classroom training difficult if not impossible, organizations were left scrambling for the best option for providing leadership training for employees. And they have found blended learning to be the best way to proceed with it. Blended learning can accommodate varied formats such as eLearning, VILT, social learning, video-based learning, gamified courses, scenario-based learning, microlearning, and more which help replicate the experience of traditional classroom training – by offering learning at spaced intervals, practice opportunities, experiential learning, and more importantly, scope for interaction.
An effective training program is more than a webinar or a few learning sessions, it is a journey. Let us now have a look at how blended learning can be used at different times of this leadership training journey with the help of different formats.
Microlearning to Create Awareness about Training
Even before starting the leadership training, make learners aware of the training program, its components, the training journey, objectives, etc. This can be done by reaching out to them through short microlearning nuggets.
They can be given an introduction to the course through short videos, infographics, or surveys – to gain attention and help build readiness, anticipation, and enthusiasm for the training. Psychology-based assessments can be used to understand each individual's present leadership style. Short game-based pre-tests can be used to set the context and to help them recall prior knowledge about the course topics.
Virtual Instructor-led Training (VILT) for Coaching
Since leadership is a skill that cannot be acquired by merely reading about it, it is important to provide learners with experienced mentors who can coach them, provide insights, and help build well-rounded leaders in the workplace. That is why face-to-face classroom training was always preferred for leadership training. But given the logistic hassles of getting all the learners and trainers in one geographical location, not to mention the ongoing pandemic, the best option that is available is virtual instructor-led training (VILT).
VILT can be a very effective way for leadership training, with learners getting all the advantages of the physical classroom 'virtually'. Different topics of leadership training can be handled through scheduled VILT sessions.
Learners can learn from and interact with the instructor and other learners, clear doubts, have thought-provoking discussions, and take part in activities.
Learners can present their views to the class, learn the art of receiving and giving feedback, and improve soft skills by interacting and participating in discussions.
They can improve their team building skills and teamwork by working together in groups (in breakout rooms).
eLearning to Revise, Assess, and Reinforce Learning
eLearning enables self-paced learning, to recall, revise, and dive deeper into the topics discussed in the classroom – physical or virtual. These resources can include:
Videos, refresher activities, simulations to help reinforce what was learned
Quizzes, strategic games, or real cases to give learners opportunities to analyze and apply the concepts learned
Gamified Courses to Provide Practice Opportunities
Courses with gamification and game elements are known to increase engagement and motivation in learners. And the explanation for it lies in the word GAME. These courses can have scores, rewards, leaderboards, and badges to instil healthy competition.
Besides being fun, games foster competitive spirit, give learners a sense of achievement, and provide an immersive experience ensuring greater and more enthusiastic participation of learner.
These courses can be used for practice in leadership training, by offering games with different scenarios which require learners to showcase their leadership skills – managing conflicts and changes, negotiating, applying logical reasoning, etc. A gamified course can be used to help learners practice critical problem-solving in a fun way.
Learners can also collaborate using forums on an LMS. They can be given access to chat rooms on the LMS to post questions that can be answered by peers, start discussions on topics, exchange new and interesting information, and share insights. These forums can be overseen by moderators or instructors.
Parting Thoughts
Leadership training is a unique training that demands many aspects to be truly effective, and it is not correct to assume that any one instructional strategy will help achieve all of them. That is why blended learning is so effective for leadership training, as it combines different modalities to offer learners an immersive, holistic experience. To know more about blended learning, download this eBook.