How to Revamp Your Leadership Training with Blended Learning?
Is it possible to deliver leadership training online rather than in a classroom setting? Is it possible to have a comprehensive leadership training experience using an online training format? What is the best solution? Continue reading to learn more.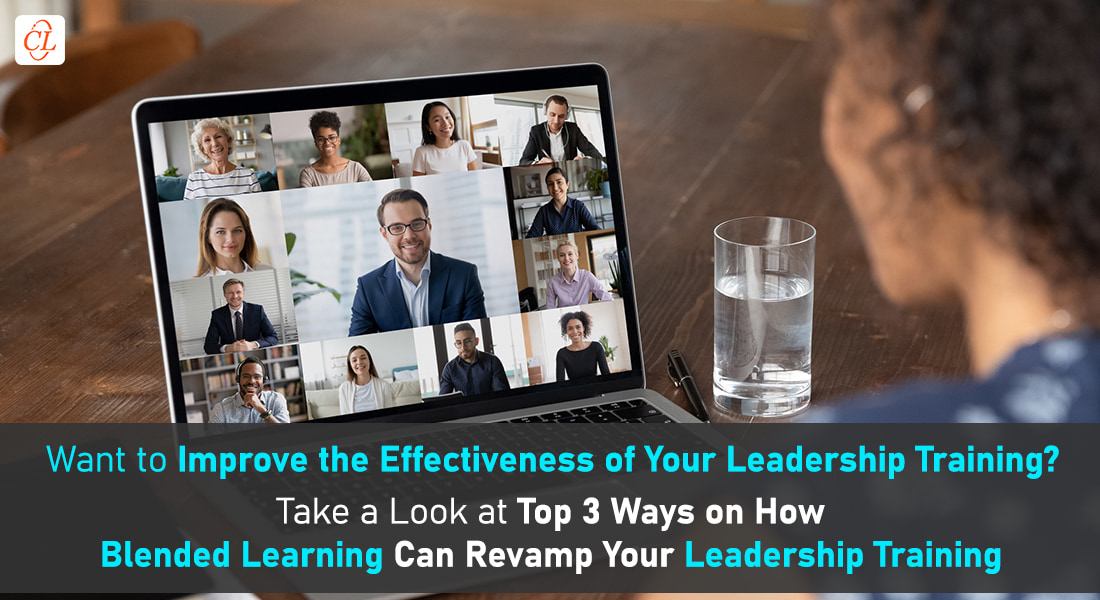 Individuals' capacities to operate in leadership roles within an organization are enhanced through leadership training. It allows people to advance in their careers and develop their teams. Individuals in many jobs, such as first managers with no previous management experience, middle level management, or also members of the C-Suite, require leadership training. Blended learning comes into play here. By integrating eLearning and traditional, instructor-led face-to-face training it improves learning results for senior management.
Are You Looking for a Way to Improve the Effectiveness of Your Leadership Training?
Here Are the Top 3 Ways Blended Learning Can Revamp Your Leadership Training:
Awareness Through Microlearning
Coaching via Virtual Instructor-Led Training (VILT)
Enhanced Participation with Gamified eLearning Courses
The Advantages of Using Blended Learning with Leadership Training
Leadership is a skill that cannot be taught in a course. Companies need great coaches with experience and mentors to train senior executives. Training sessions in person have indeed been difficult due to logistical issues. Blended learning has thus become a must-have in the last few years.
VILT, eLearning, video-based learning, and other formats are all encompassed in blended learning. These formats allow for flexible learning, practice, and engagement. A successful training program is much more than just a few classes or a seminar; it's a journey. Now that we explored the significance of blended learning for leadership training. Let's examine how various blended learning formats can be applied at different phases of this leadership development journey.
Top 3 Ways Blended Learning Can Help You Develop Your Leadership Skills
1. Awareness Through Microlearning
You may use bite-sized modules like short video clips, graphs, and interactive surveys to inform people of the learning objectives before you start your leadership training program. Microlearning is an excellent technique to capture learners' attention and heighten their excitement and enthusiasm.
It also allows you to conduct psychological evaluations using brief simulations and quizzes to learn about your learners' strengths, limitations, and styles of leadership.
2. Coaching via Virtual Instructor-Led Training (VILT)
Leadership development needs the assistance of seasoned mentors. This does not, however, imply that instructors must conduct their lessons in person. VILT is a wise choice since participants may learn from and communicate with their peers and instructors to explain and obtain answers to specific questions, partake in stimulating group work, and engage in intriguing, thought-provoking discussions.
Learners may also offer their perspectives on a concept or a topic during VILT and obtain real-time feedback while developing new abilities such as effective communication, problem-solving, creativity, and critical reasoning.
3. Enhanced Participation With Gamified eLearning Courses
Gamification may dramatically improve student involvement, participation, and enthusiasm in eLearning courses. In an enjoyable, interactive setting, using scores and prizes may instill a spirit of joy and healthy competitiveness among learners, as well as giving them a sense of accomplishment.
Blended learning is a great way to make leadership training easier. Leadership trainers and L&D teams can use simulations and scenario-based learning to help aspiring senior managers demonstrate their abilities in negotiations, logical thinking, prioritizing, and conflict resolution.
Parting Thoughts!
Leadership training is a special kind of training that needs a variety of factors to be genuinely effective, and it's a mistake to think whether any one instructional technique can help you accomplish all of them. And that's why blended learning has become so beneficial for leadership development since it blends many methods to provide learners with a fully immersed, comprehensive experience. Planning to rev up your corporate training with blended learning? Download this checklist to get a clearer view.
Editor's note: This post was originally published in 2022 and has been updated for comprehensiveness.