Microlearning Content Development Rooted in Instructional Design — 5 Tips to Ace it!
Want to maximize the impact of microlearning? Explore 5 instructional design tips for impactful microlearning.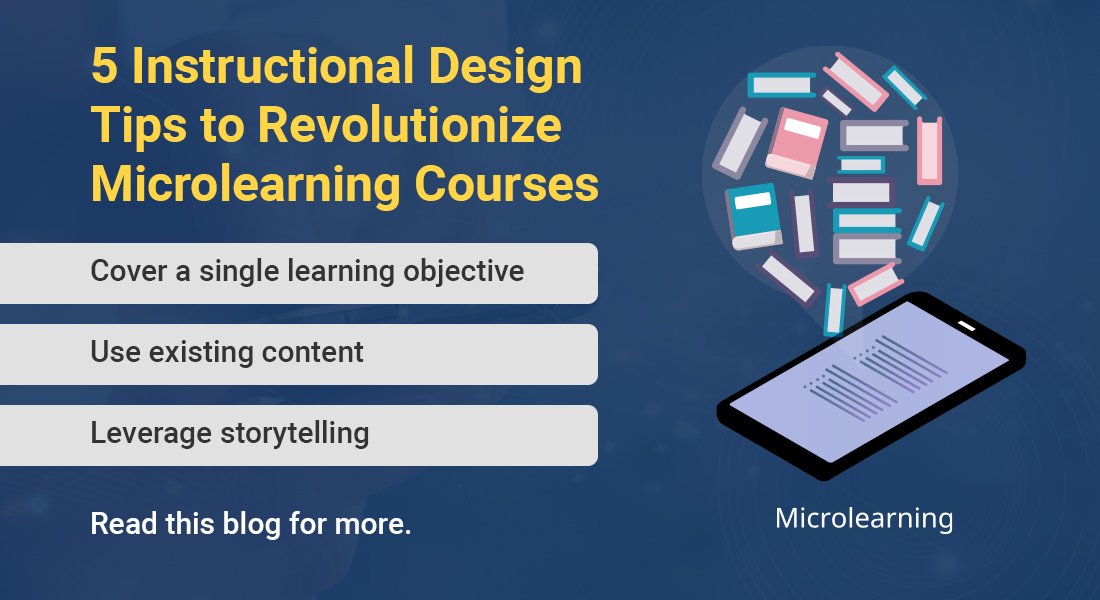 We live in a changing world with changing priorities. Employees in corporate organizations are no longer interested in spending hours in training. They want to learn as they work and get to know the solution to the problem without beating about the bush. Fortunately, microlearning for corporate training solves that problem for you.
5 Tips for Effective Microlearning Design
For effective microlearning content development, leverage these instructional design strategies:
Focus on a single performance-based learning objective
Use existing learning content
Go for a minimalist user experience
Leverage storytelling
Take a mobile-first approach
Of the many benefits microlearning offers, its ability to deliver effective training in tiny modules, focusing only on the need-to-know content, is by far the most important. But how is it that microlearning with such small training resources is so effective in training employees?
The answer lies in microlearning content development based on sound instructional design principles. Oh yes, instructional design principles ensure your microlearning courses continue to deliver excellent training to your employees.
Why the 'Micro' in Learning – Form Follows Function
As the name suggests, microlearning refers to mini modules or training materials for training. You might say, "Oh but these courses are so small, what will my learners learn?" To answer that question, allow me to use architect Louis Sullivan's famed quotation, "form ever follows function". That is, every design is based on the intended function of the object.
This is relevant to microlearning content development too. Microlearning courses are not small because of 'less relevant content', but because they are purposefully designed to be small and impactful. From PPTs and PDFs to microlearning videos, there are multiple formats that can be used to deliver training. When deciding on the format of the microlearning module, it has to be based on the objective of the module, and not the other way around – form should follow function.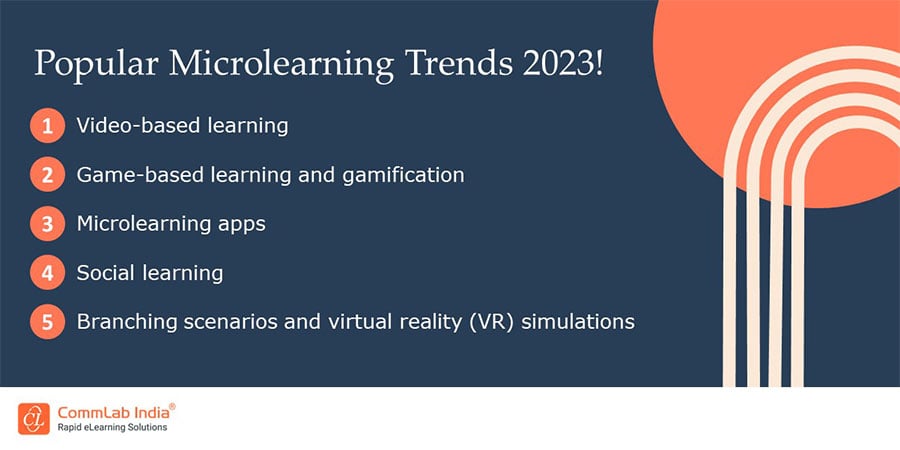 Learners prefer learning through small bite-sized chunks of information because they:
Are easy to understand
Can be memorized and recalled easily
Focus on teaching specific bite sized information
However, for those not experienced in or new to designing learning experiences, here are five concrete ways you can make microlearning an excellent and effective experience for your learners.
Five Instructional Design Tips for Effective Microlearning Content Development
1. Highlight a Single Learning Objective
We all know that learning needs to be backed by its objectives. According to adult learning principles, adults, unlike children, need to know and understand why they are learning something. That is why eLearning courses for corporate training are not designed randomly. Instead, they are designed based on performance-based learning objectives. Each of these objectives enables the learner to learn a specific skill set or specific information on products/services, when required.
Microlearning on the other hand, takes a "one module one objective" approach. Each microlearning course focuses on and addresses a single performance-based learning objective as this helps:
Deliver highly targeted and focused information without any redundant information
Avoid cognitive overload in learners, allowing them to focus on only what is required
Fight the forgetting curve (that learners forget a majority of what they have learned in a single day)
Pro tip: To get the most out of your microlearning, align the learning objectives with your organizational goals.
Watch this video for amazing microlearning design tips.
2. Leverage Existing Content
Content for microlearning courses can often be sourced from the existing classroom training content or lengthy eLearning courses. You can leverage existing training content like PPTs, classroom training videos, PDFs, manuals, and assessment questions for microlearning content development.
This helps to significantly reduce the:
Effort needed to develop the microlearning courses
Time and money needed to design microlearning
Pro Tip: Go over the content and see if it needs any updates. Classroom training content should be reinforced with assessments and appropriate strategies.
3. Go for a Minimalist User Experience
It is not microlearning if it is not simple. Remember that the goal behind microlearning is to provide quick and urgent training or training support to learners – to help them retain, remember, and apply not forget.
If your microlearning course is riddled with unnecessary visuals and redundant content, the learner will get distracted and not be able to focus on the core content. You must keep your content focused and crisp, supported only by relevant graphics and visuals.
Help learners understand and assimilate information quickly
Avoid unnecessary confusion and waste of time
Improve overall learning efficacy
4. Leverage Storytelling
Microlearning content development should focus on engaging learners and involving them in their learning for immediate application. Storytelling in eLearning is a highly effective strategy, and having small doses of storytelling in your microlearning can greatly improve its efficiency.
Given that engagement is a major factor in any type of learning, microlearning with storytelling stands out as the best possible object to engage with. It helps:
Kick start learners' imagination and help them start thinking differently
Learners build an emotional connection with the course
5. Take a Mobile-First Approach
More than 80% of the global workforce is now mobile, thanks not only to increasing technological competency and dependency, but also to the ongoing global COVID-19 crisis. Making training available to your learners through mobile devices ensures that people working at their own convenience in their own space and time, are not excluded from training.
Factoring for mobile learning in microlearning content development is therefore a very important consideration. Developing microlearning courses with a mobile-first approach helps when learners:
Prefer using a variety of mobile devices (both smartphones and tablets) for their training
Wish to learn on-the-go (self-paced learning)
Need urgent access to performance support solutions
Wish to know more about microlearning? Here's an exhaustive infographic that entails microlearning best practices, popular microlearning tools, microlearning platforms, and tips to supercharge your L&D programs with microlearning. Don't miss it!

Wrapping It Up!
And so, we arrive at the end of the road, a few minutes older but a lot wiser.
You can excuse my poetic intervention, but you can't deny that only something out of the ordinary can hope to leave a mark on your memory. Microlearning attempts to achieve just that. Gone are the days of boring textbooks and tedious manuals. Short and snappy rules the 21st century. So why not make the most of it? Follow these microlearning content development strategies, and voila, your perfect microlearning recipe has come to fruition.
Still not convinced (by a mere 10-minute blog)? Here's an eBook to help you in your microlearning journey.
Editor's note: This post was originally published in January 2022 and has been updated for comprehensiveness.