Lectora Online: What Makes this eLearning Authoring Tool an Attractive Investment?
What makes Lectora Online an attractive option for eLearning development? Get familiar with the latest features of Lectora Online.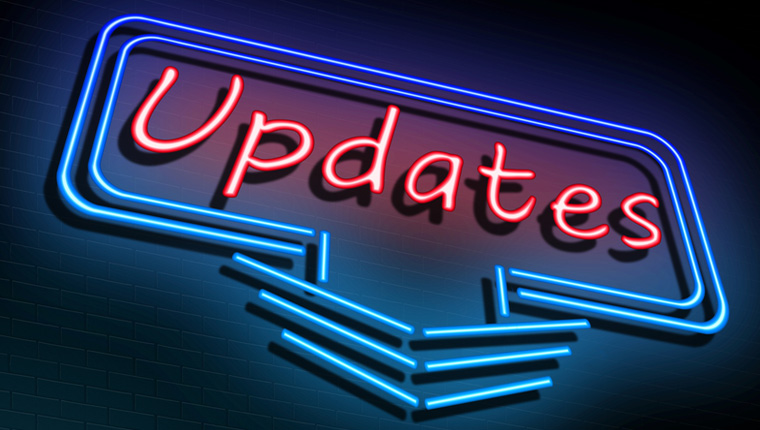 If you're looking for an authoring tool that offers the robust features of Lectora Inspire (desktop-based tool), yet is accessible online, Lectora Online will do the trick. Lectora Online offers the advantage of letting multiple eLearning developers work collaboratively on the same project, and also allows them to share assets used in the project. Trivantis came up with the latest release of Lectora Online (4.3), end of last year (in December 2018) and this version of the authoring tool has managed to capture the attention of eLearning developers, for all the right reasons.
Why Opt for the Latest Version of Lectora Online?
Redesigned dashboard that eases navigation
Templates that can jumpstart eLearning development
Updated media library for course development
Centralized asset management with Trivantis Vaast
Support for cmi5
To get to know Lectora Online, you can sign up for the free version. If you're looking to use the tool for eLearning development in your organization, opt for the Professional package or the Team package (if you need collaborative authoring).
What's New in Lectora Online's Latest Release?
Here's what the latest version of Lectora Online has to offer eLearning development.
1. Redesigned Dashboard for Easy Navigation
The fact that Lectora Online is web-based makes it accessible anytime, anywhere, as long as there is an active Internet connection. Updates happen seamlessly as it is a cloud-based authoring tool. The dashboard in Lectora Online has been redesigned to give a modernized look and displays a 'Getting Started' panel that helps eLearning developers be one up on the usage of this authoring tool.
The intuitive interface allows easy navigation to explore the features of the tool. Though Lectora has a steeper learning curve compared to other authoring tools, the redesigned dashboard makes it easy for newbies to navigate through the tool.

2. Templates to Jumpstart eLearning Development
Lectora can give a quick start to eLearning development using templates, thus making it ideal for rapid eLearning projects. Lectora Online includes featured templates for linear and non-linear navigation, slides with audio and video, pre-tests and summative assessments, and templates to develop Section 508 compliant course.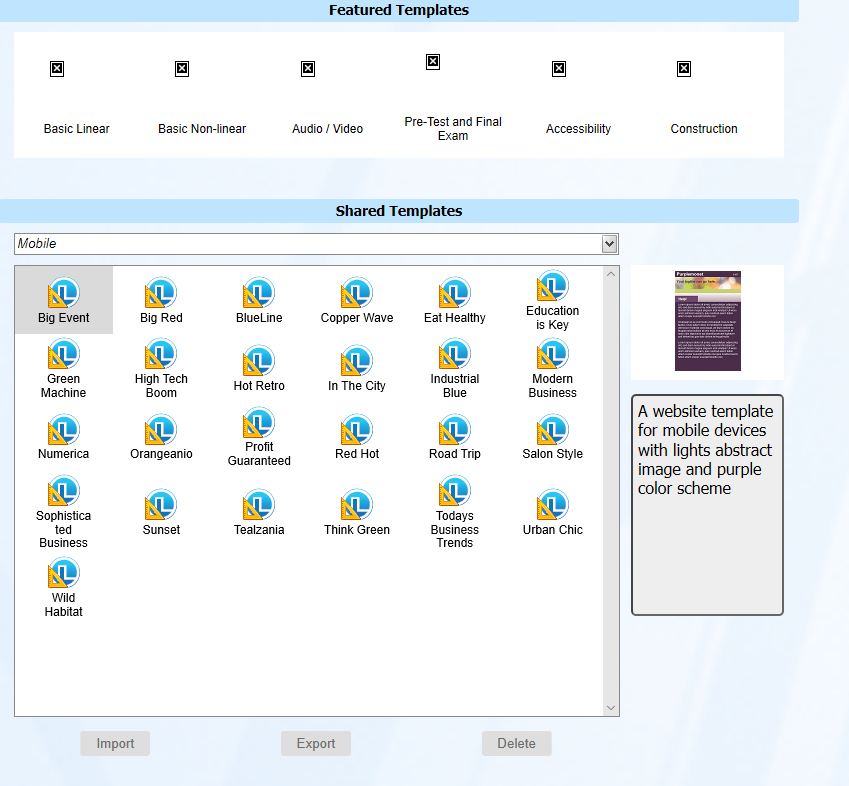 For instance, if you're developing a mobile learning course, you could choose from the available mobile learning templates and tweak them according to your project requirement. Now every time you create a new project in Lectora Online, you don't have to start from scratch. You can customize an existing template to add a logo, title, content, or buttons. These templates are set up for responsive design. So you don't have to spend additional time and effort in making your courses mobile-ready.
3. Updated Media Library for Seamless Course Development
The media library in Lectora Online provides eLearning developers access to images, characters, and stock buttons and also enables sharing of custom assets. For instance, if you want the company logo used in all courses, you can add it in the media library so that it's shared across projects.
The media library offers a variety of images, animations, audio, and video files that can be used for the seamless development of eLearning courses.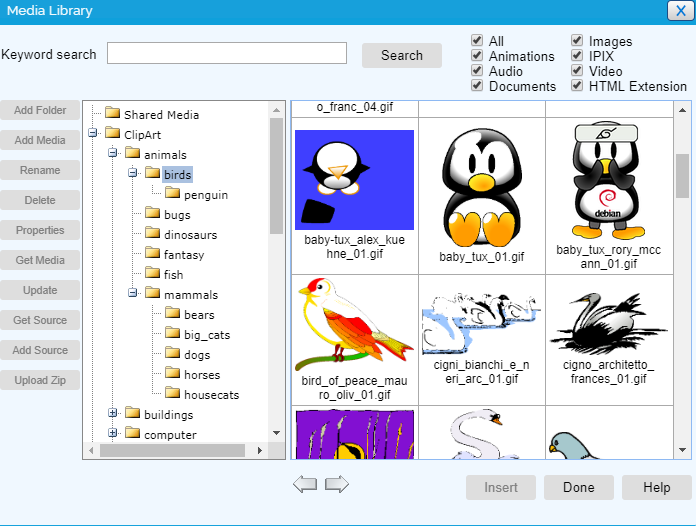 4. Centralized Asset Management with Trivantis Vaast
Vaast refers to Trivantis' Virtual Asset and Sharing Technology. It is an online repository that can be used to create, manage, and track digital assets that include audio and video clips, and images. Organizations without an existing digital asset management (DAM) system in place can make use of Vaast to secure their digital assets and maintain brand consistency. You could use these assets in your eLearning courses. Imagine the time you could save when you don't have to hunt for digital assets or worry about brand consistency while using these assets.
Lectora Online is integrated with Vaast. When you need a digital asset, for instance an image modified before it is used in your eLearning course, you can download it from Vaast and then include the copy in your course. On the other hand, if you want the changes made to an asset in Vaast to be reflected in all courses created using Lectora Online that use that asset, link the asset instead of copying it. For instance, if you had to make minor changes to the company logo, imagine making the change in each individual course where the logo is used. Instead updating it in Vaast ensures that the update is reflected in all other courses.
5. Support for the Next Generation of eLearning Standard – cmi5
The latest version of Lectora Online supports cmi5 standards in addition to xAPI and SCORM. For those who are new to the term cmi5, it stands for computer managed instruction. While SCORM tracks learning within the LMS, xAPI has the capability to track informal learning experiences that happen outside the LMS. This is done through a Learning Record Store (LRS). The limitation with xAPI (also known as TinCan) is that it is not designed to work with traditional LMSs. Your LMS either needs to be xAPI-compliant or you have to use third party software such as SCORM Cloud or Rustici engine to implement xAPI. Instead of this, you could use cmi5 to act as a plug in that you install on the LMS to get xAPI to work on traditional LMSs.
Bill McDonald, cmi5's working group leader has shared an interesting analogy in a LinkedIn article. He says that xAPI is like an electrical service and cmi5 is a wall socket that can be used to simply plug and play the electrical service.
Another advantage of using cmi5 is that your learning content does not have to reside on the LMS, it can be accessed on distributed networks. With SCORM, the drawback is that the learning content must reside on the LMS. With Lectora Online offering support for cmi5, there's an avenue of opportunities open for eLearning developers. Instructional designers can design interactivities that are way different from the standard interactivities included in eLearning courses. cmi5 offers the opportunity to track blended learning or team-based learning experiences as well.