A Brief History of the Learning Management System (LMS)
Evolutionary history is a fascinating story to understand the depths of human endeavor. Have you ever wondered how Learning Management Systems came to be? Read to know the history of the LMS and learning technology.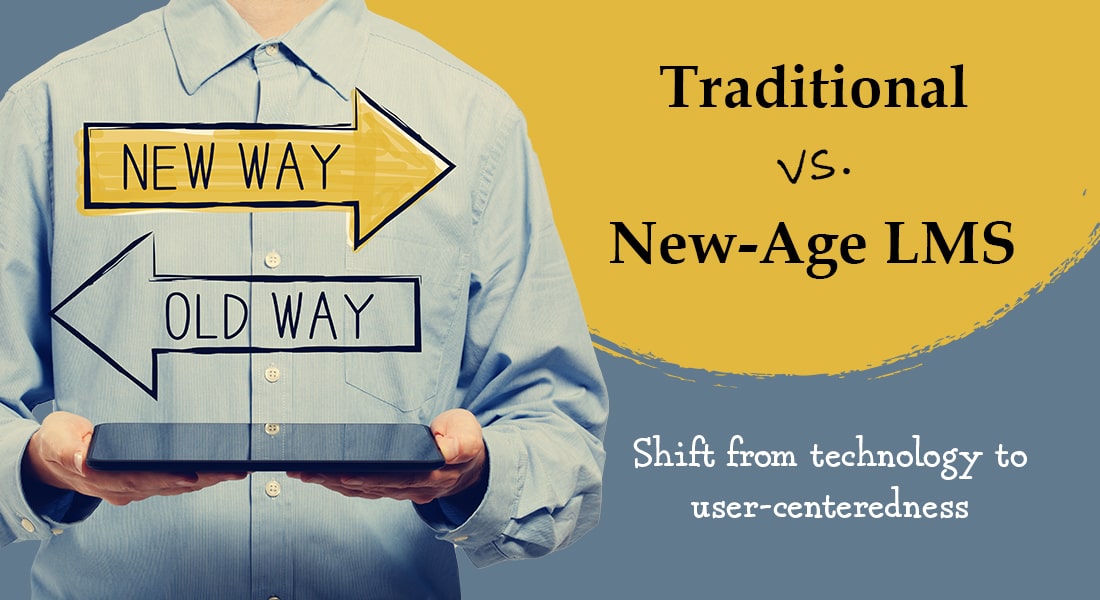 According to a report by Markets and Markets, the size of the global LMS market which is now at 13.4 billion is expected to grow to a whopping 25.7 billion by 2025.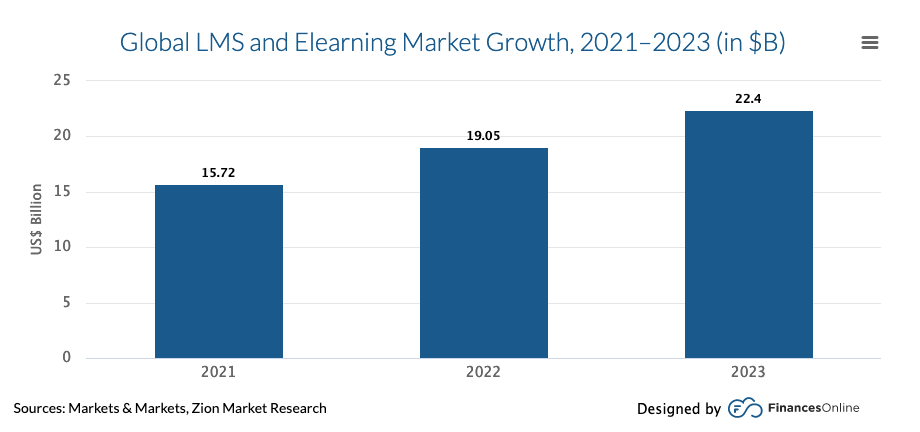 Learning Management Systems
The Evolution
A Brief History of LMS: How the first LMS was developed and how it transformed learning technology for the better
Limitations of Legacy LMSs: What was lacking in traditional LMSs and how it affected corporate training
Rise of the Modern LMS: How modern LMSs came to be and the scope of learning they offer
Another report by Zion Market Research predicts that the global LMS market will growth to 15.7, 19.05, and 22.4 billion in 2021, 2022 and 2023 respectively.
So, what's an LMS and why all the fuss around it?
What is an LMS?
Simply put, an LMS, short for learning management system, is a software application that helps with the management of digital training content.
Its key characteristics can be found in the name itself:
Learning: A single repository for all your learning material, which learners can access 24X7.
Management: An LMS is not just a bunch of training courses hosted online. It's a neatly organized system of managing training processes (such as user registrations, course assignments) for both eLearning and in-class sessions.
System: Using the LMS, a trainer can automate tasks such as tracking and reporting learner activities, processing stats, generating detailed reports, grading assessments, creating and awarding certificates, etc.
The numbers don't lie, and they all speak the same truth—almost every corporate organization today relies on an LMS for its training operations. Partly fueled by the growth of digital learning and adoption of mobile learning in the last decade to the latest Artificial Intelligence (AI) and Machine Learning (ML) interventions, the LMS has, over the years, evolved to become a major part of organizations and their training strategies.
But how did it all begin? How did the corporate world look like without the LMS?
In this blog, we will look at the humble beginnings of the LMS and what it has come to represent in the (corporate) learning landscape today.
I. A Brief History of the LMS
It goes without saying that modern LMSs draw inspiration from a lot of yesteryear's inventions and innovations. I will be looking at the key milestones in the history of the LMS and give instances of machines/tools which have directly impacted the way LMSs work today.
First developed by Sidney L. Pressey in the 1920s, the teaching machine offered various kinds of practical exercises and multiple-choice questions (MCQs). Resembling a typewriter, the teaching machine required learners to drill in answers instead of typing them out, which would be recorded at the back of the machine. The learner could only advance if their response to the previous question was correct—a feature most of the modern LMSs still use.
Milton Ezra LeZerte in1929 created the problem cylinder, a device which provided instruction without the need for an instructor's intervention. One of the great features of the problem cylinder was that it not only tested learners' knowledge with MCQs, but also checked their responses—whether right or wrong, thereby saving the instructor's time.
In 1953, the University of Houston, USA, televised the first for-credit college course for people to learn right from the comfort of their homes. Video lectures/lessons were aired every evening so that everyone—including full-time workers—could benefit from the lessons, ensuring that learning was not compromised because of work commitments.
SAKI, in a way, was the first machine to offer learning that felt mildly personal. Short for Self-Adaptive Keyboard Instructor, SAKI was pioneered by Gordon Pask and McKinnon Wood in the year 1956. It offered personalized practice questions based on the learner's performance. As their performance improved over time, SAKI would 'learn' and increase the complexity of subsequent questions.
The next big thing was the invention of PLATO (Programmed Logic for Automatic Teaching Operation) by Dr. Donald Bitzer in 1960. PLATO was a computer-based training program which facilitated self-paced learning, allowing learners to monitor their own learning progress. However, what set PLATO apart was that it gave the learning community its first taste of social/collaborative learning. Thanks to its host of networks, learners could interact with other learners using instant chat/messaging, email, and chat rooms.
The HP-9100A, Hewlett-Packard's first calculator, arrived on the scene in 1968, packed with never-before seen computational abilities. It could process and solve engineering problems 10 times faster than existing machines. The HP-9100 quite literally laid the foundation for the way connections are established today via the Internet, and essentially paved the road for the everyday use of LMS.
Almost a forerunner to the LMS, MIT's Project Athena in 1983attempted to extend the use of computer machines beyond the fields of general science and engineering. At its core, Project Athena created a distributed computing environment by setting up workstations. In other words, Project Athena made it possible for learners and instructors to access their files from any workstation/desktop computer available on the MIT campus.
In 2000, the world was introduced to the first open-source LMS: Moodle, short for Modular Object-Oriented Dynamic Learning Environment. With Moodle, learners could start learning as soon as they downloaded the application onto their desktop computers. Personalized learning was made possible by letting learners pick the content they wished to store or export. Moodle's plug-and-play functionality meant that training content could be delivered to the learner/s faster and at a lower price.
SCORM (Sharable Content Object Reference Model) was introduced in 2004, a messaging standard which specified parameters on content packaging and metadata—a staple feature of today's LMS.
Experience API aka xAPI, an eLearning specification was developed in 2010 as a successor to SCORM. xAPI allowed "learning content and learning systems to speak to each other in a manner that records and tracks all types of learning experiences." (Source)
II. Limitations of Legacy LMSs
Today's LMSs enable an organization to manage everything training-related, seamlessly. But this wasn't always the case.
You see, older LMSs were notorious for not being trainer or learner-friendly. There were a number of challenges associated with them, and we will look at some of them now.
1. Not compatible with mobile devices
Apple released its first iPhone and Android its first smartphone in the early to mid-2000s, starting a mobile revolution in the tech space. People all around the world were taking part in this revolution and had begun to experience the world through their personal mobile devices. LMSs, however, were not accessible on these the-then modern devices, limiting access to (training) content from a desktop computer.
2. Not easily customizable
Older LMSs offered little to no customization. It wasn't possible to tweak the user interface (UI) or build a learning environment with custom branding. Everyone in the L&D community knows how important it is to customize/personalize the LMS—it's one of the places where a company can showcase its brand value and ideas, and create a healthy working culture.
3. Not user-friendly
Legacy LMSs had extremely complex UIs to begin with. And the focus was almost always on improving the technical aspects of the system and not on making it more user-friendly. To make matters worse, hardly any support was offered to learners post-deployment. And even if there was, most of it was on forums, and it was often hard to find a solution within a reasonable time.
4. Low on administration features
This was especially frustrating for organizations with a large workforce. LMS administrators of old LMSs found it difficult to:
Enable bulk user registrations according to job descriptions/roles, geographical regions, language
Assign courses to multiple groups of learners/customers
Create customized course certificates for users
Maintain a portal with thousands of users
Exchange information with instructors or other LMS admins
Assist learners with any technical issues
5. Less reliable and open to data and security attacks
Unlike modern LMSs, the traditional systems lacked serious security features such as data encryption, IP blocker, anti-spam, advanced password authentication, safe signups such as SSO (Single Sign-On), among others. This put the organization's assets at risk and opens to data exploitation.
6. Limited reporting and analytics capabilities
Traditional LMSs could only track and store data on learning activities, and trainers could not make much use of the resultant data.
7. Rights management too restrictive or limiting
Think about this for a moment: An organization's user base consists not only of its permanent employees but other third-party users such as customers, guests, consultants who are not part of the workforce. But older LMSs could not offer designated access/control over some parts of the LMS platform to specific users and not to others.
8. Either slow or no upgrades
Companies who needed to upgrade their LMS systems—in terms of functionality or adding a bigger user base—were forced to either wait for a long time for the upgrade, or, even worse, invest in a new LMS platform every time. This routine not only added to the costs, but also meant they needed to set up everything from scratch on the new LMS—a logistical nightmare for sure.
III. The Modern LMS—or What Led to the LMS of Today!
In straightforward terms, there are a couple of reasons why traditional LMSs were replaced by the new generation ones.
The new-age, millennial learner forced changes not just in the LMS but also in corporate training in general. What comes to mind when you think of today's millennial learners? The modern LMS is designed to meet the demands of the modern learner, and support the training needs of a global workforce. For instance, here are some of things that, unlike traditional LMSs, the modern LMSs is able to do:
Deliver a wide variety of training material in different formats, giving the learner complete control over what and where they wish to learn.
Gamify the LMS to drive learner motivation in the form of badges, points, and leaderboards.
Host chat rooms and messaging forums for learners to collaborate and learn from peers, making the modern LMSs more social.
Facilitate learning on-the-go in informal environments, giving access to the required content at the click of a button.
Reporting and tracking that give insights into how learners are doing, what impact the training is having, to take measures to ensure better learner management.
Leverage tracking data to provide personalized learning paths to learners based on job roles and level of existing knowledge.
Parting Thoughts
There you have it. The story of the modern LMS is a story that the L&D community ought to be proud of. Like all other corporate learning strategies, the LMS too evolved with the needs of the learner to facilitate the learning demands of the new-age worker.
If you want to know more information on modern LMSs and their role in corporate eLearning, download our eBook.