Holiday Gift: Unwrap This List of Top 5 Infographics on eLearning
In case you missed them earlier, here's another chance! Check these top 5 eLearning infographics from 2019 and enhance your eLearning initiatives.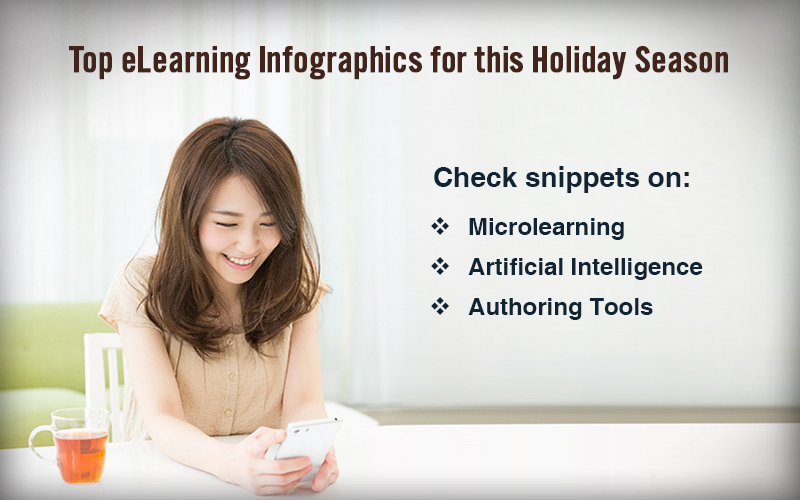 Christmas is just a few days away! You've helped put up the Christmas tree, and the young ones are busy decorating it. There's a lot of shouting and banter going on. You search for a place to relax and find your favorite chair… aaah! You have a list of all the things to do before the big Christmas lunch. Bake cookies? You've planned it for tomorrow. Buy gifts for family and friends? You already did that last week. So, why not have a look at these top 5 infographics on eLearning from 2019?
For light reading in your 'me-time', I've compiled a list of our top 5 Infographics from this year. These infographics showcase the latest in eLearning – right from authoring tools to artificial intelligence. In case you missed them earlier, here's a chance for you to have a quick look at them.
CommLab India's Top 5 Infographics on E-learning from 2019
1. 7 Must-Have Characteristics of Microlearning Design
You already know that microlearning is a short eLearning module that doesn't exceed 10 minutes (usually) and is therefore easy to deliver on mobile devices. But you might not be aware of all the requirements to design a microlearning module. This infographic gives you 7 features of microlearning design for an even stronger impact. Some of these are:
Including the must-have content for the set learning objective
Using a variety of formats to increase learner-engagement
Providing intuitive access to assets as searchable components on the LMS
Go through this infographic to add more power to your training solutions. You can also use microlearning along with classroom training for a blended learning approach. So go ahead and click the link!
2. Do You Know What's Trending in Microlearning?
Since we are talking about microlearning, let's talk about what's trending in microlearning. The kind of impact microlearning has on employee training and how well it is being taken up for training is very well known. Microlearning is much more engaging which is why learners prefer it over eLearning. If you are considering using more of microlearning in your training solutions, this infographic is for you! It will give you a glimpse of what's in vogue with microlearning, and what elements go best with microlearning, like:
Mobile Learning for multi-device access
Artificial Intelligence for customized learning paths
Learning Analytics for knowledge transfer to performance
Go through this infographic to find out what is all the rage in microlearning, and create a carefully crafted, robust training solution for your employees.
3. 5 Hot Favorites: E-learning Authoring Tools in 2019
Every authoring tool comes with its own features you can leverage for designing and developing effective online courses. Some are suited for integrating Augmented Reality (AR) and Virtual Reality in training, while others offer easy conversion of text-heavy classroom material to eLearning. This infographic shows the best carefully chosen features of the top 5 authoring tools for 2019. It also gives reasons why each of these authoring tools are great for creating compelling eLearning courses, the 5 authoring tools being:
Adobe Captivate 2019
Articulate 360
Lectora Inspire 18
iSpring Suite 9.3
dominKnow
Visit this infographic for the best features of the top 5 authoring tools for this year.
4. A 5-Step Strategy to Align Training with Business Goals
Corporate training demands answers to many questions – from training needs, the kind of training (instructor-led training, e-learning, or blended learning) to the delivery medium. A very important consideration involves aligning training to business goals. It begins with training needs analysis and then moves on to analyzing the business goals. This infographic gives you a 5-step strategy on how to do it best. It includes:
Identifying the gaps in performance
Communicating the training process to stakeholders and top management
Ensuring scope for continual learning for your corporate learners
Are you worried about your training? Go through this infographic for ideas to make your training better. You can then adapt them to your training once you are back at work.
5. 5 Benefits of Artificial Intelligence in eLearning
Today, you can see Artificial Intelligence (AI) everywhere! It's about machines mimicking human functions. You'll find it in news – where AI is used to cut down on fake news – to eLearning – where it is used to make training more engaging and influential. There's more to what AI can do for training with eLearning. This infographic highlights 5 benefits of using Artificial Intelligence in e-learning that include:
Helping your learners interact with the instructor in their native languages
Improving accessibility for learners with disabilities
Using learner-data to offer learners a personalized learning experience
If you don't want to completely unplug yourself from work, this is the best thing you can do. Have a look at this infographic and get creative on the effective use of AI in eLearning.
If you want to ensure you get back to work with your brain teeming with new ideas on eLearning while not spending too much of your holiday time on it, just go through these infographics. Go ahead and unwrap these infographics! Because what better way to spend some 'me-time' this holiday season than on eLearning infographics while sipping on wine?
If you have something better than our top 5-list, leave a comment in the section below. In case you want to access information on outsourcing eLearning, download the eBook given below. This eBook will offer you insights into why you should consider outsourcing eLearning, what are the common mistakes to be avoided, and much more.
Happy Holidays!