Top 4 Corporate Training Myths Debunked!
Curious about debunking corporate training misunderstandings? Dive into our blog to the veracity behind the top 4 misconceptions!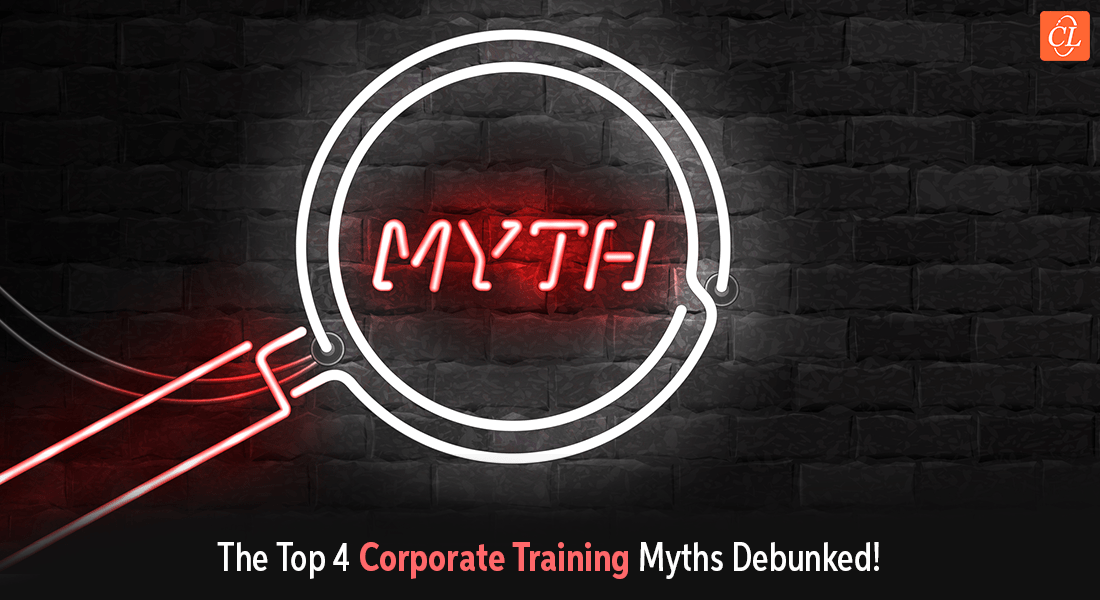 We can never foretell what is in store for us in the future, if there is one thing that we have all learnt from the year 2020. The only thing that has remained constant in the last few years has been change. It is difficult to discern between truth and fiction, myth, and reality in the world of today since it is a melting pot of ideas, opinions, and beliefs. Would you want to know what's worst? We often succumb to these myths and misunderstandings without even recognizing them since they are so pervasive. What might happen if a myth was used to guide corporate training?
What Are Some of The Beliefs That Keep You from Going Ahead with Corporate Training?
The Top 4 Myths and Misconceptions Surrounding Corporate Training Are:
The Answer to All of Your Business's Difficulties Is Training
Only Formally Structured Training Sessions Will Be Used to Teach Your Learners
The Sole Digital Learning Modality Is eLearning
Learners Will Come if You Build It
Not only would you compromise the training opportunities for your company employees, but you would also lose a great amount of money and time.
It may be quite challenging to see the genuine picture and gather the facts after a myth gains popularity. This is since myths are mostly grossly skewed and inaccurate interpretations of trial data or other information sources which are reiterated enough times to become "real."
You may have come across a lot of misconceptions about corporate training. Let's dispel the top 4 of the most widespread training misconceptions one by one.
Top 4 Common Corporate Training Myths Debunked
1. The Answer to All of Your Business's Difficulties Is Training
I wish training could address every issue with your company. Sadly, however, it can't!
One fundamental issue, a lack of abilities or knowledge, may be rectified via corporate training. Corporate training could quickly resolve a performance problem brought on by a lack of abilities and information. All you have to do to remedy the issue is provide efficient training programs and continual learning assistance.
Nonetheless, training won't help if your personnel lack the will to complete the job while having the necessary information. You must consider other elements, such as:
Employee effectiveness at work is being hampered by technical concerns with workplace equipment.
Very tight regulations limit workers' ability to work
Antiquated practices and methods that don't address present requirements
But how can you tell whether there is a performance problem brought on by a lack of training or by another factor?
Detailed gap analysis or performance needs analysis is then necessary. It assists in determining if performance concerns are present and, if so, whether training may address them.
2. Only Formally Structured Training Sessions Will Be Used to Teach Your Learners
The day when trainees had to depend on formal training techniques, such as face-to-face structured and scheduled instruction, to learn new information and skills is long gone. The possibilities for learning have never been greater or more varied—and, most significantly, they are nearly instantaneous—thanks to technology breakthroughs.
Therefore, traditional training sessions are no longer required for your contemporary learners. Additionally, they might pick up knowledge from peers and at work. The 70:20:10 paradigm states that interaction with co-workers (20%) and working (70%) are the two activities where learners learn the most. Instances include helping a manager, browsing a journal, viewing a clip from a learning portal, communicating with SMEs (Subject Matter Experts) and peers, taking part in a group conversation on the LMS, and so forth.
Therefore, traditional, scheduled training sessions only account for 10% of learning, and your learners have access to a variety of additional learning opportunities.
3. The Sole Digital Learning Modality is eLearning
I am aware that training managers like eLearning, but you have choices! Without a doubt, eLearning is a popular choice among training managers, but there are many other formats to offer an interesting platter to the learners. When using a virtual platform, you may also choose to replicate the atmosphere of an actual classroom session (Zoom, Cisco WebEx).
VILT is ideal for behavioural training that requires collaboration among workers to develop, enhance, or alter attitudes, such as team development, soft skills training, and leadership development.
When you want to provide the best of in-person and online training, blended learning is what you do. It includes online learning and digital learning resources including videos, audio podcasts, micro-learning, eBooks, assessments and more. However, you must carefully choose which elements of blended learning will be taught in person and which will be taught online. For example, when the material is complicated and the work is dangerous and requires oversight, in-person contact, and practice to learn, classroom instruction is preferable. On the other hand, eLearning is recommended for training a distributed workforce, giving training ideas and self-directed learning, and processes.
Additionally, you can also use mLearning for anyplace, anytime access (for a learner base that is mostly on the go), use video content to show (step-by-step) how to operate a piece of machinery and incorporate microlearning modules into a blended learning strategy to offer a brief explanation or overview to quickly review concepts.
4. Learners Will Come if You Build It
We certainly wish that this were real, but let's be real — it's only a misconception!
Learners still need to turn up and be open to learning even when training programs are mandated. You couldn't be more mistaken if you think that building a learning platform that looks like Hulu would be sufficient to get workers interested in learning!
In addition to providing courses to learners, L&D leaders need to do more. The training programs must be effective, therefore make sure they:
Speak to the unique learning objectives and requirements of your learners. (Conduct a study of your training requirements to determine what they are.)
Are founded on pertinent learning objectives that support the accomplishment of the intended objectives.
Utilize modern training techniques that make learning enjoyable.
Make the learning consumable and simple to retain, and only include important material. The need-to-know information could be the part of the core training program and the nice to know stuff can be given to the learners in the form of supplements for additional information.
For learners, they are straightforward to use. To establish a relationship with the learner, make sure corporate branding and uniformity are reflected in the course's appearance and feel. To test learners' understanding, match the evaluations to the learning goals.
Additionally, your learners must comprehend how the training benefits them—that is, what it means to them.
You may do this by creating video trailers (much like movie trailers) that emphasize the main points, by having the C-suite make a brief webcam video highlighting the value of training initiatives, and by participating in conversations and Q&A discussions on social media platforms.
You need to get people talking about the next training course and justify its importance to your preoccupied learners.
Parting Thoughts
Knowing the top 4 misconceptions in corporate training after researching them will help you dispel them the next time you bring up these said truths. Do you want to advance the corporate training plan you have in place? Do you want to employ the top practices? And do you wish to increase the effectiveness of L&D practices to increase your company's success?
We present to you a fantastic webinar on "How to Become an eLearning Champion" with R.K. Prasad, a learning and development (L&D) specialist for our organization, who will share his success tales. You will also learn about the success principles he used to succeed in the eLearning industry. In this webinar, you will also learn practical tips on how to grasp eLearning, the potential, and difficulties of training, and how to develop an effective road map for achieving your training objectives.