5 Ways to Make Learning a Part of Work for More Effective Corporate Training
Create your workforce's skills and efficiency by making learning into work, and corporate training more effective. Discover the why and how in our blog!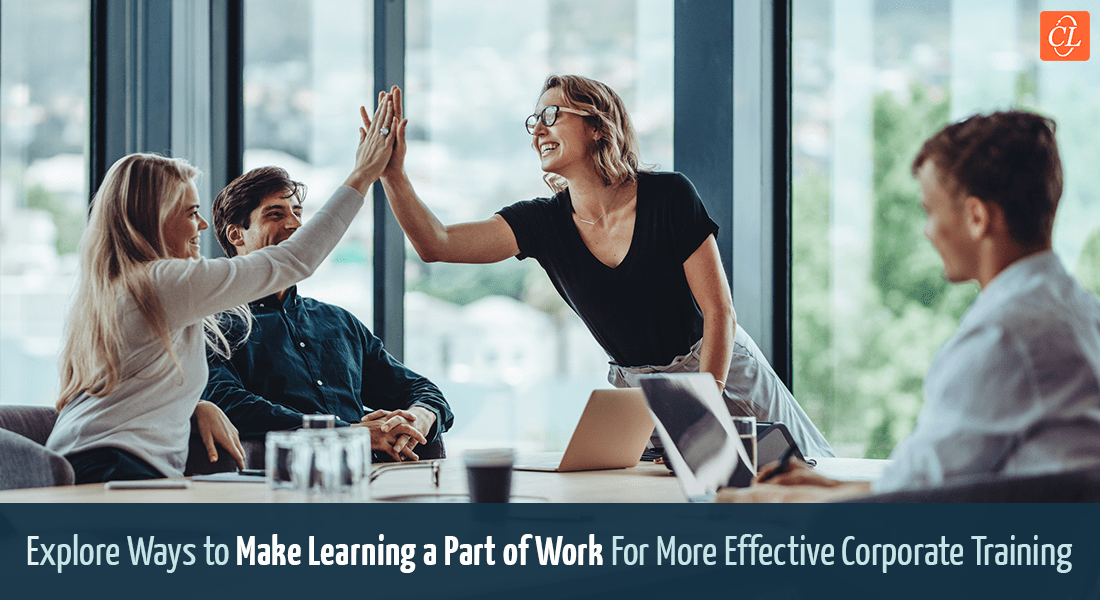 The importance given to work continually trumps the luxury of learning. But, is it possible to make learning a part of work and corporate training? Are we open to learning opportunities as you go about the day? Well yes, making learning a part of work has proved to be effective and efficient for corporate training. Employees can utilize small breaks in between to learn while working. It will make employees more confident, and creative while leading to their overall development.
Corporate Training Can be More Effective if Learning is a Part of Work
Ways to Make Learning a Part of Work:
Short eLearning Modules
Infographics
PDFs and eBooks
Videos
Mobile Apps
Read on to Know More…
Learning in the flow of work is an effective approach. According to this concept, learning must align itself with day-to-day work. Instead of corporate training as the destination, it becomes something that is a journey that comes to us. We now have trending and new-age technology that can help us incorporate learning into our daily work and make it seamless.
Why is Learning at Work Important?
1. Learn New Skills
Gaining new skills is significant for employees and organizations as well. Employees who have the required skill set are an asset to any organization. Training employees require cost, time, and effort. If the part of corporate training is short and does not require a complicated setup, employees can gain the skill while working which will also give them an on-the-job learning experience. Extra knowledge will prepare the employees for any unexpected situation at work. Learning makes the employees creative and leads to more out-of-the-box solutions by employees.
2. Stay Updated
With such a dynamic business environment, things change overnight, and being updated is a must. While it is an expensive affair to arrange training set up for every small update, learning while at work is helpful. Making such updates a part of work might prove to be very effective.
3. Enhance Productivity
Making learning a part of work enhances the productivity of learners. While learning new things at the workplace and increasing knowledge, employees' productivity will improve. Employees are more productive when they learn practically. Taking an example of the format of eLearning, Microlearning, are short bite-sized courses that can be completed in a few minutes as well. Employees can make use of such courses and increase their productivity if facing any issues.
4. Improve Efficiency
It is usually observed that any topic is best learned when you get practical experience. If you make learning a part of work it will increase the efficiency of corporate training as well as the efficiency of work. While learning at work also helps employees stay motivated and confident.
5. Improve Client Satisfaction and Service
Well-learned and skillful employees will provide the best services to the client and can easily impress the client with their knowledge. If an employee has all the required knowledge they will stand out, it is not very difficult for any client to find the difference between an employee who knows well about the matter and the one who doesn't. As it is not possible to train them separately for every small thing, making this learning part of their daily routine work will prove to be effective while dealing with a client.
6. Personal And Professional Growth
Knowledge is power. This has been proved over time. Employees who train well and focus on learning see personal as well as professional growth. Training for the mandate and required topics are arranged for all the employees. But learners who are motivated and want to do well, learn while working too, and such employees have a satisfying career progression and personal life. Employees who are motivated and confident are usually considered for growth. Yes, any employer would prefer an employee who is willing to learn and enhance their skill set.
Mentioned above are some reasons why you should add learning to the flow of work. Organizations are looking for ways to make learning a part of work to make corporate training more effective. Let us list a few ways that can be incorporated into the day-to-day work of the employees and make learning a part of it.
Ways to Make Learning a Part of Work
1. Short eLearning Modules
Short eLearning modules are bite-sized courses of a few minutes on various topics. These courses do not require a lot of time to be invested by the employees. Each eLearning module has a specific learning objective or outcome. They are a good source to promote learning while working.
2. Infographics
It is a great way to provide information in a summarized manner. They are made visually appealing to attract learners and increase their interest in the topic. They provide the required need-to-know information without taking up much time for the learners and hence are easy to be included for learning while working.
3. PDFs and eBooks
They are a well-known and common learning format. eBooks and interactive PDFs require comparatively more time than the rest of the learning formats but they are a great way to learn while at work. In between working hours, the employees can go through PDFs and eBooks as they can be accessed online and offline both.
4. Videos
Videos are a great way to learn at work. They are interesting and engaging. Employees usually do not mind watching videos as they are a quick way to learn. Employees can also be provided with pre-recorded webinars and short videos on the current trends. Employees can access the videos anytime, anywhere, and on the device of their choice, making it a very good source to learn at work.
5. Mobile Apps
Employees can use a company's dedicated mobile app to learn while at work as it can also be accessed online and offline. Employers can send current updates and short bites of information to the employees through notifications on the app, and can also upload short courses for them to learn while working.
Summing it All up!
Learning is no more a luxury but a necessity now. So, are you ready to make learning a part of working? Usually, when employees perform a new task, they need information on a just-in-time basis. The above-listed ways can help them to overcome any obstacles they face while doing a new task or learning a new skill, providing them an opportunity to be always updated on the current trends. Want to keep your employees updated? Grab our eBook and explore current eLearning trends for your employees.