Top 3 Tools for Developing Effective Microlearning Videos
Microlearning videos are certainly stealing the show in the corporate training world. Read this blog to know about 3 popular tools that can help you develop awesome microlearning videos and boost continuous learning.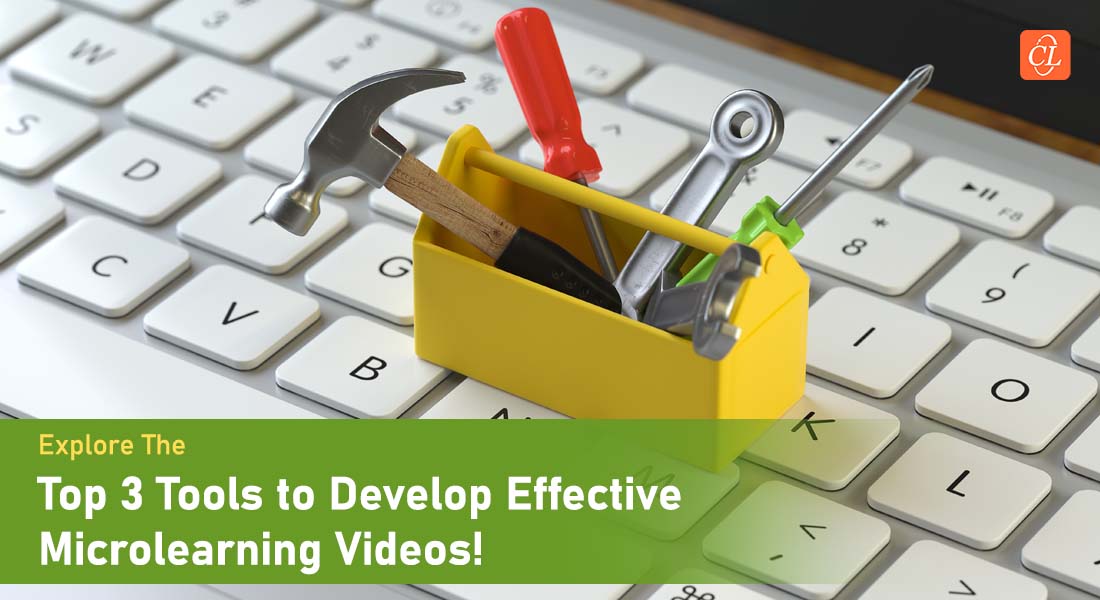 Organizations are striving to reskill and upskill their staff in these uncertain times. Many businesses now use remote models, while other ones use hybrid models. Since the beginning of the COVID-19 epidemic and the Great Resignation in 2021, staffing has been extremely precarious. How can we continuously encourage continuous learning in a range of work environments? Microlearning videos are one method that works well.
Microlearning Videos Are a Great Way to Encourage Continuous Learning
Here are top 3 tools to develop awesome microlearning videos:
VideoScribe
Adobe After Effects
Vyond
Read on to explore more about them.
However, how can you create microlearning videos? Not to worry! This blog presents three effective and practical tools for quickly and easily creating high-quality microlearning videos.
Top 3 Tools for Developing Effective Microlearning Videos
1. VideoScribe
You may quickly produce intriguing videos with the free video animation program called VideoScribe. With the help of VideoScribe, you can create everything from interactive video explainers to whiteboard animations, advertising videos to cartoons videos, doodle videos to business videos.
Amazing video animations may be made by just searching, dragging, and dropping images! Simply browse the more than 8,000+ unique visuals in the VideoScribe collection, pick the ones that best suit your narrative, drop them onto your canvas, and drag them into position. You must select a hand according to its gender, race, or species if you want your animation to come to life. You choose the drawing tool, and then you may add your own photographs. Any image, GIF, or photograph may be added with only two clicks. You may also use colors that express your brand identity, attitude, or topic.
In a few simple steps, you may add dynamic images, text, music, and a voice-over. The graphics in the VideoScribe collection can also be customized to your tastes. The options are unlimited and setting up VideoScribe is easy.
Pricing: The trial version is free
Paid versions include: $20.65/per month, $112.28/per year, $566.40 for the one-off plan
2. Adobe After Effects
You can make dramatic film titles, intros, and transitions for your videos with Adobe After Effects, the greatest visual effects and motion graphics program in the business. Additionally, you may cut a piece out of a video clip, add fire or rain to a film, generate an impact of brand or character for your clip, and even use 3D animation effects to move about within your clip. Any idea, header, credits, and bottom thirds may be animated with After Effects. You may make your text rotate, swipe, or slide. Anything could move using keyframes or expressions.
Utilize the app's presets or start from scratch. You may select the items you wish to move as well as the kind of motion if you utilize presets when starting your project. By adding motion to position, opacity, color, and other factors, you may make a letter leap, a phrase float, or a logo animate. The only limit to what you can create using After Effects is your creativity. There are countless options.
Pricing: $20.99/per month
3. Vyond
With the help of Vyond's online video animation software, your company can quickly and simply produce high-quality animated movies for use in marketing, sales, training, and eLearning across all sectors. One video at a time, Vyond is revolutionizing communication around the world.
It is a very helpful tool for creating high-quality 2D vector animations with characters. The program is frequently used to create explanatory films. The program makes it simple to create video-based learning modules with character animations thanks to its extensive library of editable characters and backdrops.
Pricing: Request an enterprise version quotation from Vyond.
Parting Thoughts
A great method for contemporary and dynamic corporate training is the use of microlearning videos. These brief, concise videos are interesting, efficient, and attractive. They are ideal for the modern learner who prefers to manage quick routines in dynamic work contexts while learning from compact, bite-sized courses.
However, it takes careful preparation to include this enticing visual strategy into your training regimen. To develop microlearning video clips on your learning objectives, your employees' skills, and their preferences, you'll need the assistance of an eLearning partner. To learn more about microlearning and to get started using it to meet organizational objectives, check out this free eBook on "Where Does Microlearning Fit in Your Learning Strategy?"