5 Corporate Training Aspects to Watch Out For in 2023
If the weather forecast says it's going to rain, you will keep an umbrella handy. Similarly, foresight into how corporate training is going to progress in 2023 will enable you to be more prepared and effective in your efforts. Read on to find out.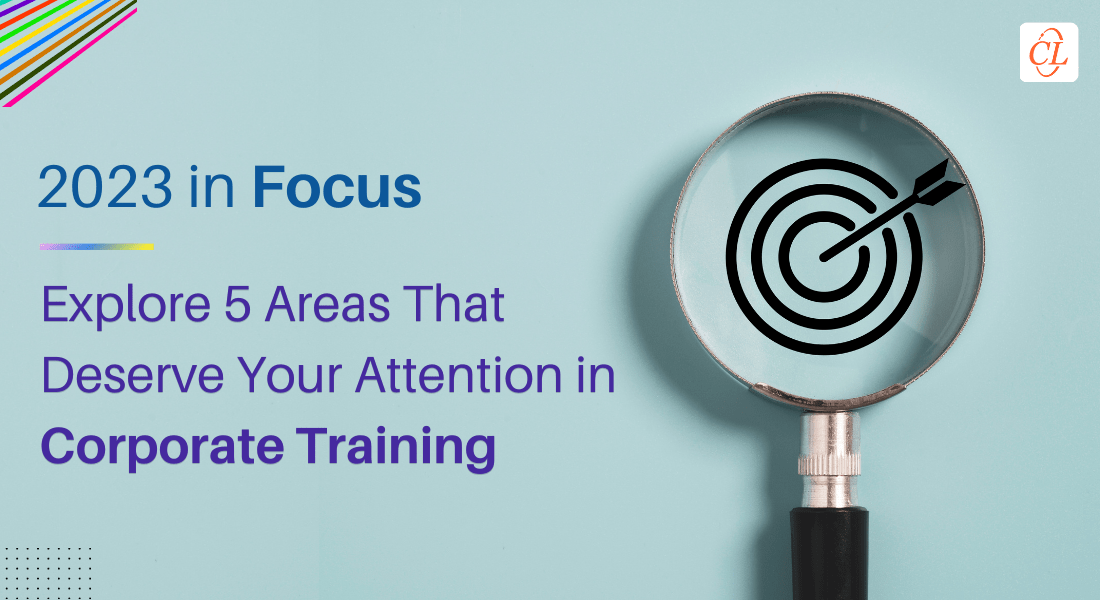 For businesses may come and businesses may go, but corporate training is forever. Matching the genius of Lord Tennyson is pretty difficult but this customized version conveys the sense. Right? Well, just to ensure we are on the same page, what I'm trying to say here is that regardless of the industry, era, or phase of the business, corporate training is an inseparable part of it. However, the methods or ways to conduct the training can vary tremendously over time based on changing business objectives, learning needs, and industry insights. As 2023 is around the corner, getting hold of eLearning trends will definitely give you an upper hand in devising your training strategy, thereby helping you outperform your competitors.
Corporate Training Foresights for 2023!
Here are the 5 areas that deserve your attention:
Role of training in achieving business goals
State of L&D
Learning solutions
Learning formats

Training investment
So what are the eLearning aspects for 2023 that industry experts are eyeing (and you should buckle up too)? Let's find out!
5 eLearning Trends to Watch Out for in 2023
Role of Training in Achieving Business Goals
Providing proper training to the employees helps in achieving business goals. Well, that's a given because corporate training helps employees improve their performance and productivity to deliver better, more competent results. But the area of focus while considering training in business goals is which type of training will help your organization match pace with the changing business scenarios and your competitors. It is these necessary skills, knowledge, and proficiency that will enable your company to grow and accomplish the set targets. To have a thorough understanding of this, L&D gurus must be vigilant about their changing role from that of a facilitator to a consultative partner.
They need to be actively involved in creating and supporting the learning culture in the organization. Some of the areas at work that are heavily impacted by learning and training include leadership development, operational improvement, financial growth, career advancement, etc.
State of L&D
L&D plays an integral role in shaping the course of corporate training. It provides much-needed direction to the employees via training, thereby helping them align their efforts with a more comprehensive and wide idea of business goals. It is not just limited to increasing profits alone, rather it covers a plethora of other hard-pressed matters like sustainability, Diversity, Equity and Inclusion (DEI), etc. To be able to cater to all these elements effectively, the L&D department needs to adopt a more strategic role. They need to put in the effort to understand the employees and address learning agility, emotional intelligence, etc. Moreover, L&D professionals need to strengthen knowledge-sharing systems and personalized learning experiences.
Learning Solutions
Meeting the learning requirements in an efficient way is the key to ensuring a successful training ROI. This can be attained by incorporating relevant and impactful learning solutions into your corporate training. As the learning habits of the employees are changing at a faster rate, the initial 70:20:10 model has undergone a change and is now 55:25:20. As this clearly reflects that the number of social learning and formal learning has gone up, it is equally important to implement these insights into your learning solutions as well. You should clearly set your learning objectives and then decide the relevant mode of learning your training needs.
You can opt for formats like scenario-based learning, simulations, online discussions, user-generated content, eLearning, Virtual Instructor-led Training (VILT), etc. In fact, eLearning Translations have had the spotlight for being competent learning solutions for some time now as businesses are going global and hiring a native workforce.
Learning Formats
"If you're willing to learn, no one can stop you." As motivating as this quote sounds, we can't completely ignore the fact that learning formats play a massive role in deciding the learner's engagement, participation, and information retention. With digital natives taking over the work charge, it's important to consider their learning styles and habits. You should pay attention to adult learning principles like self-paced learning, flexibility, value addition, etc., which will help you pick the right learning format to gain maximum training ROI.
Some of the popular learning formats are virtual and experiential learning. Further, the online training formats that have continued to maintain their royalty include VILT, microlearning, simulations, scenario-based learning, storytelling, podcasts, and gamification.
Training Investment
Investment and returns go hand in hand. When we often talk about investing we consider multiple factors to the best of our knowledge to ensure a desired, positive result. And corporate training is no different. Investing in the right learning formats, tools, instructional designers, etc., gives you an effective, successful, and productive training outcome. You should focus on investing in a robust Learning Management System (LMS), Learning Experience Platform (LXP), social learning, adaptive learning, and authoring tools. Rapid authoring tools enable you to save time and money and also rollout eLearning courses quickly which offers you an early or at least a timely start in the competitive market. A successful organization very well understands when to value employee time and productivity rather than giving them tasks that just drain their energy. So they readily outsource eLearning development or its parts like multimedia components, instructional design, translations, digital assets for performance support, etc., to save time without compromising the eLearning course quality.
You should also look for some top-class technologies taking hold of the market. This can include various AI-powered tools that make your task simple to reduce human effort and save cost and time. From image editors to eLearning translation tools to text-to-speech software, investing in the right technology can prove to be a turning point for your organization and training ventures.
Signing Off!
These trends will help you set the flow for successful corporate training in 2023. By keeping these insights in mind, you can easily design a responsive and futuristic roadmap and step up your training game. It will allow you to ensure efficient learning among your employees as you can attend to different skills, learning solutions, and formats to boost your employee productivity and performance. Making the right training investment, such as robust LMS, rapid eLearning accelerators, etc., will help you achieve maximum training ROI which will facilitate business goal achievement. Be future-ready with our informative and insightful free eBook on eLearning trends for 2023. Check it out now!