5 Best Practices to Powerup Your DEI Training
Diversity, Equity and Inclusion have become key factors determining the success of an organization. This is also the reason why organizations are focusing on strengthening their DEI training. But how to make it more impactful? Read on to find out…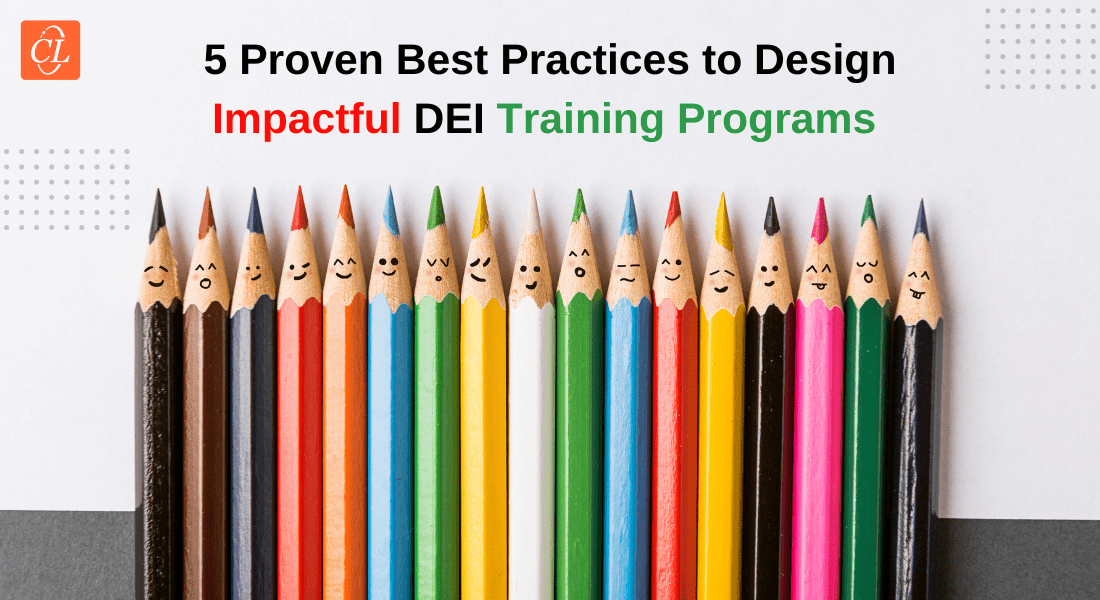 With organizations expanding their horizons and hiring global talents, the concepts of diversity, equity, and inclusion in the workplace have assumed the forefront. And to address them, organizations have to work on their diversity, equity, and inclusion (DEI) strategy to make them a part of their DNA. One such a way is by providing DEI training. The training educates the employees and sets the norms and expectations to be followed by them so the workplace becomes safe and inclusive for all.
Diversity, Equity and Inclusion (DEI) Training is key for Organizations to Thrive
Here are some best practices to make the training more impactful:
Establish a Strong Curriculum
Align the Training With a Strategy
Use Internal Data
Include Your C-Suite
Adopt eLearning
Now, you may be having a lot of questions about DEI training, let us discuss them in detail –
What is DEI Training?
Diversity, Equity, and Inclusion (DEI) training involves training the employees on the behaviors to practice with their colleagues. In most organizations, DEI is mandatory training for employees at all levels and from all departments. The training helps build awareness that supports employees and helps create an inclusive organizational culture.
Why

Is DEI Important?

As businesses become global by the day, a diverse workforce – which includes people from different age groups, different cultures, races, and even gender – has become a common vision. While the difference in these factors doesn't necessarily cast a shade on the quality of their work, certain social and cultural barriers, some conscious and some unconscious, exist.

Owing to these barriers, organizations need to take possible steps to cut down the differences and bring in diversity, equity, and inclusion (DEI) at the workplace so the employees feel safe and valued. Employees, when trained on inclusion behaviors and practices, turn out to be more accountable and have higher levels of empathy.

At the same time, DEI behaviors and practices also help organizations have better and bigger talent pools. Hiring the right candidate with the best qualification, skills, and passion for a job is quite difficult. And the task becomes even more difficult if you exclude potential candidates because factors such as their race, religion, or sex can vastly decrease the number of available candidates. So, by being more inclusive, organizations will be able to attract better talents from across the globe.

Here are a few more reasons why you need DEI training –

To attract top talents: To thrive in global markets, organizations need to hire top talents irrespective of their cultural or social backgrounds. According to a survey conducted by Glassdoor, about 75% of job seekers prefer organizations that treat their diverse workforce well.

For social acceptance: Even global majors such as Amazon and Google have found themselves in social justice controversies with lack of inclusion and cultural diversity being the main culprits. One way to solve the issue is by offering DEI training which instills inclusive behaviors among the employees.

To meet investor requirements: Several countries including the US have made DEI a part of the law. For instance, the US has put up a rule that mandates certain organizations to submit an 'Equal Employment Opportunity form every year. The document has details about the organization's employees and the company's diversity. Such demands for inclusion and diversity have become very common and several investors put forward their DEI terms before agreeing.

To boost brand reputation: Today, almost all organizations use social media and post pictures and information reflecting their culture. Employees, potential investors, and other stakeholders refer to these accounts to know more about the organization and their activities. And if the posts on digital handles have some posts that are insensitive towards gender or race, or have something against inclusiveness, then the image of the company is at stake. Considering this, the organization must include DEI training as a part of its learning & development (L&D) activities.

Considering all these reasons, you must include DEI training as a part of your learning & development (L&D) initiatives. Additionally, it can be more helpful if your L&D teams are well-versed with the best practices and latest trends to be followed to make the DEI training more impactful.

Wondering how DEI training benefits your organization? Here are a few ways how –
Benefits of DEI Training
Well-trained and aware staff
By training the employees – from all levels and departments – in inclusive practices and behaviors – the employees are made more aware of different cultures, social backgrounds, and also the skills required to be cordial with colleagues at work.
Healthy organizational culture
Offering DEI training to employees helps create an inclusive culture within the organization. Such a culture encourages the employees to be more empathetic with their peers from diverse backgrounds, and it thus helps create a healthy organizational culture.
Reduced workplace harassment
Several organizations across the world receive flake because of discrimination and harassment in the workplace. This can hurt the company's image as well as the employees' morale.
Helps address biases and prejudices
DEI training helps the employees become more aware of diversity and inclusion practices. This will also bring out biases, insensitive behaviors, and prejudices if any. And when the management and the employees are made aware of them, it is much easier to address them and ensure that they are not repeated.
Improved employee retention
An inclusive workplace will further lead to happy and satisfied employees who stay on the job longer.
Avoid controversies and legal issues
DEI training helps the organization committed to inclusion and diversity by helping the learners understand what is acceptable and what is not. This way, there is less likelihood of the employees to discriminate or feel discriminated against. This further reduces the likelihood of the organization attracting controversies or legal issues.
Because you understand what DEI is, and how DEI training benefits your organization, you should now focus on the best practices to be adopted to make your DEI training more impactful. Let us discuss some –
Best Practices for DEI Training
1. Establish a Strong Curriculum
The first step is to establish a very strong curriculum for your DEI training. Your DEI training program has to be comprehensive in order to be effective. So, when building the curriculum for the training, you will have to think about the purpose, meaning and the expected learning outcome. Based on this, you will have to build a curriculum that covers stereotyping, biases, ways to address microaggressions, allyship, cultural awareness, sensitivity training and ways to address harassment, among the other topics.
2. Align the Training With a Strategy
Remember that DEI training is not something that can take place in a vacuum; nor should it be a sole initiative to create a diverse, equitable, and inclusive work environment. Rather, the training should focus on what works best for the employees and how to promote their ownership. To enable this, the L&D teams need to identify the challenges of both the organization and the employees. Once the challenges are identified, you should start focusing on creating a DEI strategy that can be supported by employee training.
3. Use Internal Data
When drafting your DEI training program, look within your organization and employee data and try to use the data to understand your workforce better, understand the pain points and also get a better understanding of the issues to be covered. Using the internal data will also help learning and development (L&D) to build the training modules in a way that suits the learners the best.
4. Include Your C-Suite
DEI training is a mandatory training which has to be imparted to all employees irrespective of the department they belong to. This is also applicable to your C-Suite executives and the leadership. Without their involvement and participation, it is difficult to make the training an integral part of your organization's learning culture. Considering this, your L&D teams need to get the support and the participation of the executives.
5. Adopt eLearning
eLearning is a way to make your DEI training (or any other training for that) more impactful. And how? Well, eLearning is more flexible and the learners can access the learning anywhere and anytime. Additionally, there are several eLearning assets such as the audios, videos, infographics, etc which can be used to make the learning more impactful. Apart from these, eLearning is also associated with several benefits including cost-efficiency, improved employee productivity, better knowledge retention, extends brand influence, and it is also highly scalable.
Wrapping Up
From discussing why you need it to listing out the benefits and the best practices to be followed, I have discussed everything you need to know about diversity, equity and inclusion (DEI) training. Hope you now recognize its importance, and come up with innovative ways to make it a part of your L&D initiatives.
One of the best ways, which has also been discussed in the best practices listed above, is adopting eLearning. By adopting eLearning and by making use of instructional design best practices, your L&D teams will be able to make the online training more impactful.
Now, if you are wondering how to start off with eLearning and master it, then this online event could help you.
Register now!