6 Tips to Increase ROI From Corporate eLearning
Organizations spend a lot of effort, time, and money on building impactful corporate eLearning programs, and in return, they expect high ROI. Are you one such organization? Read on to know how to gain high returns from your eLearning initiatives.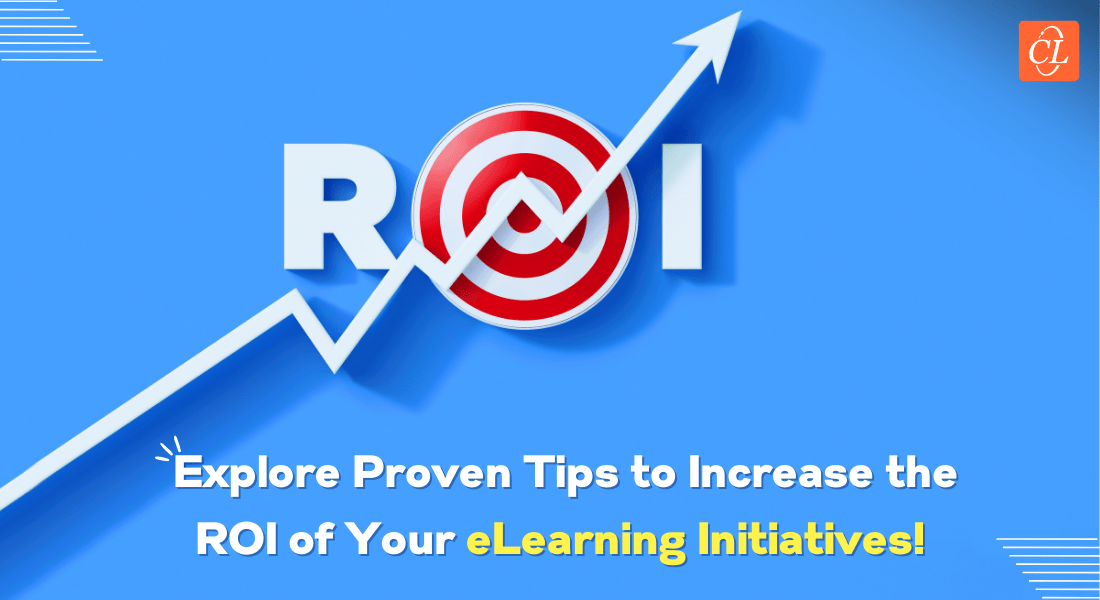 Learning and Development (L&D) practitioners understand how critical it is to have a high training return on investment (ROI) from their corporate eLearning activities! Well, we do spend huge sums on employee training and development initiatives and it is natural to expect significant ROI.
However, organizations, which make initial investments to offer excellent training to the employees, stop their efforts at that. What they do not realize is that high training ROI is the result of continuous and consistent efforts. As a result, they fail to achieve the expected results from their L&D initiatives.
Are you Among the Organizations Trying to Increase Your Corporate eLearning ROI?
Here are a few tips to follow:
Make Corporate Training a Part of Your Business Strategy
Use the Right Strategy to Develop eLearning
Build a Focussed Learning Environment
Evaluate Job and Behavioural Performance Before and After Training
Ensure Consistent Employee Engagement
Have an Effective Assessment Strategy
Find yourself in this trough? Or do you want to increase your training ROI? This article is here to help… it discusses 10 tips to help you boost your training ROI. But before that, let us discuss what training ROI is…
What is Corporate eLearning ROI?
As an organization, you invest a lot of time, effort, and of course budget to deliver impactful corporate training to the employees. And what do you expect in return? That your employees gain new skills, build on what they already know, and apply the knowledge gained to solve their day-to-day work challenges. While all this comes under return on investment (ROI), different people have different definitions based on different circumstances.
This lack of a common definition for ROI from corporate training is because it means different things to different people. For instance, it could be an increase in profits or the achievement of goals for business leaders. It could mean an increase in opportunities for the employees.
This lack of clarity makes it difficult for organizations to come up with the right ways to boost their ROI from corporate eLearning. But don't worry, here are a few tips to help you with it.
Tips to Increase ROI From Corporate eLearning
1. Make Corporate Training a Part of Your Business Strategy
There were times when organizations considered corporate training as an activity taken up to strengthen employees' weaknesses. However, such an approach doesn't work anymore. For modern organizations to sustain themselves, they need to think of corporate training as an aspect of organizational development. According to UKCES, "organizations that align their employees' skills and development programs with their business strategy tend to enjoy an increase in their overall performance".
For this, you should identify the knowledge and performance gaps of the employees. The next step will be to pick up the right eLearning projects that help you reach your business goals.
2. Use the Right Strategy to Develop eLearning
Upon identifying the eLearning modules to be developed, you will have to choose the right strategy and the right tools to develop effective and engaging eLearning modules. For this, you will have to choose instructional design (ID) strategies that are core to developing a robust, impactful eLearning course.
In order to gain high ROI from corporate training, you will have to develop eLearning modules that encourage the learners to explore, learn, analyze and apply the learning in their job. An impactful way to do so is by using sticky learning approaches such as storytelling, gamification, scenario-based learning, and interactive videos.
3. Build a Focused Learning Environment
In order to gain maximum ROI from your corporate training initiatives, you will have to make sure that your employees are provided with a clear, focused learning environment. In the case of traditional classroom training, this can be done by establishing rules like no phones, no e-mails to respond to, no meetings to attend, etc. However, this rule doesn't work in online training.
Therefore, you will have to focus on creating an engaging learning environment. Keeping the eLearning modules short, making them visually appealing, adding interactivities, etc are a few ways to keep them engaged and involved with the learning process. This will contribute to a focused learning environment.
4. Evaluate Job and Behavioural Performance Before and After Training
Continuous improvement is key to succeed at something. The same applies to corporate training. In order to get high ROI from your employee training activities, you will have to emphasize on continuous improvement.
To work on continuous improvement, you should evaluate the employees' job behaviors and performance before and after training. This way, you will be able to determine the impact of the training and work on ways that will ultimately help boost the ROI.
5. Ensure Consistent Employee Engagement
You may have prepared an eLearning module with excellent content but it could still fail if the module lacks motivation and engagement. This could also make you lose your ROI. In order to avoid this and to gain higher returns, you will have to ensure that there is enough room for engagement throughout the eLearning module. Experimenting with the training delivery methods such as VILT, blended learning, mobile learning and effective use of sticky learning approaches can make the learning material more engaging.
6. Have an Effective Assessment Strategy
Is the training impactful? Are the employees finding it helpful? Are they able to apply the learning to fulfil their job responsibilities? How is impacting their overall professional development?
These questions can be answered via learning assessments. And from the answers, you can understand if the corporate training delivered is meeting the expected cognition levels. And a positive score here indicates a positive ROI. Now, you can strengthen your assessment strategy by adopting eLearning assets such as gamified assessments, question pools, flashcards, leaderboards, etc.
Final Thoughts
If you are responsible for L&D activities at your organization, then you would definitely understand the importance of ROI from corporate training. So, if you wish to gain higher returns from your training, implementing the tips discussed above will help. The implementation will also help strengthen your corporate eLearning efforts.
While we have discussed in detail about the tips to be followed to boost your returns, you may still be apprehensive about eLearning for your corporate training. This could be because of the myths associated. Don't worry, this eBook will help you separate myths from realities and help ensure that your training yields the best results.